Great job Al, that's the Hustler we love - and from two Hayden can put him on the front end
The draws are finally starting to go Northview Hustler's way and trainer Al Barnes tips he's a live chance at Albion Park on Saturday night.
Buoyed by the Hustler's outstanding run for fourth last week, and a good week on the training track, Barnes is looking forward to putting it to the new star on the block, Cruz.
The Hustler showed he was still competitive at the top level last Saturday night when he came from four deep on the markers at the bell to finish a close fourth, only 3.2 metres behind Cruz, unleashing a paralysing home stretch burst.
Queensland harness racing's sectional records show he ran easily the fastest last splits in the field, making up 10.6 metres on the leaders over the last 800 metres in clocking 53.98 and ripping home from the 400 in 26.98.
He was the only horse to break 54 and 27 and, by comparison, winner Cruz ran 54.39 and 27.4 on his way to a sizzling 1:50.8 mile rate for the 1660 metres.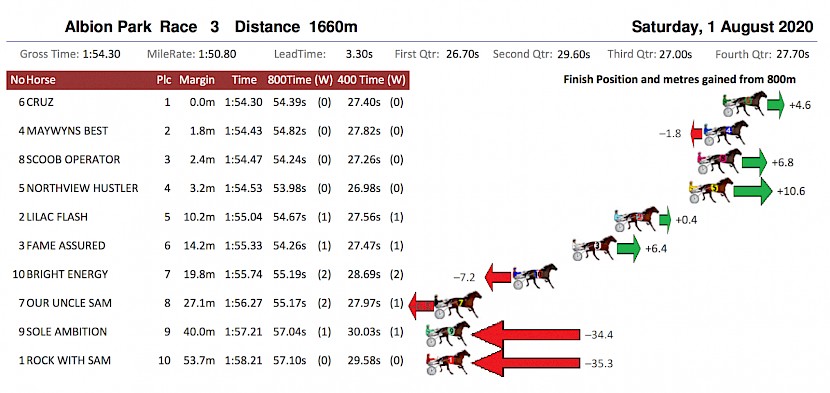 Northview Hustler ran staggering sectionals last week.Barnes said he and his driver son Hayden didn't know whether to to go forward or back from his awkward five draw.
"I left it up to Hayden and he made the right decision as the horse only ran up the home straight and the run will give him a bit of confidence.
"At least he's turned the corner and looks like he's getting back to his best. I was starting to tear out my hair."
Barnes said the Hustler pulled up well from the run and not long afterwards was bright and rearing in the stable.
"It's been stressful. It's a fine line when you're running 1:50 miles as to what work you put into them the next week.
"Last season we were just jogging him during the week and not giving him any fast work and it worked perfectly.
Different horse
"But he's such a different horse now. It's surprising how much he's changed."
Barnes believes it might have taken the horse a long time to get over his gelding.
"He's no longer a skinny, lightly framed thing who hardly ate but is a big, tubby horse who has put on so much muscle and bulk."
Hoppled on both Tuesday and Thursday again this week the Hustler has thrived.
"He's improved through the week and I can't fault him. After his work, his heart rate was down to 91, which is a lot better than it's been. He's at his best when it's in the 80s.
"I think we'll see a different horse on Saturday night and the run should top him off completely.
"It was our error before. He just got away on us. We were being too kind on him, trying to keep him sound, and he was blowing up like a fat pig."
Barnes expects the Hustler to have the early speed to cross pole runner Subtle Delight, make play from the front, and be hard to catch over his favourite distance of 2138 metres.
Cruz, on the inside of the second row, will need some luck and Lucky Creed winner Kid Montana will have to plot a path from five.

Northview Hustler races at 8.14pm NZ time at Albion Park on Saturday night.
Our runners this week:
How our trainer rates them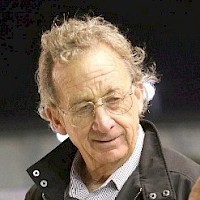 Ray's comments
Friday night at Auckland
Race 3: Revitalise
6.52pm
"Maurice liked his run last week, he has a better draw this time (five) and I'd like to think there's a lot of improvement in him. He should go well and hopefully he'll get a cheque."
Race 5: Captain Nemo
7.53pm
"It will be very tough for him from the outside of the arm. He didn't pace the best last week, Andre (Poutama) had to hold on to him the whole way. But I'll tweak his gear a bit - his hopples might have been a tad long - and hopefully he'll get round OK."
Race 5: American Dealer
7.53pm
"It's difficult to make a plan from four on the second row - you're relying on pure, unadulterated luck - and that's not ideal. I can't imagine anything beating Krug from the one draw - he'll lead out and I doubt he'll hand up - but hopefully we can pick up some of the minor money."
Race 6: Tommy Lincoln
8.24pm
"He's not really a 2700 metre horse so 2200 this week will suit him a lot better. Seven is not the ideal draw on the mobile but if David (Butcher) gets a good trip I'd say he'll be the one to beat."
Race 7: Copy That
8.55pm
"He's absolutely donkey licked everything so far and they're all the same horses again except for Mark Purdon's Another Masterpiece. Now that he's on the front I can't see why he wouldn't flog them again."
Race 9: Apieceoflou
9.52pm
"He was used a bit early last week, and parked for a while, and hung on well for third. I'd like to see him lead and then I think he'd be a serious chance. This is the best draw he's had."
Race 9: Bondi Shake
9.52pm
"He's been training not bad but he's out wide again and will need some luck."