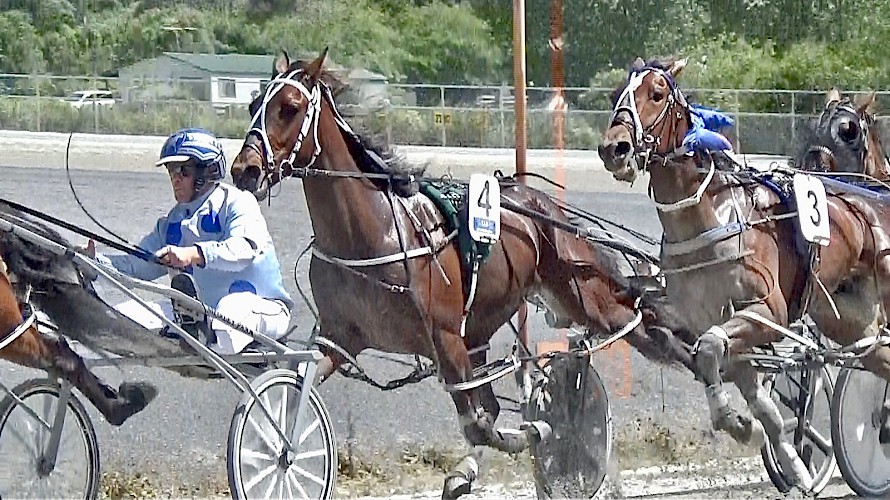 Hampton Banner new 'surprise package' after smashing the clock in Pukekohe workout
Hampton Banner showed he wouldn't be long winning a race at Auckland with a sizzling workout at Pukekohe today.
The improving three-year-old son of Bettor's Delight ran a time seldom seen over 2050 metres at Pukekohe when he closed best to win the up to rating 57 heat in 2:32.2, a fiery mile rate of 1:59.5.
In a tight finish Hampton Banner ran over the top of two Barry Purdon-trained runners Be My Rock and Thumbs Up, recording closing sectionals of 58.2 and 28.4 with driver Zachary Butcher revealing he only asked the horse to run at the 100 metre mark when the other pair tired.
"I wasn't going to pull out of the trail and just let him run to the line but then those other two stopped. They were getting plenty and I was only cruising. I was rapt with the run."
Butcher said Hampton Banner, an easy maiden winner at Cambridge earlier in the month, left the gate "like he had a bee sting in his arse."
And when he eased to trail Be My Rock and Scott Phelan, instead of fighting him, the horse dropped the bit and relaxed beautifully.
"We were really running. But he never put in a rough stride and felt really good."
Butcher agreed with trainer Ray Green when he declared Hampton Banner could be a late blooming "surprise package."
"He's a lovely mover, and is a beautifully balanced pacer." said Green. "He's just had a few lameness issues all the way through. But he looks to be over all that now."
Hampton Banner, a brother to six race winner Scarlett Banner, was credited with a half head and half head margin at the post but had his rivals well covered.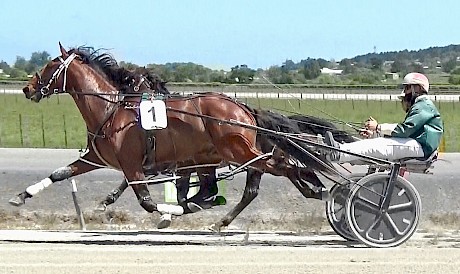 Leading Young Guns candidate Platinum Stride is pacing powerfully outside newcomer Old Town Road as they wind up for the dash home.So too did the zippy Platinum Stride, who Green ran in the two horse two-year-old 1609 metre heat only to help trainer Josh Dickie with his newcomer Old Town Road.
Butcher set a moderate tempo with the Captaintreacherous colt, allowed Dickie to rail up inside him turning for home but was still far too good, scoring by half a length.
Platinum Stride was never extended, closing in 59.3 and 27.9 to record 2:06.8 for the trip, three seconds slower than his run the previous week.
Butcher reported the colt paced nicely and is right on target for the first Young Guns heat at Auckland on December 13.
Green's other two Young Guns aspirants, Captain Nemo and Bondi Shake, will join Platinum Stride in a special trial at Alexandra Park next Friday night, expected to be run before the races start.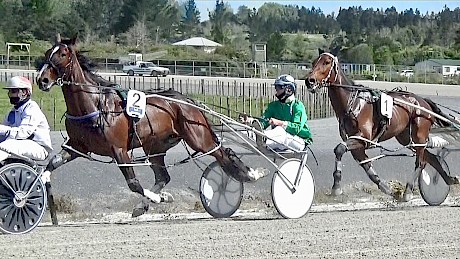 Double Or Nothing (Andrew Sharpe) and Tommy Lincoln (Andre Poutama) during the running of their heat today.Earlier Tommy Lincoln and Double Or Nothing were no match for the talented Barry Purdon pair Henry Hu and Major Jellis in the rating 58 to rating 66 heat over 2050 metres.
Double Or Nothing sat third with Tommy Lincoln fourth and there they stayed, Tommy Lincoln having trouble negotiating the final bend before balancing up in the run home to finish four and a half lengths from the lead pair, a neck in front of Double Or Nothing.
Green has treated Tommy Lincoln for a lameness issue since his last race when he was KOed after locking wheels but did not look to be travelling well anyway.
Today he was wearing a guider to keep him off his knee, gear which Green says he far prefers to spreaders which tend to make horses tire.
Our runners this week
Friday night at Auckland
Copy That, American Dealer, Captain Nemo, Bondi Shake, Apieceoflou, Revitalise, Tommy Lincoln.