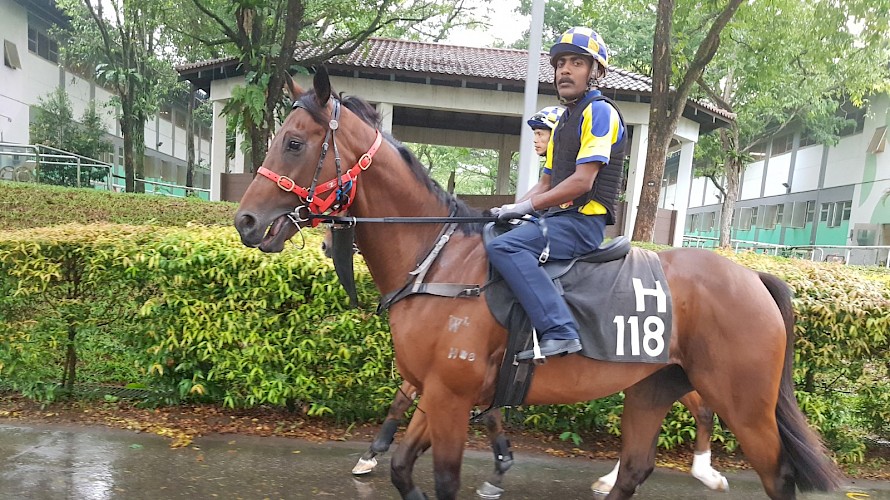 He's not a giraffe any more but wide draw rules out Lucky Enough
Lucky Enough should win a race or two in Singapore - but just not tonight, says trainer Stephen Gray.
From gate 10, on the short D course, Gray says things could turn ugly very quickly for the Alamosa four-year-old.
"If he'd had a draw he could have run in the first three or four but it won't be easy from out there.
"I don't want to scratch him but we also don't want to hunt him out - going forward on him would be suicide because he's a little bit hot-headed and wants to rev into it.''
That's what Lucky Enough did on debut and it ended "disastrously" says Gray, as the horse was up third on the speed tugging for his head and dropped right out to run last, 40 lengths from the winner.
But he was much better last time, on November 16, when fourth.
And Gray says, handled correctly, and ridden more quietly, Lucky Enough will be all right, if somewhat limited.
Gray waited a week to start Lucky Enough so he could be ridden by ex-pat Australian Daniel Moor.
"Dan's on fire and he's done a lot of work on the horse. He gets on well with him and has settled him down.''
Gray says Lucky Enough was 12 months behind his peers when he arrived in Singapore - "he was like a hunted hare, you could spit through him.
"But he's really filled out and now his head is on the ground instead of being like a giraffe.''
Trainer Shane Baertschiger is no less indifferent about the chances of O'Reilly's Dancer in the third race.
Also drawn wide in the outside gate 11, Baertschiger says the six-year-old isn't fit enough to go forward where on the short course he would be hung out to dry.
For that reason, Baertschiger has taken the blinkers off the horse and will instruct rider John Powell to go back at the start.
The 1600 metre race is also too short for him - his only three placings in 15 starts have been over 1800 metres and 2000 metres (twice).
Baertschiger says tonight's race is a stepping stone to longer races and he just hopes to see the horse running on.