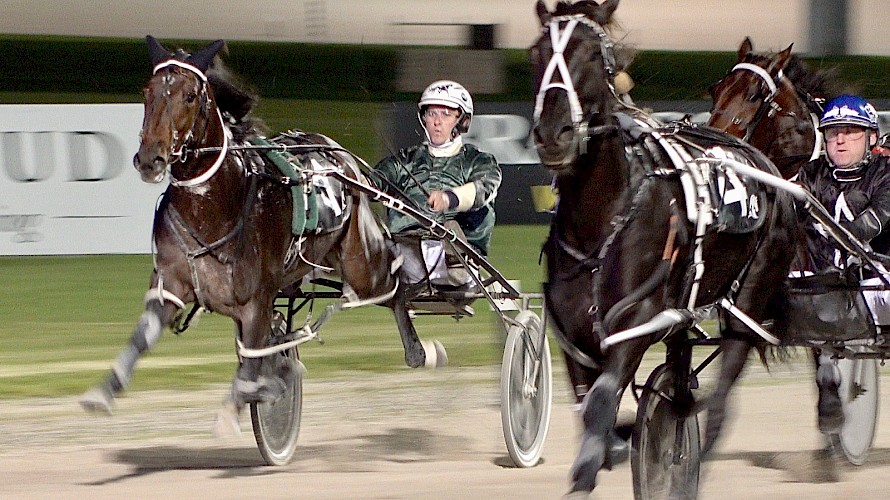 He's still learning but gear change should help Colonel Lincoln at Cambridge on Friday
Colonel Lincoln is still a work in progress but trainer Ray Green is hoping a slight gear change will help the two-year-old perform up to his ability at Cambridge on Friday night.
The $200,000 sale-topping yearling paced roughly and galloped in the score-up at Auckland at his last start, justifying Green's warning that he still has plenty to learn.
But Green will tighten up the Bettor's Delight colt's hopples on Friday for his first try left-handed and he would only have to replicate his run two starts back to be a threat.
In a stronger field than he meets this week, Colonel Lincoln came from near last, mounting a four wide run round the field down the back straight and maintaining it to the line, finishing eight lengths third behind the capable older horses Midfrew Lucre and Mr Chip.
Despite being so wide, the colt ran the fastest third quarter of 27.7 and fastest last half of 58.2, hinting at the ability which Green says just needs moulding.
"He's going through a stage similar to what we saw from Copy That early on.
"He's not the complete package yet, and you just have to take him on trust, but if he did things right he'd definitely be a chance. He's got a bit of class."
Colonel Lincoln is the only runner on the second row in Friday's fifth race so driver Maurice McKendry shouldn't have to worry about the horse's claustrophobia which has hampered his early starts.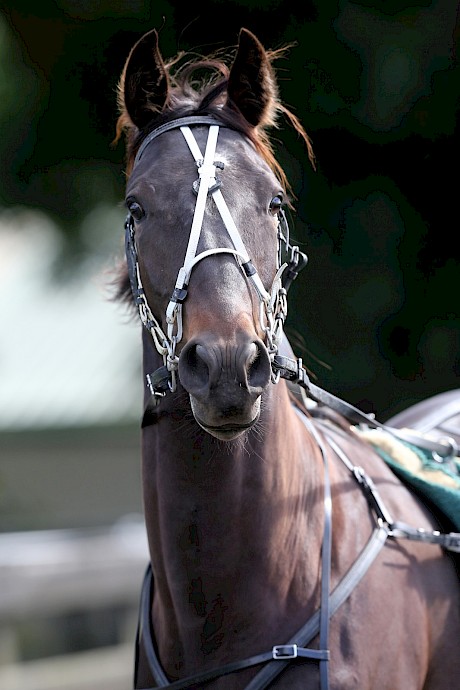 Neptune … from a big winning family.McKendry will also pilot interesting debutant Neptune in the second race, another two-year-old which Green says simply needs schooling in how to race.
"He's a nice little horse but I don't think we'll see the best of him until he's a three-year-old. He's still growing and needs to get stronger.
"He's a little green but he's ready to go. I'd love to see him run in the money but I just want to see him get round."
Neptune, by Bettor's Delight out of the eight-race winner Safedra, cost $120,000 at the Christchurch yearling sale, a price Green reckoned was a steal.
The mare's first four foals were all good winners:
Dr Susan, who won two Group I win races in 2020, the Victoria Oaks at Melton and Gold Bracelet Final at Bathurst.
La Rosa, winner of the Harness Million for fillies
Buzinga, who won four races here and in Australia before being sold to the States where she has paced 1:51.4 and
Allegra, winner of three of her six starts here.
Better prospect
Green suspects year older stablemate Next To Me might be the better prospect on Friday night, despite an inglorious display at the Pukekohe workouts last Saturday.
Next To Me was looking good outside the leader at the end of the back straight until he hung and broke.
Despite losing many lengths, he made up ground stylishly to finish only two lengths from the winner.
Green believes you can forget the gallop because the workout was run right-handed.
"He gets in a bit on the corners right-handed but he's much better left-handed."
Next To Me's first run at Cambridge two starts back was a real eye-catcher. After being severely hampered by a breaking runner 800 metres out, he powered home for fourth behind Sharkies Girl.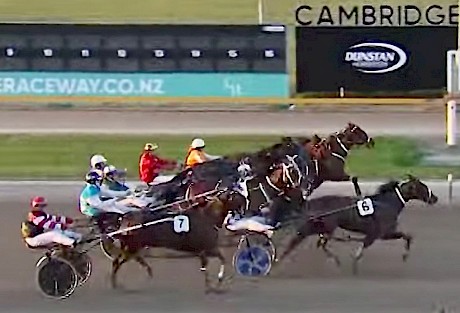 Riverman Sam, fourth but jammed up in a tight finish at Cambridge.Best of the remaining three Lincoln Farms runners is definitely Riverman Sam, the sole second row runner in the fourth race.
While his 66455 form line looks only moderate, he has suffered from getting too far back in the running. "A couple of slots closer and he can win a race - he just needs the right trip."
Pole runner Claudia Schiffer led the last time she drew one so if driver Zev Meredith stays in front, Riverman Sam could get the perfect trail for Monika Ranger.
Two starts back, at Cambridge, Riverman Sam came very wide turning for home and flashed late to finish only 2.2 lengths behind Bettor Grunter, who paced a very slick 2:40.6.
And his fourth at Cambridge before that was also a good effort, locking sulky stays when jammed up in tight quarters close to home and only a length from winner Enjoy Me.
Last start at Auckland he made up useful ground from the rear on the home turn to finish fifth behind Simply Sam, home in 57.7.
Green isn't expecting the resuming Riverboy Ben to feature from a bad draw in the seventh race.
"He's going well enough, without doing anything spectacular at the trials, and I'm picking he'll need a race or two to fit himself. We've got to start somewhere."
Gate eight is "the kiss of death" says Green for Major Grace, fresh-up in the eighth race.
"I cant see her getting a good trip from there.
"She's a lovely little filly, very tradesmanlike, but she lacks a yard of speed to be up with the good ones."
Our runners this week:
How our trainers rate them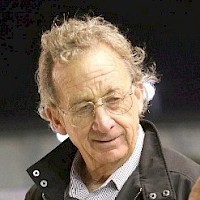 Ray's comments
Thursday night at Cambridge
Race 2: Next To Me
5.50pm
"He's starting to put it together and looks a serious chance. He's gone some nice races. He was entitled to run last there one night (when badly checked) and finished fourth so he's tough enough. He should get every chance from the draw."
Race 2: Whiz On Bye
5.50pm
"I don't think there's much between him and Next To Me. He's pacing much better now and he was quite good in the last of his three workouts. I hope they can both run in the money."
Race 3: Riverboy Ben
6.15pm
"The second row draw is awkward for him over only 1700 metres - obviously he'll get back. I think he's a horse who will need a trip and he's not likely to get one from there. He'll need to be lucky."
Race 7: Riverman Sam
7.55pm
"I think he's the best horse in the race and I don't see why he can't do it again. The 2200 metres won't worry him. He's no slug, he's got speed. I got him home in 27.2 when he won over 2700 metres."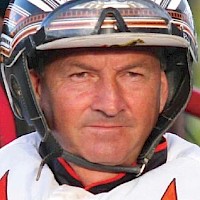 Mark Dux's comments
Friday at Albion Park
Race 6: Captain Nemo
6.07pm NZ time
"It's a pretty strong field - every bit as good as last week, maybe stronger - and while he's starting to get back to where he was, he's not quite there yet. We'll come out steady on, get into the running line, and play it by ear."
Saturday night at Albion Park
Race 1: Tommy Lincoln
7.15pm NZ time
"He's first emergency so I'll give him a week off to freshen up and then start again. I don't know whether he just had an off night last week or if the 26.6 first quarter played into it. That other horse was in our face the rest of the way too."