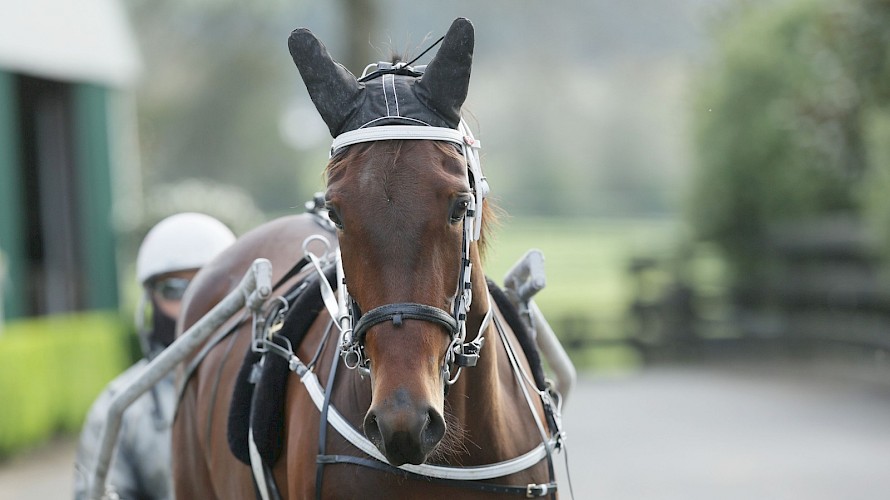 Hot-headed Lincoln's Girl best of the B team at Cambridge but the start is all-important
B team leader Lincoln's Girl looks the only Lincoln Farms' runner likely to get a shout at Cambridge on Friday night.
While the often fiery filly has the ace draw and her favoured left-handed track to suggest she might get some of the money, neither maidens Vinibaka nor debutant Mathew James have shown enough to warrant even a gold coin.
With the best of the stable's runners having a week off after some intensive racing, it is left to Lincoln's Girl to fly the Lincoln green colours.
And trainer Ray Green suspects just how well she does will depend on how fast she leaves the arm.
She has only six rivals in the ninth race and has enough gate speed to lead but driver Zachary Butcher will be hesitant to fully gun the filly after she broke before the dispatch last start at Auckland when looking to utilise the same inside possie.
"That's the first time she'd done that,'' says Green. "I think the driver probably just asked her to do too much.
"Sometimes the one draw is not the best - you can be slingshotted by horses going faster outside you - but she will go better if she can hold up.
"She doesn't have to lead but she can be a hot silly thing,'' says Green of Lincoln's Girl who over-raced in the one-one when fresh-up at Cambridge last month.
"If she leads you'd have to think she'd be right there at the finish.''
Green says Lincoln's Girl seems to go her best races left-handed, just like her older brother Lincoln Road, and has a good turn of speed.
While she drops in company from a very strong field last time at Auckland, when On The Cards clocked a hot 3:19.4 for the 2700 metres, she is still at a disadvantage in the ratings against horses like four-race winner Prime Silver and six-race winner Fleeting Grin.
Manawatu next stop
While punters might be tempted to empty out on a Lincoln Farms' Bettor's Delight debutant, who cost $120,000 at the sales, Green doesn't recommend you take the risk on Mathew James in race four.
The horse looks the part, and is from the Black Watch family, but none of his six workouts and trials have set the heart racing, and Butcher drove him very hard when second to Red Atom in his last one.
"I'd be surprised if he got any of the money,'' says Green. "He's managed to qualify but he hasn't displayed much ability and hasn't improved a lot.
"We all know Bettor's Delights can lift their game when they go to the races but I wouldn't be recommending him as a betting proposition.''
Green says Mathew James will get his chance when he goes down to the next Manawatu meeting and that looks to be the best place for stablemate Vinibaka to earn some money as well.
Vinibaka starts from the inside of the second row in the sixth race on Friday night and, rather than harming his prospects, Green says it might actually help him.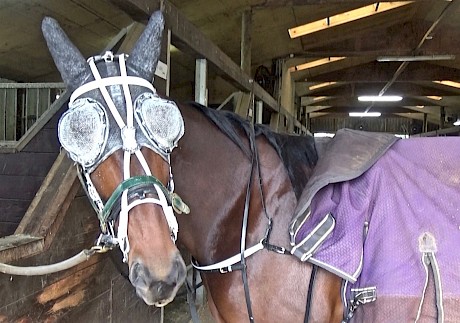 Vinibaka … has had a rocky relationship with trainer Ray Green."He has got some ability as a maiden. But we've learned he can't burn the candle at both ends. He has high gate speed but he hasn't responded well to being burned early.''
That's what driver David Butcher did last start at Auckland when he punched forward off the gate to lead but Vinnie was a stuffed sausage before the 400 metre mark and ran last. Winner Belle Of Montana ran a pretty sedate 2:45 for the 2200 metres.
"He's honest and he tries hard but his motor isn't big enough,'' says Green who endured plenty of pain educating the horse.
"His only chance is to follow out whoever, do nothing, and hopefully have something to come and go on in the last 400 metres.
"That would give him some chance but I won't be holding my breath.''
Vinibaka ran fourth on his last visit to Cambridge, sitting parked for the last lap, and coming to the end of his run 200 metres out, only battling into fourth.
Our runners this week:
How our trainers rate them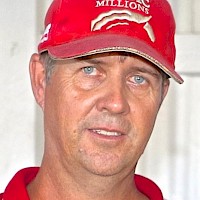 Alistair's comments
Tuesday at Albion Park
Race 2: Lincoln's Girl
4.12pm NZ time
"She's drawn badly but we'll be going forward for a crack and, if she leads, I don't think they can beat her. I'm confident she can run top three even if she has to park. She won easily first-up and was nowhere near ready. She's improved greatly since then and her trackwork this week has been strong."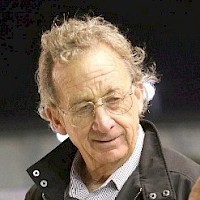 Ray's comments
Thursday night at Cambridge
Race 3: Sir Tiger
"He's finally got a draw we can use and in that field he'll be hard to beat. We had blinkers on him last week for the first time and he just over-raced. They're coming off."