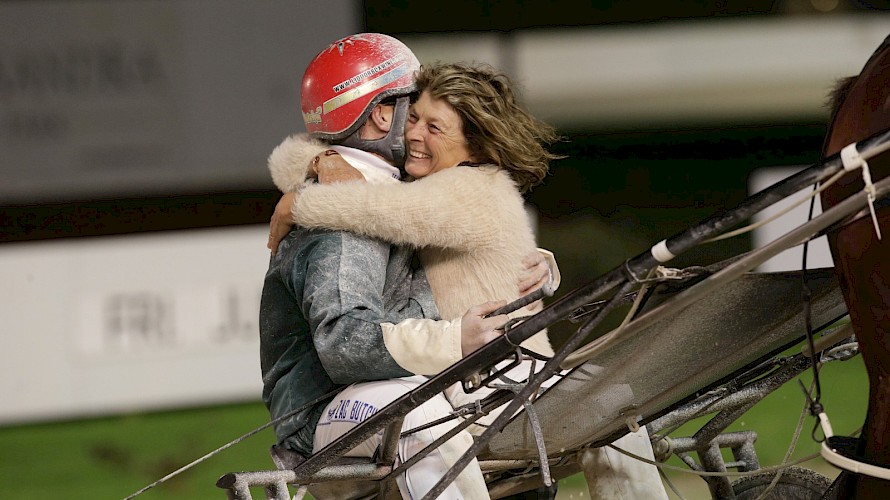 How about that! Copy That finally shows what he's made of - and isn't Deb just over the moon
It's fair to say trainer Ray Green has sworn more than a few times at his bratty juvenile Copy That but all was forgiven when the colt skied to a seven and a half length win at Auckland on Friday night.
And first out onto the track to greet the horse and driver Zachary Butcher on his return was Green's wife Debbie, who owns Copy That and has shared in all the grief he's handed out in the last six months.
The American Ideal two-year-old started showing a rare brand of speed late last year at the Pukekohe workouts but his performances were littered with mistakes, forcing Green to experiment with one gear change after another, after another …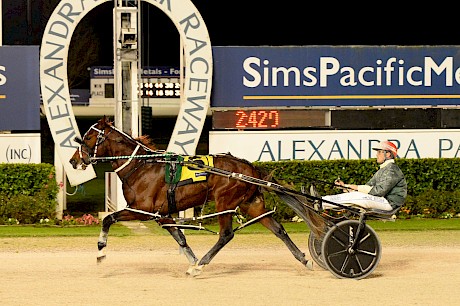 Copy That first, the rest nowhere, as he strolls to a seven and a half length win. PHOTO: Peter Rubery/Race Images.Last night he got it bang on as the switch to a snaffle bit, a bit burr and no blinds saw the colt finally settle and pace smoothly, allowing him to unleash a 56.2 final quarter that left his stablemate Double Or Nothing and southerner Alpine Delight breathless.
But the faultless display was also down to Butcher's hands and intimate knowledge of the horse's wicked ways.
In his previous five starts Copy That had been driven by Tony Herlihy, James Stormont and Matty White, all extremely capable horsemen. But as Butcher says, you've just got to know the horse.
"I drive him at home a lot of the time and the more you drive him the easier it is. He's got all the ability in the world and once he puts it together, he'll be away.''
On Friday night Butcher nursed the horse out of the gate, allowing him to find his feet on the first corner before taking the lead off stablemate Double Or Nothing down the back straight, with 1600 metres to run.
And while hotly challenged 600 metres out by the well backed Alpine Delight, Copy That still charged away in the run home, Butcher sitting quietly as he ripped off a final 400 in 28.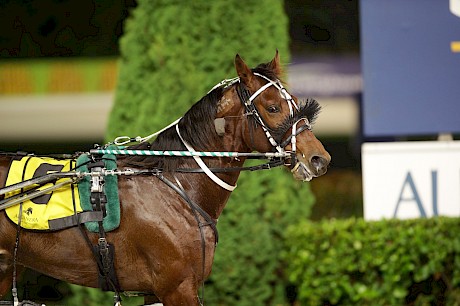 Butter wouldn't melt in his mouth … Copy That returns to scale. PHOTO: Trish Dunell.For Green it was like the war had been won.
"When you've got a horse with his kind of ability it's frustrating when he does things wrong.
"I put the bit burr on him tonight after Matty said he was getting on one line a bit and Zac was smart enough to tighten the inside pole up a notch before the start.
"He'll probably get away with one pole from now on. He's still a work in progress but he's developing all the time.''
Green knows the offers will flow now Copy That has shown his real ability but he's not about to give him away.
"Someone offered $50,000 last night but I see him as a $100,000 colt and don't want to take any less.
"I've got $1.2 million of yearlings in training, 19 or 20 horses, and how many of them will be as good as him? We'll be lucky if it's one or two or three. That makes him a $100,000 colt in my book.''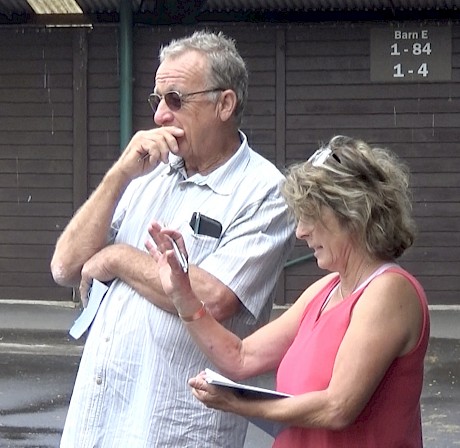 Debbie and Ray Green checking out their next bargain buy.Green and his wife Debbie have a history of buying bargains who go on to big things.
Copy That, by American Ideal, cost just $7000 as a weanling but they snared another American Ideal weanling, Hard Copy, for even less, just $4000.
Hard Copy won two races and $24,000 before he was sold as a two-year-old after the Harness Jewels.
"Deb was distraught at the time, she didn't want to lose the horse, but we aren't millionaires.''
As My Hard Copy, the horse has now won 27 races and $1.27 million in Perth. Ironically, less than three hours after Copy That won on Friday night, My Hard Copy resumed from a 10 month break at Gloucester Park and ran a terrific fourth - as a nine-year-old.
"Deb's got a good eye for a horse and we both check them out at the sales. I remember telling her not to bid any more than $2000 when Copy That went into the ring and when I heard it went for $4000 I knew it would be her.''
Debbie was it again at last month's weanling sale, paying $3000 for Copy That's half brother, by Highview Tommy.