Hustler drawn to lead again and there's no Ashley Locaz to savage him this time
Northview Hustler couldn't cope with being savaged in the lead last week but trainer Al Barnes believes he can bounce back on Saturday night.
The Hustler was well fancied to repeat his win of the previous week when he took on Ashley Locaz but the former All Stars runner sat in the breeze and continually served it up to him, seeing the Kiwi puncture early in the run home.
"Ashley Locaz found us out last week with a fast lead time and four fast quarters (28.7, 28.9, 28 and 27.8).
"Hustler's not used to racing in that pattern and it told on his fitness.
"We got it easy the week before but the tough run found us out."
Whereas the Hustler clocked a sedate 1:54.9 mile rate for 1660 metres the previous week, Ashley Local clocked a rate of 1:54.1 for the longer 2138 metres.
"He doesn't seem to like racing as tough as he used to. He's more a high speed horse than a stayer now."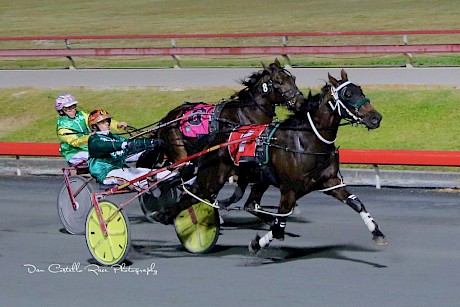 Northview Hustler had it easy in front when he won two starts back. PHOTO: Dan Costello.Barnes says in hindsight his son Hayden believes he should have handed up the lead but no doubt the fact he downed the same horse, who again sat parked, the previous week played in his mind.
"But he's pulled up better for the run. When you're racing at these speeds your fitness has to be spot on."
The Hustler was also not the horse he used to be, said Barnes, with niggling injuries continuing to plague him.
"He'll carry the injuries all his life but it's just a question of maintenance. He's on every kind of joint supplement possible and I'll be taking him back to the university on Monday to get his fetlock injected again.
"But he's still a good bread and butter horse for his owners - he earned A$12,500 last month."
From gate two on Saturday night Barnes expects the Hustler to have no trouble crossing pole runner Scoob Operator.
And with no Ashley Locaz to contend with this time, he hopes he won't get so much attention in the lead.
Queensland champion Colt Thirty One is a worthy newcomer but, from the outside of the gate, Barnes doesn't expect trainer-driver Grant Dixon to crucify him first up, when he hasn't raced since July and hasn't trialled.

Northview Hustler races at 9.13pm NZ time at Albion Park on Saturday night.
Our runners this week
Wednesday night at Redcliffe
Brian Christopher, Bondi Shake.
Friday night at Auckland
Spice It Up.