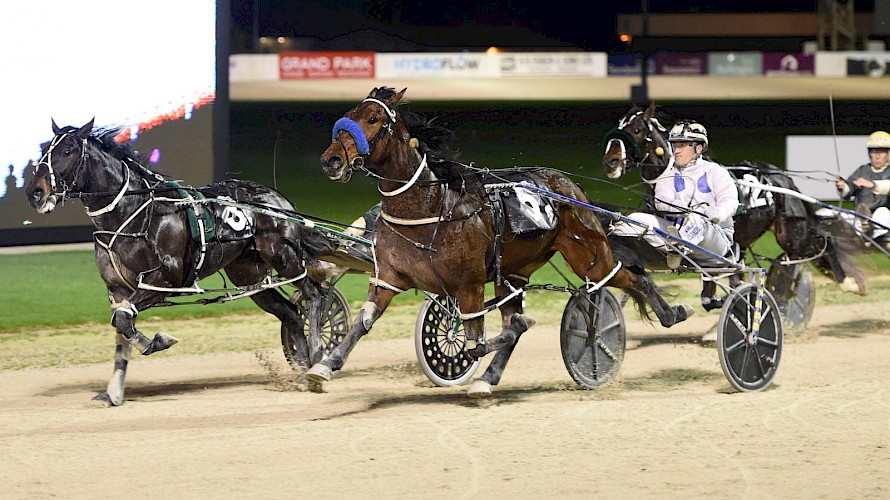 Ideal Kingdom can go one better on Thursday night for loyal Lincoln Farms partners
Little Ideal Kingdom gets top billing at Cambridge on Thursday night after nearly taking a big scalp at Auckland at his last start.
The chunky American Ideal colt had Lincoln Farms and some its most loyal partners really yelling as he set sail for home with a good break on white hot favourite Gandalf at Alexandra Park last Friday night.
And while the highly touted Barry Purdon and Scott Phelan-trained two-year-old grabbed him right on the post, it was still a run that trainer Ray Green says augurs well for the future.
"Based on that run you'd have to think he'll be favourite on Thursday night," Green said. "They're saying Gandalf could be better than Merlin so on paper he looks our best shot of the night."
Merlin took early season two-year-old honours for the Purdon-Phelan stable when he was unbeaten in four starts, climaxed by the Young Guns Final in March.
Green says while he hadn't expected Ideal Kingdom to go so close in only his fifth start he's obviously on the improve.
"James (Stormont) said if he'd relaxed a bit more he would just about have won it too. He got a bit crabby, pulling down the back straight, and really wanted to go.
"He should be hard to beat this week. He's a genuine horse who does nothing wrong - he's always been tradesmanlike."
That rap is sure to be welcomed by Lincoln Farms' owners John and Lynne Street and their bevy of partners who race the $32,500 yearling - the Four Legs Syndicate, the Green Machine Racing Syndicate, Priscilla Edmunds, Steve MacDonald, Wayne Seebeck, Chris Prutton, Steve Beckett, Kevin Bell, Margaret Rabbitt and the Athenry Syndicate.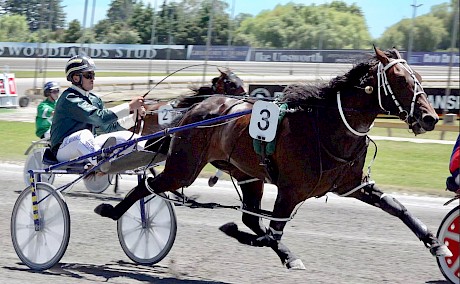 Whiz On Bye showed speed in this narrow defeat at Cambridge on Christmas Eve.Drawn one inside Ideal Kingdom in two is his year older stablemate Whiz On Bye, having his second start in a new preparation.
Green says Whiz On Bye is pacing more fluently this time in and he didn't mind his first-up effort at Cambridge when he eased out of the one-one 650 metres from home and fought on well for fifth.
Whiz On Bye showed improvement last Thursday at Pukekohe when he led all the way in his 2050 metre workout heat, closing in 57.4 and 27.3.
"I don't know the quality of what he beat but he won well," Green said. "I think he'll go a good race."
Lincoln Farms also has dual representation in the sixth race with Frankie Major and Next To Me.
Frankie Major, drawn three, is favoured in gate three, whereas Next To Me is cluttered up on the inside of the second row.
"At first I thought his fresh-up fourth was a bit disappointing but they did run the last quarter pretty quick," Green said.
Frankie Major was also doing his best work late when fourth, beaten 3.9 lengths by Gandalf.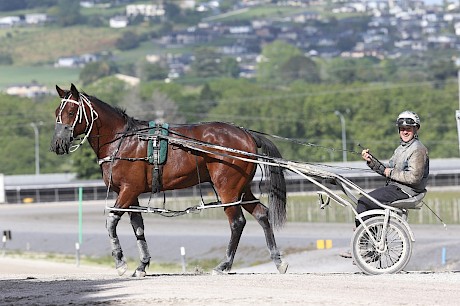 Frankie Major … drawn to be prominent on Thursday. PHOTO: Trish Dunell."Tony (Herlihy) said if it been bit further than 1700 metres he'd have run third. (He was just a neck behind stablemate Neptune at the line.)
"He should also be more effective down there so he has to be a chance. In the two-year-old races you're racing potential cup horses, not pluggers like in the lower grades at Cambridge."
In his previous start at Cambridge in May, Frankie Major came with a barnstorming late run to win.
Stable junior Monika Ranger will have to manufacture some magic on Next To Me who is drawn behind a dicey beginner in Sheza Rose.
"He'll need a bit of luck," says Green. "From the second row you're always at the mercy of the ones in front of you. He doesn't need to lead but I don't think he'll get a good trip from there."
Next To Me shipwrecked himself with an early gallop last time at Auckland but his two previous starts, at Cambridge, were excellent.
Our runners this week
Thursday night at Cambridge
Whiz On Bye (Scratched).