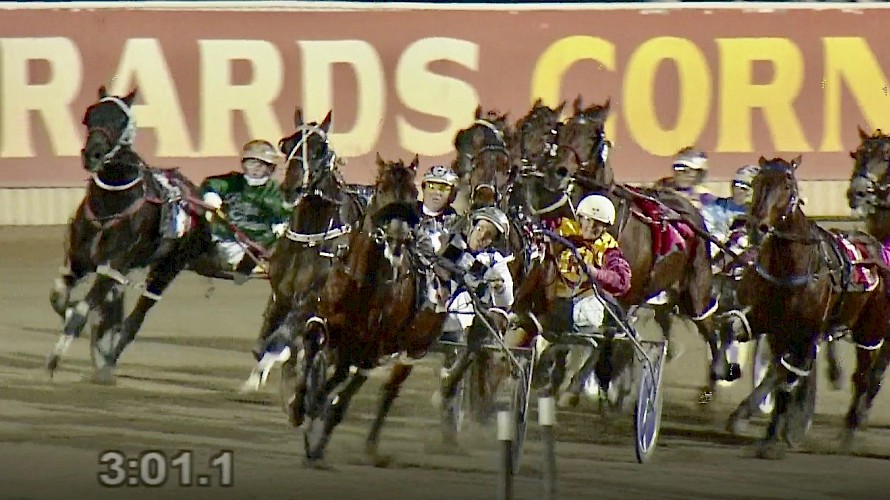 I'm so proud of you Hustler, says Al - you've got a big ticker and you're still improving
Northview Hustler might not have won tonight's Redcliffe Cup but trainer Al Barnes could not have been more proud of his effort for fourth.
Driven back in the field from his 10 metre handicap, Northview Hustler moved out to follow Saloon Passage a little over a lap from home but when that runner went nowhere, driver Hayden Barnes was forced to pull out four wide 400 metres from home.
The little black colt powered round the field, looming close to the leading pack rounding the home turn, but was pushed out extremely wide, losing crucial lengths.
He could have been forgiven for tapping out then but kept finding in the run to the judge to finish just 10 metres from upset winner Clintal Do and runner-up Ohoka Punter.
"He's got a big heart and did a super job,'' said Barnes. "I'm very proud of him as not many come from the back at Redcliffe.
"And best of all his heart rate afterwards was 101, which dropped to 87, and that shows there's still a lot of improvement in him.''

Northview Hustler fights bravely for fourth in tonight's Redcliffe Cup.Barnes says the only chance the horse had was to have slipped round the field much earlier in the race in the hope Anthony Butt would have handed up the chair on Franco Totem.
"It turns out he would have and that would have suited us.''
At the post Franco Totem, trained by Butt's partner Sonya Smith, held on to third, about four metres in front of Hustler.
"But Hustler keeps on improving and that's what we wanted to see. I'm rapt with the run. It was just a shame they all shifted out on the turn and pushed us off the track.''
That left Hustler with a mathematical impossibility as the leaders, hugging the markers, clocked 27.9 and 28.4 for their last two quarters, Hustler trying to make ground on them racing four wide and worse round the tight last two corners.
The Richard March-trained winner was timed over the 2613 metres in 3:13.4, a mile rate of 1:59.1.
The first three home reflected the traditional pattern of racing at the tight triangular track, being in the trail, in front and parked out. Hustler was the first horse home who started off the back mark of 10 metres, just in front of second favourite Lilac Flash.
Lincoln Farms' flag bearer still has three weeks to reach peak fitness, with the first of his two main targets the A$100,000 Sunshine Sprint to be run at Albion Park on July 13.
Our runners this week
Friday night at Auckland
Sunday at Menangle
Make Way.