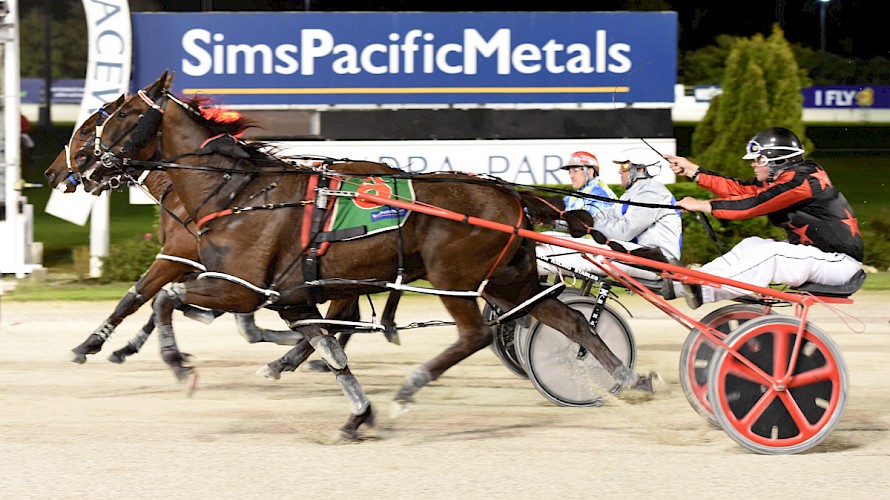 Improving Line Up could yet make the start line at Cambridge after good morning work
Line Up boosted his chances of contesting Thursday's Sires' Stakes heat at Cambridge with a good training run at Pukekohe this morning.
But trainer Ray Green says he won't make a decision until tomorrow morning on whether to start the talented colt, who is recovering from a foot abscess.
"He's still feeling it a little but did some good work this morning, ran a mile in 2:05 and half in 27.2.
"He was a little bit off once the adrenalin had worn off but he's much better than he was yesterday.
"If I was making the decision now I'd seriously considering running him. We'll see what he's like tomorrow but he won't have to improve a lot to run."
The chances of Line Up contesting the first of only two Sires' Stakes heats in the north looked nil on Saturday when he could barely put his foot on the ground after an abscess burst out of the wall of his foot last Wednesday.
But Green has been surprised at how quickly the colt has recovered and now is hoping he'll make it to Cambridge where he has drawn beautifully in two.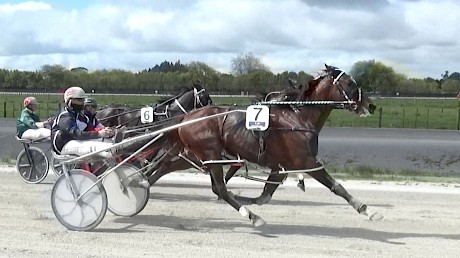 Copy That whistles past his rivals, including Sires' Stakes heat runner Mighty Looee, at Pukekohe last Saturday.His presence would make for an intriguing battle with Green's other representative Copy That set to start favourite despite his wide alley.
"There's not a lot between them but Copy That's obviously had the better preparation. Line Up will have the abscess hanging over him while Copy That has been problem-free.
"Copy That seems more comfortable the Cambridge way round too."
Before his brilliant last-start win at Auckland, when he overcome three little breaks in the running, Copy That trialled in great style at Cambridge, running a fast 2200 metres in 2:45.4.
"It's difficult to label one better than the other - it wouldn't surprise me which one won."
Green is hoping his other two Cambridge starters, Lindi Lincoln (race two) and The Empress (race seven) can both win for Copy That's Australian owner Merv Butterworth who will be on course on Thursday.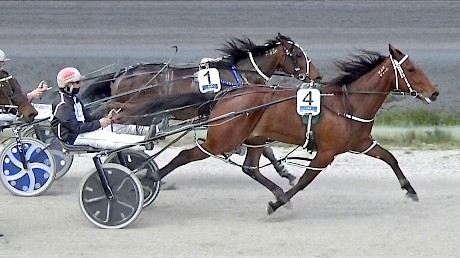 Lindi Lincoln stretches out nicely for Zachary Butcher in her all-the-way win at the Pukekohe workouts last Saturday.Lindi Lincoln has an outside second row draw to overcome but, on paper, is still the one to beat.
She faces six unknown first-starters and six others with no form and comes into the race fitter for her first-up run at Auckland on September 20 when she powered home for third to Down The Hatch and Royal.
Lindi Lincoln came from four back on the markers that night, improving three wide with cover to run the fastest last quarter, 27.6, and fastest last mile, 2:01.1.
A brother to the useful Rupert Of Lincoln, she looked improved when leading all the way to win a workout at Pukekohe last Saturday.
Best chance
The Empress could be the best chance on the night for Lincoln Farms despite also having the visitors' draw in seven for her first look at Cambridge.
The rating 52 to 63 race is by far the easiest opposition The Empress has faced since coming north and she is in excellent form.
Last time at Alexandra Park she was second last 600 metres out, pushed four wide 100 metres later on a 27.4 quarter, and was still able to roar home for fourth, only winner Ivana Flybye, on the markers, recording faster sectionals than her closing 800 in 56 and last mile in 1:56.9.
A repeat of that kind of performance would easily see her home against much inferior opposition.
"She's very reliable and could be a Queen Of Hearts and Breeders' Stakes contender," says Green.
Our runners this week:
How our trainer rates them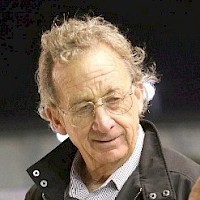 Ray's comments
Wednesday night at Auckland
Race 1: Apieceoflou
6.11pm
"He's really only in the field to get experience. He's not up to the other two at this stage. He's a big, slow maturing horse. He keeps improving without being spectacular but he's a real trier."
Race 1: Captain Nemo
6.11pm
"He's been going well at the workouts without winning. He and Franco Nandor are both nice colts and I expect them to develop into tidy three-year-olds."
Race 1: Franco Nandor
6.11pm
"He's won his last two workouts but has a tricky draw and there are a couple of others in the race who go well. He'll definitely improve with the outing."
Race 4: American Dealer
7.36pm
"I like him as a horse and he's likely to take the most improvement out of his latest trial because of his temperament. He's a laid back individual and looks the best of our lot."
Race 4: Larry Lincoln
7.36pm
"Larry's very fast and he's as forward as the other fella but I don't know how tough he is yet. The draw's a bit tricky."
Race 4: Man Of Action
7.36pm
"He trialled super last Friday and never goes a bad race. We chucked him in the deep end with the bear cats in his last few runs and I think he'll go well in this field. He's on the up and is a much stronger horse now."
Race 7: Copy That
8.56pm
"He's the class horse of the field but he won't be on top of his game yet. I'll be instructing Maurice not to send him on a mission, especially as it's over 2700 metres. He'll still go well but I'm not expecting him to just line up and win. I couldn't label him first-up."