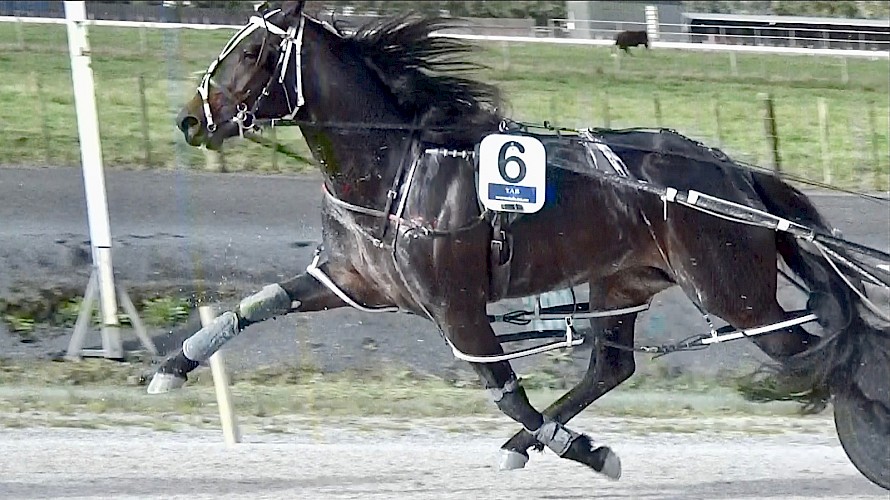 Intriguing clash of Lincoln Farms' colts will go ahead as Ray gives Line Up the all clear
Line Up will line up at Cambridge tomorrow night after showing further improvement this morning.
Trainer Ray Green only jogged the smart colt but didn't detect any lingering soreness from the foot abscess which earlier in the week threatened to keep him out of the first Sires' Stakes heat.
"He was better again today and by tomorrow he should be really good. I'm not too worried at all now.
"Sometimes these things can linger for quite some time but in this instance we've been lucky.
"It's impossible to say how far down on his best he'll be but obviously he could be going into the race better."
Green wouldn't hazard a guess on whether Line Up would beat stablemate Copy That and said stable driver Zachary Butcher's declaration for Copy That simply reflected the fact he didn't want to potentially miss out on a drive as the deadline was yesterday.
Butcher's dad David will pilot Line Up, who has been favoured in the draws and starts from gate three, with Copy That in six.
"There's not much between the two of them and it will come down to who gets the better run."
While Green rates Mighty Looee a chance, his pair will now be at short quotes with the TAB bookies.
The Line Up v Copy That clash will see heavyweight Australian owners Emilio Rosati and Merv Butterworth lock horns, Butterworth having bought Copy That from Green's wife Debbie late last season.
Both colts are blessed with high speed and while Line Up has had much better manners so far, Copy That showed he was much more comfortable going left-handed when scoring a super trial win at Cambridge a couple of weeks ago.
Our runners this week
Friday night at Auckland
Copy That, American Dealer, Captain Nemo, Bondi Shake, Apieceoflou, Revitalise, Tommy Lincoln.