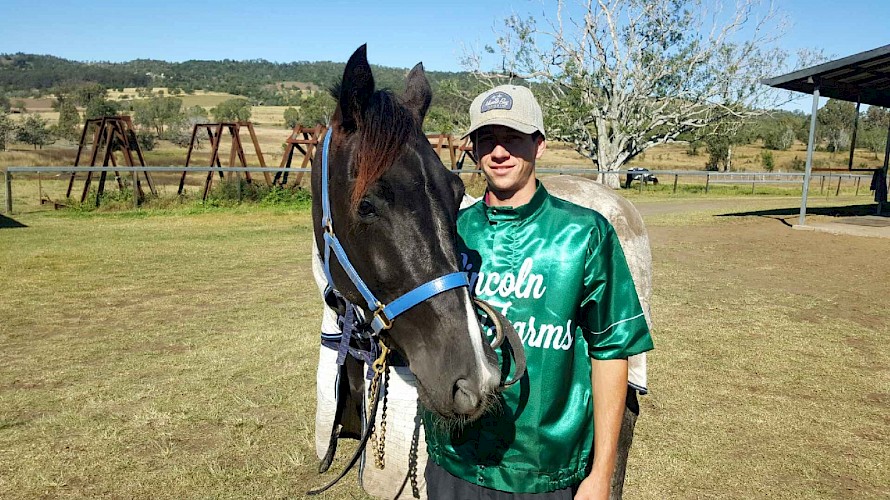 It's green for go! Hayden models the new silks which he'll wear behind Hustler on Tuesday
Trainer Al Barnes is stoked that Northview Hustler will be the first horse to carry the new silks he's designed for his Lincoln Farms team at Albion Park on Tuesday.
What better occasion to unveil the new green strip with white Lincoln Farms' logo than behind the horse he hopes can make a big impact at the looming Brisbane winter carnival.
It's hard to make a case for anything to beat the Hustler in the opening race on the card, a c5 to c8 race over 2138 metres.
With a metropolitan grading of M4, he meets a small field of six M0s and, despite starting from the outside of the gate, he will be a raging hot favourite to maintain his unbeaten record in Brisbane.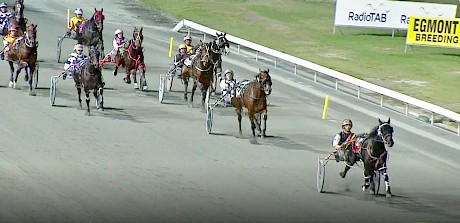 Hayden Barnes is sitting quietly as Northview Hustler clocks a brilliant 1:53.1 mile rate last Tuesday.Barnes reports the Hustler has bounced out of his incredible winning run last Tuesday when he careered away by 16 metres to clock a rare mile rate of 1:53.1 for the 2138 metres.
"He's super, bright as a button," says Barnes.
"This is not a hard race for him. Hayden will punch out and if they show him some respect he'll lead. If not, he'll sit quietly in the chair and I don't think that would worry him too much.''
Hustler's task was made all the easier today with the scratching of the free-running Pinup Boy who was drawn to contest the early lead.
And Barnes can't see New South Wales pacer Vettel troubling Hustler in his first run in the state.
"He could be a pest and lead. He's not a danger of beating us but he might get in the way.''
Vettel has a fastest mile time of 1:51.5 and scored all the way at Menangle three starts ago in 1:53.
Hustler's 1:53.1 is easily the fastest mile rate for Tuesday's distance range, the next best being Vettel's 1:55.8.
Tuesday's race will be the last for Northview Hustler until June 22 when he contests the A$31,400 Redcliffe Cup but Barnes is likely to trial the horse there next week to make sure he can handle the tight triangular shaped circuit.
Also headed to the trials, at Albion Park on Tuesday, is Trojan Banner who is unbeaten in five Queensland starts for Lincoln Farms.
Barnes gave Trojan Banner a freshener after his last win on April 23 so as to time his run at the A$100,000 Queensland Derby on July 20.
"He's come up good as gold but he'll need the run tomorrow.
'He's still not steering that great - he's a bit tight in the muscles in his neck and across his rump - but he'll have acupuncture in the next few days.''

Northview Hustler races at 3.56pm NZ time on Tuesday.
Our runners this week:
How our trainers rate them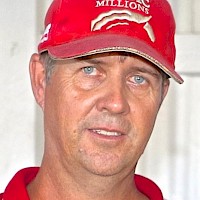 Al's comments
Tuesday at Albion Park
Race 3: Bondi Shake
5.33pm NZ time
"There's a bit of speed out wide with the favourite coming from six but the horse in front of him gets out fast so he should settle close to the firing line. He's one of the better ones in the race and I'd be disappointed if he didn't finish in the top three. He's improving all the time."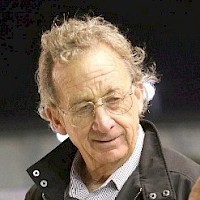 Ray's comments
Thursday night at Cambridge
Race 2: Brodie Lindenny
5.56pm
"He's very green but he's got to start somewhere and he's improving all the time. And if he goes as well as he did at the workouts last week he can be in the money."
Race 3: Brian Christopher
6.21pm
Scratched.

Race 6: Themightyserina
7.36pm
Scratched.
Race 10: Captain Nemo
9.12pm
"He's in with average horses and on paper he looks the one to beat. He's getting fitter and fitter with each run and is a serious winning chance."