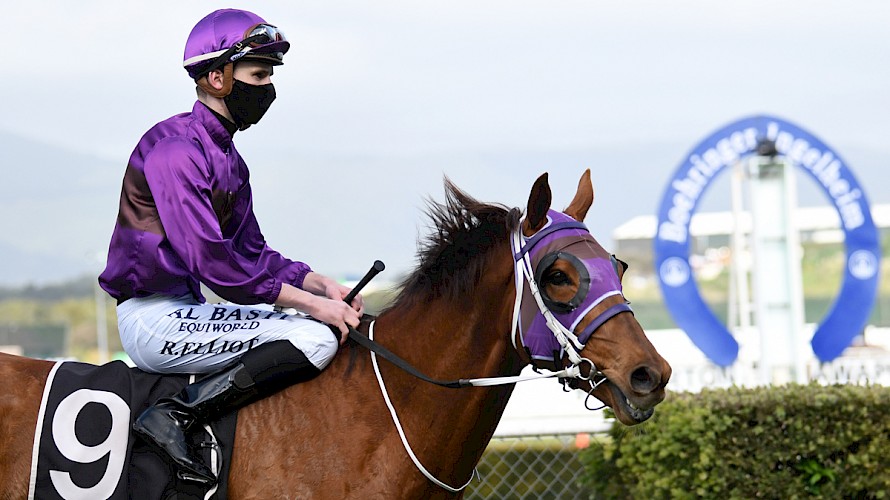 Jockey's calculated ride earns a well overdue toast for Platinum Bordeaux at Awapuni
When Neville McAlister and trainer Lisa Latta bought Platinum Bordeaux at the 2018 Karaka yearling sale they never dreamed they'd have to wait until she was five to see her salute the judge on raceday.
Incredibly, the mare was having her 26th start at Awapuni today when she finally won, smoothing over somewhat the frustrations of running three seconds, seven thirds, five fourths and a fifth.
"At the sales she looked like she'd get up and fly - she was bred to be a two-year-old and was the right size - but clearly we were poor judges," said McAlister who races the mare with Lincoln Farms' owners John and Lynne Street.
"Everyone thought the Per Incantos would be early runners but they've been quite slow maturing. They've been doing well in Hong Kong because I suppose by the time they get up there, they're a bit older."
Platinum Bordeaux, out of the unraced Flying Spur mare Cardio Miss, cost $67,500 and while McAlister says she's been generally disappointing, she's always been given the benefit of the doubt because she's been so slow maturing.
"Now that she's fully grown and matured hopefully she can win two or three more."
McAlister gave much of the credit for today's win, at a distance expected to be too short for her, to jockey Ryan Elliot.
"In a lot of her runs she's had to change ground in the straight in tight quarters and she's just not good enough to do that.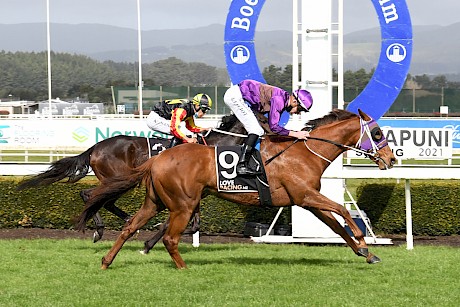 Platinum Bordeaux rushes past Big Franck to score. PHOTO: Peter Rubery/Race Images."Today he deliberately steered her wide into the open, not for better ground but to keep her away from the other horses.
"Racing on the outside bend helped her too - on the inside track at Awapuni it's too hard to get home from the back.
"We were hoping she might be able to run into a place today and win next time when we are stepping her up to 1600 metres. Races in the 1600 metre to 2000 metre range should suit her now."
But Platinum Bordeaux had been able to score over 1400 metres today because Latta had freshened her right up with a short break, he said.
"She had three weeks in the paddock, three weeks in work and only a couple of gallops, with no trials or jumpouts."
Latta had been expecting a bold run after reporting the mare was bright and happy and had turned in nice work on Tuesday.
McAlister said Platinum Bordeaux was also helped today by the fact she did not have to slog it out on a heavy 11 track, the reason for the timing of her spell.
"They didn't get anywhere near as much rain as was forecast and the track wasn't as bad as we thought it would be - it was racing more like a slow 9.
"Now that the tracks are on the improve she can go right through to Christmas and race on dead 5 or worse ground. But she will go out when the tracks get like concrete as she's no good on the hard."
Elliot rode a pearler on Platinum Bordeaux, getting out on the pace before settling her in behind the leaders.
He had her lurking turning for home and finished too powerfully for one of the favourites Big Franck and stablemate Oceanides to score by half a length.
Our runners this week
Friday at Woodville
Lincoln's Kruz.
Saturday at Riccarton
Lincoln King.
Sunday at Trentham
Lincoln Raider, Lincoln Star, Platinum Spirit, Platinum Petals, Platinum Machine.