Just a walk in the Park for Hustler but bookies still screw down his odds for the big one
Australian bookies reacted to Northview Hustler's walk in the park at Albion Park today by elevating him to the third line of betting for next month's A$200,660 Blacks A Fake Queensland Championship.
The Hustler is now at $4.50 and better fancied than Brisbane's top pacer Colt Thirty One for the July 20 feature, which most of the horse's New Zealand owners look like attending.
Trainer Al Barnes couldn't remember lining up an easier winner than The Hustler today who strolled round the track to win unextended by nearly 10 metres in a pedestrian mile rate of 1:57.3, more than four seconds slower than his sizzling rate of last week.
Donned in his new green Lincoln Farms strip, driver Hayden Barnes asked Northview Hustler to run from the outside of the gate and he quickly crossed his rivals to lead inside the first 200 metres.
Form there he was able to crawl through the opening quarter of the last mile in 32.1.
Barnes upped the tempo a little to run 29.7 and 29.1 for the next two quarters before letting the little black run home in a dazzling 26.5.
And the Hustler did it all on his own, Barnes sitting quiet throughout the run home, with only one small slap of the left rein, prompting race caller Chris Barsby to declare: "That was like trackwork and I dare say he didn't break a sweat.''
Hustler's overall time for the 2138 metres was 2:35.8, all of 5.5 seconds slower than his last run.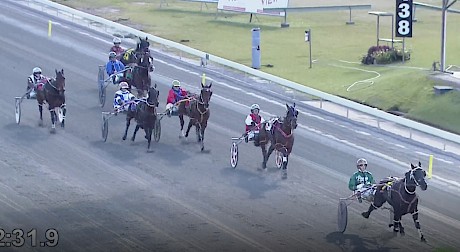 Driver Hayden Barnes hasn't moved a muscle as Hustler strides clear in little more than a training run.
"We've had some pretty easy wins back in the day but Hayden said that was pretty cruisy," said Barnes. "He just let him slide up the straight and didn't need to do any more.
"It's nice to run time but you don't want to bust the horse and if you can get an easy win, that's good.''
Barnes noted no opposition was offered when Hustler burned off the gate and says it would be nice if he got the same respect in the upcoming feature races.
"His recovery was very quick and that will give him some extra fitness and confidence.''
The win took the five-year-old's earnings to A$21,422 from his three wins in Brisbane for a season tally of $36,375.
Northview Hustler paid $1.03 on the Australian tote and $1.10 in New Zealand, bookies here offering only $1.04 at the jump.
His next assignment is the Group III A$31,400 Redcliffe Cup (2613m) on June 22.

Hustler is in cruise mode, nearly 10 metres clear.
Trojan too good in 1:55.5
Meanwhile, stablemate Trojan Banner began his run towards the derbies with a slick 1660 metre trial win over older horses in 1:55.5.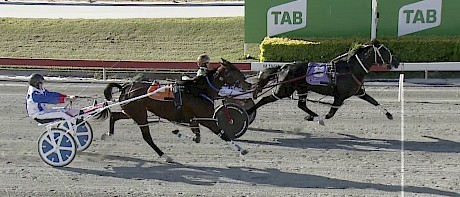 Trojan Banner wins today's trial in 1:55.5.Driver Hayden Barnes allowed the colt to drop out to the rear of the field before making a fast run three wide down the back straight to race in the breeze.
He claimed the leader before the home turn and finished strongly to score by 2.3 metres over 13-race winner Our Millwood Maizie.
"He won pretty comfortably but was hanging a little bit so we have some work to so,'' says Al Barnes.
Trojan Banner is unbeaten in five starts in Brisbane.
Our runners this week:
How our trainers rate them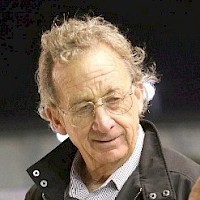 Ray's comments
Friday night at Auckland
Race 1: The Empress
"She's very capable of winning but you couldn't label her. But she'd have to be very unlucky not to get some of it."
Race 3: Lindi Lincoln
"She went quite nicely at the workouts last Saturday but she'll probably need a race to tighten her up. It's not a great field but the draw (outside front row) isn't ideal."
Race 5: Line Up
"I'm confident Line Up can beat Henry Hu who puts in some terrible steps around the corners. He'd have to do plenty wrong to get beaten."
Race 5: Bettor My Dreamz
"He's back in the right grade and will be right there with a trip, but he'll need a perfect trip to have any chance of beating Line Up."
Race 7: Copy That
"He's the best horse in the field without a doubt - it just depends on what passage he gets from that draw, but if he gets a good trip I can't see anything beating him."
Race 9: Double Or Nothing
"I think he'll run just as well as usual. The draw's not great but he doesn't have to lead to go well - he can go back if David wants to."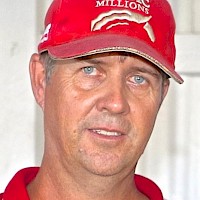 Al's comments
Saturday night at Albion Park
Race 5: Northview Hustler
10.08pm NZ time
"I'll go back and save him for one sprint from the 300. It's hard to predict where he'll finish driving like that but the field is a bit weaker than last time with Watch Pulp Fiction not in and the step-up to 2138 metres will definitely favour us."