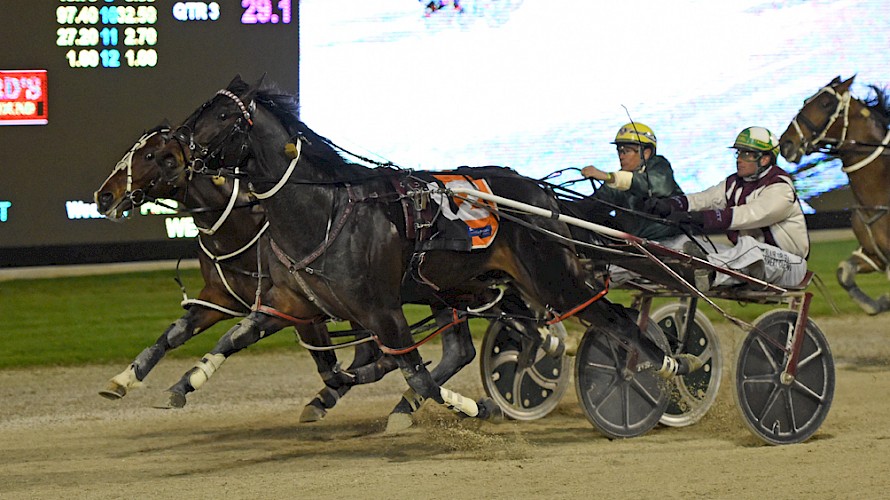 Krug tough to pop but American Dealer can give him another fright in Sires' Stakes Final
American Dealer only has to race up to his lead-up form to again be a thorn in the side of top rated youngster Krug in Friday night's $140,000 Sires' Stakes Final at Alexandra Park.
Only a head separated the pair when they first met two weeks ago, American Dealer just going under in a real dogfight to the line.
And drawn four this week, with his main rival in six, Lincoln Farms' trainer Ray Green believes the horse is well placed to be right in the fight again at the generous odds of $16 and $2.90.
"From the draw he's our best shot on Friday and even if he could run third it would be a major coup.
"I think the race will be won or lost in the first 800 metres as it will be crucial to get the right trip."
The perfect scenario would see driver David Butcher use American Dealer's gate speed to take an early lead, before hading up to Blair Orange on Krug.
"But he's got to get across the three inside him first and I pick the two of Mark Purdon's will be punching out."
Green believes American Dealer and the All Stars' It's All About Faith ($3.10) are the only two who can give Krug ($1.50) a fright.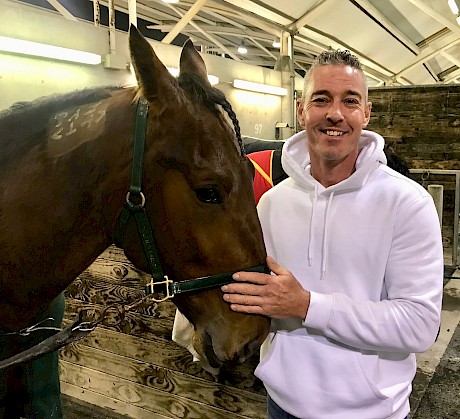 Golfer Gareth Paddison with his horse Captain Nemo who paid $14.30 for a place last start.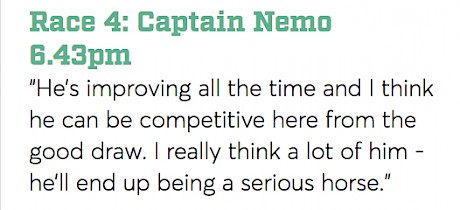 What trainer Ray Green said about Captain Nemo's chances last start when he paid $14.30 for a place."Krug is definitely the one to beat. He's a tough customer who hasn't done anything wrong at all. He could sit parked and still be dangerous."
Last start Orange made a long run on Krug from the 1200 metres, planted three wide with no cover between the 1000 and 700 metre marks before he took over.
But while American Dealer had a much more economical run in the lead, Green has no doubt he has the grit to be competitive in the Final.
"I can't fault what he's done so far. He's never let us down. He fights like a tiger when the pressure goes on and he never goes a bad race, he's just a little professional."
Stablemate Captain Nemo ($101, $11) will need luck from two on the second row but Green says he's no forlorn chance.
"I've always been vocal about his ability and it was good to see that franked last time."
Green declared Captain Nemo would be competitive from his improved draw two weeks ago and was proven right when he ran on for third and paid a place dividend of $14.30.
"It's hard to predict what will take place round the first corner but he's a horse who is still on the improve. When he gets up to a derby distance that's when we'll see the best of him."
Green admits it's hard to predict what Tommy Lincoln will do in his first standing start in the seventh race when he also takes on a much tougher grade.
"He's such a good pacer it's hard to imagine him not pacing off the mark but he hasn't had any practice at home, it's pretty much cold turkey for him on Friday.
"He's come up through the grades very quickly and now has to step up - they're good, honest horses he's taking on - but if he gets a handy trip I think he'll cope with the rise in class. I wouldn't be surprised if he ran in the top four if he could conserve petrol."
Another wide draw
Apieceoflou has been lumbered with yet another wide draw in the third race, albeit coming in one spot to six with the early scratching of Chris Kyle.
"Draws have been his demon but I like this horse and I think he will develop further - he's not the compete package yet.
"He was earmarked to go to Queensland but I want to keep him a bit longer.
"I think Andre (Poutama) has to go forward on him this time. We've never seen him get a handy trip - even when he ran second he came from the back and came over the top of them."
Apieceoflou has featured regularly in the sectional stars, his latest sixth placing seeing him record the fastest last mile (1:58.6), fastest last half (56.6), faster third quarter (28.7) and fastest first half (62).
"But he's looking for a bit of luck.
"And Bondi Shake is looking for a lot of luck. He's a nice horse. He lacks a bit of high speed but he has a lot of mates there.
"The outside second row draw looks to have him covered again but give him a good draw and he'll be in the money straight away."
Bondi Shake was beaten only a neck in his latest workout at Pukekohe last Friday after leading.
Newcomer Revitalise has a similar gate problem in the ninth race.
The latest in a string of Southlanders brought north to Lincoln Farms by owner Merv Butterworth, the Bettor's Delight four-year-old hasn't raced since beating one home at Winton in February.
"It will be a lot harder up here for him but hopefully he will rise to the occasion.
"He strikes me as being honest, and the little guy is in good nick, but I'm picking he'll need a race. He got a bit tired at the end of his last workout.
"I'm not expecting to see him run in the money but I hope he's in the first half of the field."
Green expects Revitalise, who won the first of his five starts last December for trainer-driver Nathan Williamson, will be a handy runner.
"He'll go all right until he gets up in the grades."
Our runners this week:
How our trainers rate them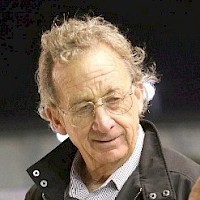 Ray's comments
Friday night at Auckland
Race 2: Arden's Horizon
6.19pm
"He certainly looks a good chance on paper. He's a good, honest pacer and there's nothing wonderful in there against him."
Race 4: Nirvana Franco
7.20pm
"She's got a good draw and is a bit more experienced than the others and seems to be waking up. She's a big filly who's filling out nicely now."
Race 4: Bet On The Tiger
7.20pm
"He has a lot to learn. He still paddles a bit on the corners but he'll get there. He's a trier."
Race 4: Argyle
7.20pm
"I think he'll go well. He's one of those Bettors Delights who don't really try that hard in training but he does most things right and he's looking OK."
Race 4: Next To Me
7.20pm
"He's got a long way to go yet but he's training better. He's a lazy type who takes a bit of encouragement to go. This race should wake him up a bit."
Race 5: Louie LeBeau
7.49pm
"He's got a lot of ability but he's not as strong as he could be yet so I wouldn't want to see him launched and put into the race too soon. But with a nice, soft trip he's definitely a chance."
Race 5: Pasquale
7.49pm
"He's a lovely pacer who might not have as much speed as Louie LeBeau but he seems to keep going. He's the only one on the second row so he can follow out which one he likes. There are some promising types in this but he'll go well."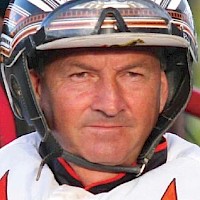 Mark Dux's comments
Friday night at Albion Park
Race 3: Captain Nemo
9.40pm NZ time
"I think he would have won easily last week if he'd got a clear run, he was going half pace. It's not an overly hard field tonight and it will only be the traffic that stops him. With average luck, he'll be right in the finish."
Saturday night at Albion Park
Race 1: Tommy Lincoln
8.10pm NZ time
"It's a tricky alley but but he's certainly going well enough to be among them. It will all come down to how quickly the one horse gets out. If she holds the front, Tommy's a winning chance from the trail. If she hands up, and puts Tommy three deep, we're only running for a place."