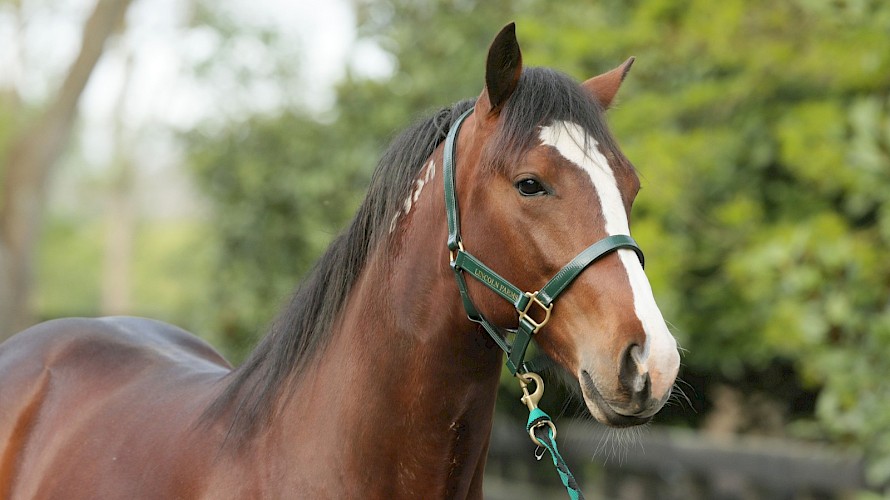 Larry Lincoln has the zip to get a nice possie when he debuts at Cambridge on Friday night
A good front row draw could be enough to see Larry Lincoln in the money on debut at Cambridge on Friday night.
The Sweet Lou three-year-old has had his issues in the past but has steadily improved this preparation and goes into the seventh race well primed after five recent workouts and trials.
And trainer Ray Green believes that from three on the gate he has enough speed to get a good position.
"He's quite zippy, so I don't think he'll get left parked, and if he gets a good trip I'm sure he'll be right in it.
"He's a neat little horse who tries very hard and doesn't do much wrong so he'll win a race or two."
Larry Lincoln's career was stalled by a big splint on a front leg which required him to be boxed for two months, after which he was given another two months in the paddock.
But it's been all plain sailing this time in and he showed he had some lick when leading all the way to win his left-handed qualifying trial on September 28, albeit against only two rivals.
"He's been trialling well and it's not a wonderful field so he should get his chance."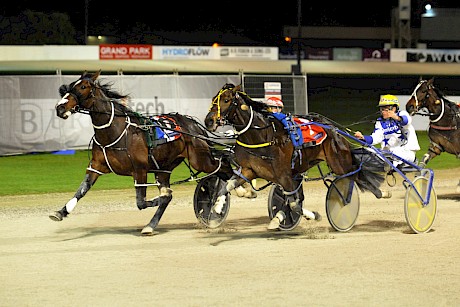 Double Or Nothing breaks through at Auckland last start, staving off Christianshavtime. PHOTO: Peter Rubery.Double Or Nothing might have taken 14 starts to win a race but as a last-start winner at Auckland he deserves to be respected again in the second race.
Double Or Nothing showed improved grit on September 27 when he fought off Christianshavtime in 1:57.2 at Alexandra Park and last Saturday scored an all-the-way win at the Pukekohe workouts for rookie junior Zed Meredith.
"He's looking good and certainly has the ability to go on with it, although there are one or two tidy ones against him."
As a rating 55 pacer, Double Or Nothing faces opposition up to rating 70 in the form of Young Conqueror and the in-form Gladamare (r63) who kicks off Meredith's career in the cart.
Double Or Nothing has the advantage, however, of having high gate speed and should easily lead from gate two.
Don't discount the chances of Lindi Lincoln also shooting for the early lead in the fourth race, despite her outside front row draw.
Lindi Lincoln was taken out of the race last time when Bettor Get It On galloped in front of her out of the mobile and they locked wheels, tipping driver Ben Butcher out.
"That was just bad luck but at least nobody was hurt. She's been unlucky again with the draw but at least she's made the front line this time, which is an improvement.
"And she could lead them from out there. She's got a bit of gate speed and if Zac wanted to, she's capable of getting there. If he goes back he's going to have to use her at some stage anyway.
"We've just got to hope she gets a trip soon and it's not a great field."