Lights, camera, action … Steam Punk is ready to bang heads on Friday night
Trainer Ray Green has new recruit Steam Punk all dressed up and ready to take the stage judging by his smart workout at Pukekohe yesterday.
The McArdle three-year-old, who was sent north to Lincoln Farms by Australian owner Merv Butterworth a couple of weeks ago, had his second spin round Pukekohe, driver Zachary Butcher opening the pipes a little more.
Asked to go forward off the gate in the 2050 metre workout, Steam Punk had no trouble taking the lead and he kept up a good clip throughout.
The gelding was hotly challenged up the home straight by the Tony Herlihy-trained filly Golden Quest and the pair went to the line locked together, commentator Cameron Shaw unable to split them.
Golden Quest got the nod and the pair were credited with a time of 2:39.6, a mile rate of 2:05.2, with closing sectionals of 59 and 27.7.
"He could have gone faster than that if Zac had wanted him to because he said he was just sitting on him at the finish,'' says Green.
"Zac said he was perfect, he drove beautifully.
"He's got it all, he's a really nice little animal who does everything terrifically. It just remains to be seen how big the engine room is now.''
Green will nominate Steam Punk for the Auckland meeting on Friday night and, without knowing the opposition and draw, expects he will be hard to beat.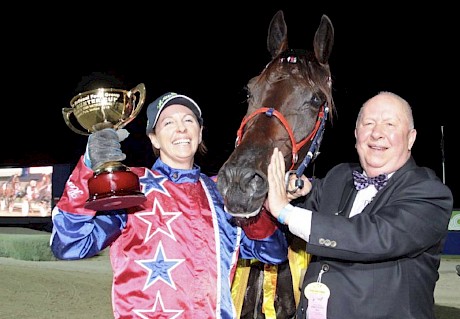 Merv Butterworth with trainer-driver Kerryn Manning and New Zealand and Hunter Cup winner Arden Rooney.Green took delivery yesterday of a second package from Butterworth, one of Australia's biggest owners, in the form of the five-year-old mare Zealand Star.
Winner of three of her 20 starts, the Washington VC mare is on an awkward mark and Butterworth told Green there were precious few opportunities for her down south.
Zealand Star won three races when in the care of Brett Gray and, last time from Lauren Pearson's quarters, she ran an improver's fourth to Run Boy Run at Wyndham, coming from last and widest on the home turn.
"She's a lovely big, black horse,'' says Green. "We'll know more about her by the end of the week but she looks a really nice type.
"Brent Barclay, who's driven her, says she shouldn't have any trouble going right-handed. But we'll trial her that way first before we go to the races just to make sure.''
Lincoln Farms has sold Butterworth a number of horses who have gone on to forge successful careers, perhaps explaining why the big spending owner is now placing horses in their care.
Our runners this week:
How our trainers rate them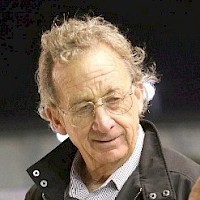 Ray's comments
Friday night at Auckland
Race 4: Copy That
"He's certainly got some speed. The race was all over by the time he got going last week and James never pulled the plugs. Clearly he's the best horse in the field on ability. But there are no guarantees he'll behave.''
Race 4: Tommy Lincoln
"He's trialling well but I won't be expecting too much from gate six. He was a big, gangly, weak thing but he's strengthened up a lot this time in."
Race 4: Billy Lincoln
"It's his first race, and first time away from Pukekohe and he's drawn the inside of the second row so logic tells you he has a few things against him. Until six weeks ago he was extremely average but he's progressively got better and better."
Race 8: Governor's Bay
"He had a tough trip last time so it wasn't surprising he weakened. He's training well and this field looks a lot easier."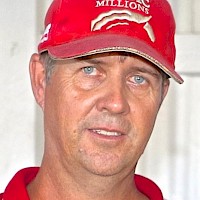 Al's comments
Friday at Albion Park
Race 1: Lincoln's Girl
2.42pm NZ time
"It's not a bad field but she's as good as anything else in there and looks a top two chance with a little luck from the second row. She went super last time - I didn't know how brave she'd be when I saw her caught in the chair but Hayden was very happy with how she went."
Race 9: Vasari
7.22pm NZ time
"He should get out a lot better this week with Hayden back driving and we'll be trying to cross the pole marker. The horse is really well and he'll win one soon. It's a good line-up but he should run top three.''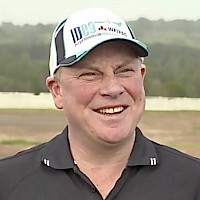 Ants' comments
Saturday night at Menangle
Race 7: Lets Strike The Gold
10.22pm NZ time
"This is a difficlut race for him to win and I'll be driving him quietly from that barrier. It's been nearly nine months since he raced and he's going to need a couple of runs to get his race fitness."