Lights, camera, action … Steam Punk is ready to bang heads on Friday night
Trainer Ray Green has new recruit Steam Punk all dressed up and ready to take the stage judging by his smart workout at Pukekohe yesterday.
The McArdle three-year-old, who was sent north to Lincoln Farms by Australian owner Merv Butterworth a couple of weeks ago, had his second spin round Pukekohe, driver Zachary Butcher opening the pipes a little more.
Asked to go forward off the gate in the 2050 metre workout, Steam Punk had no trouble taking the lead and he kept up a good clip throughout.
The gelding was hotly challenged up the home straight by the Tony Herlihy-trained filly Golden Quest and the pair went to the line locked together, commentator Cameron Shaw unable to split them.
Golden Quest got the nod and the pair were credited with a time of 2:39.6, a mile rate of 2:05.2, with closing sectionals of 59 and 27.7.
"He could have gone faster than that if Zac had wanted him to because he said he was just sitting on him at the finish,'' says Green.
"Zac said he was perfect, he drove beautifully.
"He's got it all, he's a really nice little animal who does everything terrifically. It just remains to be seen how big the engine room is now.''
Green will nominate Steam Punk for the Auckland meeting on Friday night and, without knowing the opposition and draw, expects he will be hard to beat.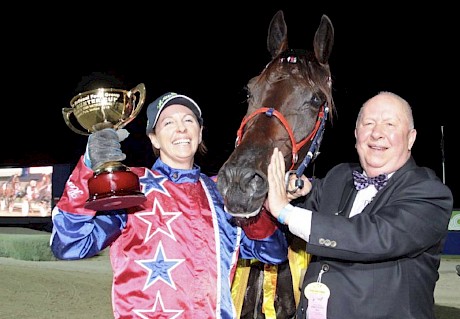 Merv Butterworth with trainer-driver Kerryn Manning and New Zealand and Hunter Cup winner Arden Rooney.Green took delivery yesterday of a second package from Butterworth, one of Australia's biggest owners, in the form of the five-year-old mare Zealand Star.
Winner of three of her 20 starts, the Washington VC mare is on an awkward mark and Butterworth told Green there were precious few opportunities for her down south.
Zealand Star won three races when in the care of Brett Gray and, last time from Lauren Pearson's quarters, she ran an improver's fourth to Run Boy Run at Wyndham, coming from last and widest on the home turn.
"She's a lovely big, black horse,'' says Green. "We'll know more about her by the end of the week but she looks a really nice type.
"Brent Barclay, who's driven her, says she shouldn't have any trouble going right-handed. But we'll trial her that way first before we go to the races just to make sure.''
Lincoln Farms has sold Butterworth a number of horses who have gone on to forge successful careers, perhaps explaining why the big spending owner is now placing horses in their care.
Our runners this week:
How our trainer rates them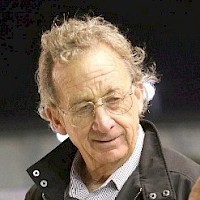 Ray's comments
Friday night at Auckland
Race 2: Northview Hustler
"I'm a bit worried about him. He's training OK but he's not the horse he can be. He's as light as I've ever seen him. He didn't look himself in the preliminary last week either but I treated him after that. We'll just have to see how he goes."
Race 3: Trojan Banner
"His draw looks bad but if he can secure a nice run through behind Sezana he could end up getting a good trip and then should beat them. He's been racing the bear cats recently and he's trained particularly well this week.''
Race 4: Make Way
"He just need some luck. He won't leave the gate from out there, he'll go back, but if he gets a drag into it at the right time, he'll be the one to beat. He's been racing the best of the best lately and this is a big drop in grade for him."
Race 6: Zealand Star
"I was initially a bit disappointed in him last week until I saw the time he went. The mile this week will suit him and he just needs some luck from the draw. He's not one you can put in the race so Andrew (Drake) will go back and try to get a suck up.''
Lincoln light
News in brief
TIGER GETS TIME STRIPES: Sir Tiger may have run only seventh in the Young Guns race at Auckland but you couldn't fault him on the clock. He ran the equal fastest last half of 56.5 along with the winner Smooth Deal and was one tenth of a second faster over his last mile (1:57.1) than stablemate and runner-up Double Or Nothing. He was slightly back at the start after racing greenly in the score-up.
BYE BYE VINNIE: Vinibaka again showed he didn't want to be a racehorse at Manawatu so now he isn't. The four-year-old disappointed in all six starts and is now the galloping pacemaker for Pukekohe trainer James Stormont.
RUPERT STIFF: Lincoln Farms' graduate Rupert Of Lincoln finished a desperately unlucky third at Ballarat on Tuesday night. Bottled up four deep on the markers, he flew late when finally clear. He has now racked up three wins and two placings from five starts since being sold to Merv Butterworth.
TWO ENTERED FOR CUP: Northview Hustler and Recco Lover are among 23 horses nominated for the $250,000 Auckland Cup on New Year's Eve. The entries are: American Empress, Recco Lover, Tennyson Bromac, Classie American, Mach Shard, Triple Eight, Raptors Flight, Check In, Ashley Locaz, Turn It Up, On The Cards, Sheriff, Sicario, All U Need Is Faith, Northview Hustler, Pat's Delight, Jack's Legend, A G's White Socks, Lets Elope, Elle Mac, Utmost Delight, Star Galleria, Dream About Me.