Lincoln Falls back from retirement - but excited Lisa trying to stay grounded
Lincoln Falls, the horse in a million, is set to make the most unlikeliest of comebacks at Hastings on Saturday.
Lincoln Farms' owners John and Lynne Street and their partners retired the exciting galloper in May, 2022 when, for the third time, he pulled up with a tendon injury after finishing last at Wanganui.
It was only his 12th start but after two previous spells, stem cell surgery and extensive rehabs, scans showed a hole beginning to form in his troublesome tendon again.
Trainer Lisa Latta turned the horse out into a paddock, with the intention of allowing the injury to heal well enough so he could be sent to Gina Schick's Event Stars in Cambridge for rehoming.
"I hadn't looked at him for a while but one day, when Jonathan (Riddell) was mowing the lawns, he couldn't believe how good the horse's leg looked.
"The vet was coming on the Monday so I thought we might as well get his leg scanned and have a look just for my own benefit before he went on the float to Event Stars."
The injury had healed so well in the 12 months Lincoln Falls had been out, "the vet couldn't tell which had been his bad leg."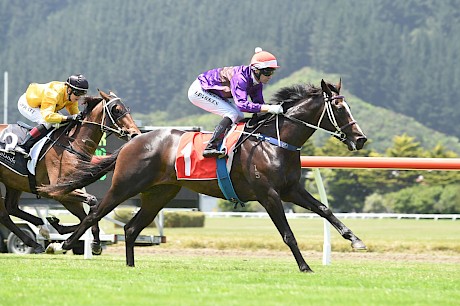 Lincoln Falls looked anything when winning two trials in 2018 and a $1.2 million offer was rejected before he even raced. PHOTO: Peter Rubery/Race Images.Given how attached the Streets had been to Lincoln Falls - they turned down an offer of $1.2 million even before his impressive debut back in September, 2018 - it wasn't surprising they decided to give him another chance on the racetrack.
This time, Latta did all the rehab work herself, starting with several weeks on the treadmill.
Lincoln Falls now does a lot of his work on the synthetic track at Awapuni which provides a good even surface, so important in rehab training.
Now eight, Latta knows Lincoln Falls is a day-to-day proposition - "any horse who has done a tendon is" - but it's still exciting to have him back.
"You're always looking at his leg to make sure it's all right but so far, so good."
Lattta has been thrilled with Lincoln Falls' two prep trials and says he improved a lot with the latest one at Foxton nine days ago when he finished just in behind the placegetters, without being pushed by rider Lisa Allpress.
In strong premier company, in his first start for 16 months, Latta isn't expecting the horse to win, like he did in December, 2020 after his first breakdown.
"The horror draw (two from the outside) makes it a bit tricky but, with a bit of luck, we could see a bold showing.
"It looks like it will be a good track. He operates better with the fire out, but he won't get that on Saturday."
Lincoln Falls ($51 and $11), who was a $200,000 ready-to-run buy, is raced by the Streets and Taupo Pak 'N Save supermaket owner Chris Grace and his Sixforsixty syndicate, which includes his stepson Jamie Ireton and five mates.
With three wins and a second from 12 starts, he has always had a rare brand of speed which Latta is hoping he can show again.
Latta is also pleased to have top class stayer Platinum Invador back in the stable after his two-start Queensland campaign in May and June.
Ryan Elliot rides the horse in the last race on Saturday and, while the 1600 metres looks too short for him, Latta expects him to be hitting the line well after two recent trials.
"This run should tidy him up for the 2000 metres on the second day of the carnival."
Our runners this week
Wednesday at Hastings
Lincoln Towers.
Saturday at Trentham