Lincoln Farms' babies show up parade rivals - Ray gives us sneak preview of three of his best
It will be another six weeks before Ray Green knows whether he has an exceptional team of two-year-olds.
But we saw enough at the annual Franklin Park parade to suggest Lincoln Farms could be in for a big season.
Green produced three babies for the Saturday parade, Bondi Shake and Jeff Beck judged the two best in the colts' section and Spice It Up getting the silver in the fillies' awards.
But the trio are just the advance guard in what is shaping up as a serious platoon of two-year-olds, Green and his team having broken in 20 yearlings this year.
"It's too early to say if we have any superstars but it's certainly the most expensive crop," said Green.
With John Street having bought a dozen yearlings and another four owned by Australian Emilio Rosati, the ticket prices for those 16 amount to $1,197,000.
And while Green says that doesn't guarantee automatic success, he's working with some beautiful animals.
"We have some really nice types and while I'm pretty optimistic but I couldn't say yet whether they're better than last year's bunch, although they're easily on a par.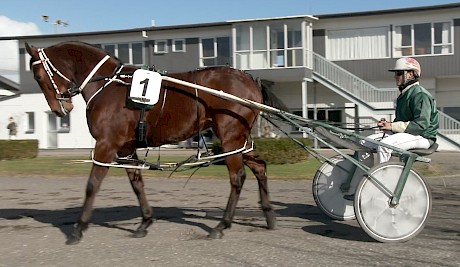 Spice It Up … easily the best filly at this stage."We haven't asked any of them for any high speed yet. They go out jogging with the older horses in the mornings to expose them to that environment and they're doing that really well.
"Some are bowling along a bit more quickly but we haven't put a clock on anything, we're just schooling them at half to three-quarter pace."
Green, however, has seen enough to know that at least 11 of them are strong enough and well enough gaited to be serious two-year-old contenders.
"At this stage I'd say I have two fillies who could be Young Guns contenders.
"Spice It Up (Captaintreacherous - Soul Sister) is a powerful filly. She's popped right up in the bum and is going to be a big animal.
"And Themightyserena (American Ideal - Themightykendall) is a nicely gated pacer.
Nine colts looking likely
"But there are nine colts who could make it early."
The two colts who paraded, Bondi Shake (Somebeachsomewhere - Seven Point One) and Jeff Beck (Rock N Roll Heaven - Lady Fingers), are really looking the part, Bondi Shake in particular appealing to Green who snaffled him up for just $28,000.
But also shaping up well are:
* Captain Nemo (Captaintreacherous - Arden Caviar)
* Dior Sauvage (Bettor's Delight - Kamwood Elsie)
* The Informant (American Ideal - Readallaboutit) and
* American Dealer (American Ideal - Maddison's Delight).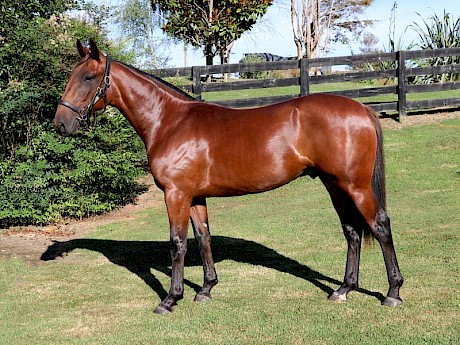 Emilio Rosati's $100,000 colt Star Of Africa looked the part even as a yearling. Green says he's a big, powerful horse who paces really nicely.Green also likes three of Rosati's expensive babies:
* Star Of Africa (Bettor's Delight - Diamond Like)
* Vanquish Stride (Bettor's Delight - Pemberton Shard) and
* Captain Arden (Captaintreacherous - Southwind Arden).
"Singling anything out is a bit of guess work at the moment but they look the most likely to make it. In a month to six weeks, when we start stepping them up a bit, we should be able to label the early runners. I'm sure they'll show a bit of lick.
"It's amazing how fast these young horses can improve. You put them out for a two-week break and when you bring them back in they can be like different animals."
And the early-comers can can also fool you. Three years ago Green said he was really excited about Vasari, Alta Intrigue and Spring Campaign as two-year-olds. "But while they all won races when push came to shove they weren't that tough."
Green says with the breed still evolving "what was good enough last year probably won't cut it this year. The young horses are getting stronger and faster and better."
NB: Unlike other syndicators, Lincoln Farms doesn't launch its special partnerships until it knows the horses can run. But you can check out further details on the babies on the Our Horses page.
Our runners this week:
How our trainers rate them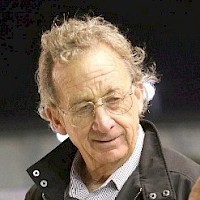 Ray's comments
Thursday night at Cambridge
Race 6: Double Or Nothing
"He's got very good gate speed and from the draw is definitely an each way chance. It's a huge drop in class for him."
Race 8 : Lindi Lincoln
"We found she had a virus last time and treated her. She may need the run but she should get an economical run and will go a good race."
Friday night at Auckland
Race 3: Hampton Banner
"He won well last time but, while he's an improver, he has yet to meet a field of this quality so is just on the watch list."
Race 3: Line Up
"He trialled up very well at the weekend and is in good shape. But he'll have to go back at the start from eight so will need luck."
Race 3: Copy That
"He's at the mercy of the one in front of him. But if Cloud Break leaves fast (as he can), he could get a nice drag along. He was very good at the workouts and I'm very happy with him."
Race 4: The Empress
"I've thrown her in the deep end but she has a bit of gate speed so should be able to stay handy from one. If she can finish in the first four of five I'll be very pleased."
Race 5: Ace Commander
"He never got a crack at them last week - Blair (Orange) had to virtually stand him on his ear in the home straight and said afterwards he thought he could have been right in it. He's been feeling good this week and will go well with the right trip."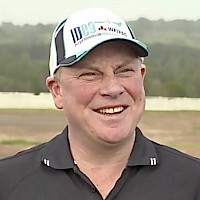 Ants' comments
Saturday night at Cranbourne
Race 7: Make Way
11.37pm NZ time
"It's going to be a hard race for him to win - he's only a four-year-old who's the new kid on the block - and he's never been against these horses before, some of whom are already racing on the Grand Circuit. But I'm hopeful he'll be competitive and, with the right trip, it wouldn't surprise me if he was right there at the finish."