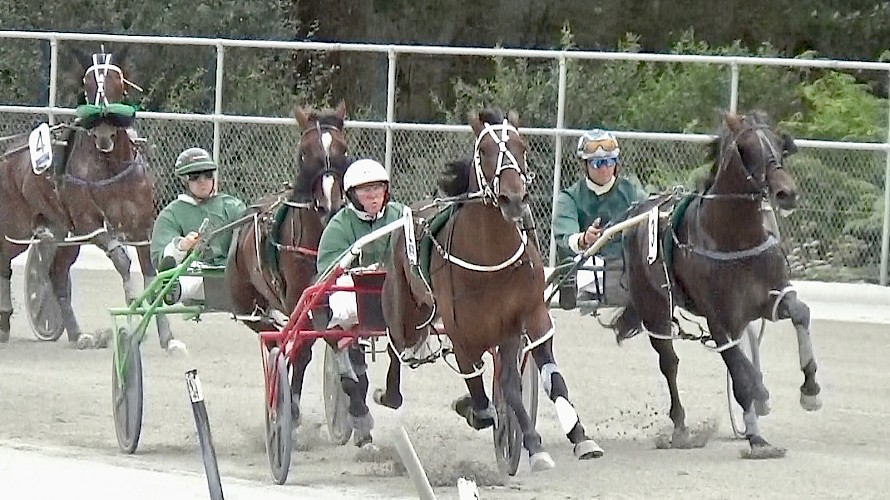 Lincoln Farms has the gunfight corralled OK but hard to name who'll be last man standing
If you fed the stats on Lincoln Farms' four runners in Friday night's Young Guns race at Auckland into a computer and asked it to spit out the winner, you'd run the risk of crashing it.
With logical favourite Perfect Stride off his game this week and an early defector, even trainer Ray Green admits finding the winner is a riddle he can't answer.
But Green looks to have all bases covered and it's inconcieveable that he won't gear up the winner, let alone possibly clean sweep the first four placings in the five-horse race.
In pole runner Double or Nothing he has a reliable horse beautifully placed to lead.
In Sir Tiger he has a very brave colt who finally gets a draw after scoring 10 out of 10 for running second in his last start when parked all the way.
In Line Up he has a debutant who has shown in his training in recent weeks that he possibly has the most potential of the junior brigade in green.
And in Copy That, owned by his wife Debbie, he has an enigmatic youngster who in between mistakes has shown he has the speed to blow them all off the racetrack.
Double Or Nothing - Mr Reliable
Earlier in the season we'd have been spruiking Double Or Nothing as the one to beat, as he was the only one who could match Perfect Stride in work. But while he has done nothing wrong, placed in all three starts, he has lacked a yard of speed and, more importantly, he has lightened up noticeably since he was gelded.
Green said the big horse had the unkindest cut because he started losing concentration and becoming a danger to himself.
"He had other things on his mind and gelding him has taken away a bit of his strength. Gelding always slows them up a bit but it's better done now and he'll be a better boy for it.
"He's done a good job but I'm not expecting him to set the world on fire this season. Next season he'll be much stronger and more potent.''
That said, with his gate speed, the son of Sweet Lou is certain to lead early and should enjoy a perfect trip.
Sir Tiger - Mr Brave
It remains to be seen where Sir Tiger will land in the running but from two you'd think he could lob the early trail from where he would be very dangerous.
Sir Tiger drew seven, six and seven in his first three starts and rallied so bravely from the death seat last time on January 18, Green had no hesitation in marking his second placing to Perfect Stride a 10 out of 10.
Sir Tiger was three wide early going forward to land the breeze in that race and along with Copy That, ran the fastest last mile in 1:58.3.
He showed last Saturday at the Pukekohe trials that he's gone on the right way, leading all the way to win in a slick 2:00.3, driver Rhys Fensom noting he was waiting for his mates in the run home.
Drawn to get a decent trip for the first time, the son of Sir Lincoln is a royal chance, Green describing him as a real racehorse.
"If he led the other horse we know he'll keep going.''
Line Up - Mr Speedy
Line Up, in gate four, is the newcomer, at a slight disadvantage being a stranger to the hype of racenight and having never seen Alexandra Park.
But you couldn't help but be impressed by the progress he has made in the last month when he has shown very high speed in his workouts, prompting even driver Zachary Butcher to wonder if he might be the best of them all.
The Bettor's Delight brother to crack mare Partyon changed hands 12 days ago, bought for big money by powerful Australian owner Emilio Rosati.
Muscular and built like a two-year-old, Line Up is a beautiful pacer and if he can get some cover, he has the speed to round up his rivals in the run home.
Copy That - Mr Hyde
Soo too, without question, does Copy That but he comes with a bigger risk.
The son of American Ideal did a lot wrong on debut, confirming his Jekyll and Hyde performances on the trial track, which continued last Saturday when he galloped 600 metres out for no reason.
Green has made a crucial gear change since then, however, taking up the colt's hopples by two holes after noticing they looked very loose.
"Zac said he went really well in training on Tuesday and never put a foot wrong so hopefully that will do the trick.''
Factor in the sectional times Copy That recorded on debut, when he was very green, and you have a serious potential upsetter.
In running fifth Copy That clocked the fastest last 800 metres and 400 metres in the race, 55.2 and 26.9, closing to 3.1 lengths of winner Perfect Stride.
"If he did things right he could be Johnny on the spot,'' says Green.
"It will all come down to who gets the best run but I don't care which one wins, so long as Mike Berger's horse (Eagle Watch) doesn't beat us!''

Serious winning chance
Lincoln Farms' only other runner is Recco Lover in the fifth race and Green rates him a serious winning chance.
"He's the best horse in the race," says Green of Recco Lover who meets lower rated pacers in a rating 58 to 67 event.
Recco Lover has improved with his first run for two months on January 18 when he took on a stronger line-up and finished a game four lengths third to the very progressive Bettorstartdreaming in 2:41.6.
"This is not a great field and if he gets half a trip he'll be right there,'' says Green.
Recco Lover finished two lengths behind stablemate Zealand Star in a workout at Pukekohe last Saturday "but on a 26 last quarter you wouldn't expect him to rush past them.''
Our runners this week
Friday night at Auckland
Bondi Shake, Captain Neno, Platinum Stride, Classie Reactor.
Friday night at Albion Park
Sir Tiger.
Saturday night at Auckland
Copy That, Line Up, Hampton Banner, Ace Commander, The Empress.