Lincoln Farms lines up half the field and Ray's gut feeling is Neptune shaping up to be best
You only have to watch the way Neptune rocketed home from the rear on debut to understand why trainer Ray Green labels him a classy young pacer.
And Green says he leans towards Neptune as the best of the five horses Lincoln Farms will line up in the second race at Auckland on Friday night.
Comprising half the field, Neptune will be joined by fellow two-year-old colts Lincoln River and Ideal Kingdom, as well as the three-year-olds Next To Me and Major Grace.
"I expect all three of the colts to go well, they've been training together regularly and are pretty well schooled. But my gut feeling is Neptune could be the best of them.
"He's still only a baby and has a lot to learn but I think he'll develop into a really nice horse.
"We won't see the best of him until around Christmas. He's grown a lot lately, and is still growing, but he's pretty classy.
Neptune … classy, well bred pacer who rocketed home on debut."He's very well bred and is the first colt from a family that hasn't really done much until they're three-year-olds."
Each of the first four fillies out of eight-race winner Safedra were top class - Buzinga, Dr Susan, La Rosa, and the latest Allegra, who was sold to Perth for big money.
And when Neptune debuted at Cambridge last week he hinted at his own headlines to come when, from second last on the home turn, he unleashed a whirlwind finish for Maurice McKendry to run fourth in a swiftly run 2200 metres (2:42.9).
At three on the gate, he has drawn best of the Lincoln Farms contingent on Friday night.
Alongside in four is another Bettor's Delight colt which Green picked out early on as one of his most promising two-year-olds.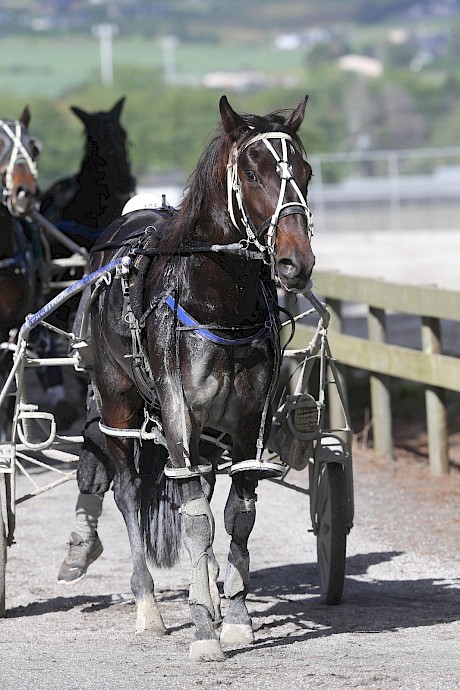 Lincoln River … out of Oaks winner Ideal Belle.Lincoln River, out of New Zealand Oaks winner Ideal Belle, was precocious enough to line up twice against the Young Guns in January and February but proved no match for Merlin and co.
"He's coming on nicely," says Green. "He won't be as fit as some of the others but is ready to go."
Lincoln River finished fourth, right up with Neptune (second) and Ideal Kingdom (third) in his sole workout this prep on May 21.
American Ideal colt Ideal Kingdom is on debut but Green says he's a sensible colt who won't be over-awed by the occasion.
"He's very tradesman-like and honest. He paces nicely and does everything correctly."
Major Grace, to be driven by stable junior Monkia Ranger, will find it hard to beat her stablemates from gate six, says Green.
"She's definitely improved, and is stronger than last campaign, but the others might have more speed than her."
Next To Me, from the inside of the second row, brings an eye-catching late Cambridge placing to Alexandra Park but doesn't perform so well on the right-handed Auckland track.
"He doesn't handle the bends so well, so that's a mark against him, but he does lift his game on raceday. Whether he's as good as the two-year-olds, I don't know."
Sam victim of ATC demise
Classy three-year-old Simply Sam has been the victim of Auckland's demise in numbers, a rating 54 pacer forced to take on older horses up to rating 66, Mimi E Coco, the winner of nine races.
"After years of bad decisions and non existent leadership it's all coming home to roost," says Green ruing that just 63 horses will compete in seven races.
"But I'm confident he's still the best horse in the race even though he's won only twice.
"I think he's a class act and is the one to beat."
Green rated Simply Sam's last start second at Auckland as the run of the race.
"Queen Of Diamonds led, and Take The Miki trailed and even though Simply Sam got a good trip too, in the one-one, he had to come three wide on the turn. He would have won in another couple of strides."
Queen Of Diamonds, rated an Oaks contender by co-trainer Mark Purdon, clocked a swift 2:40.9, with Simply Sam coming up just a head short at the finish.
On Friday night he draws two on the gate. "He doesn't sprint out of the gate but it's a small field so he won't be far off them," says Green.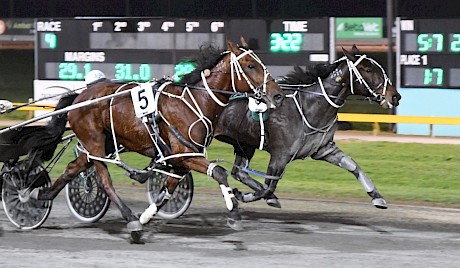 Riverman Sam sprints fast along the passing lane to score at Cambridge. PHOTO: Chanelle Lawson.Settling not too far from them is also the key to smart Cambridge winner Riverman Sam who draws six in the final race.
In another race with a crazy rating 36 to 60 band - to be eligible for the South Of The Bombays race horses must have started at least three times this year at a North Island track excluding Alexanda Park - Riverman Sam looks a serious chance, says Green.
"His last few runs have been very good - he's come home really well but he was a little too far back when starting his run.
"He got a nice handy trip at Cambridge last week, trialing then three deep, and hit the line well again.
"He had growing issues, but seems to be over them now, so it's onwards and upwards for him. He's a pretty fair horse."
Riverboy Ben (race four) might need another race to reach full fitness but Green says he'll have to learn not to beat himself.
When resuming at Cambridge last week driver Maurice McKendry was forced to relinquish the one-one trail and go forward to park outside the leader when the horse started hitting the wheel discs and sulky.
"He pulls a bit hard anyway but if he'd race more sensibly, he could be right there."
Our runners this week:
How our trainers rate them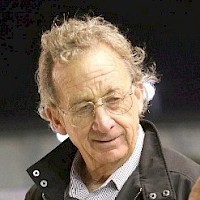 Ray's comments
Thursday night at Cambridge
Race 2: Next To Me
5.50pm
"He's starting to put it together and looks a serious chance. He's gone some nice races. He was entitled to run last there one night (when badly checked) and finished fourth so he's tough enough. He should get every chance from the draw."
Race 2: Whiz On Bye
5.50pm
"I don't think there's much between him and Next To Me. He's pacing much better now and he was quite good in the last of his three workouts. I hope they can both run in the money."
Race 3: Riverboy Ben
6.15pm
"The second row draw is awkward for him over only 1700 metres - obviously he'll get back. I think he's a horse who will need a trip and he's not likely to get one from there. He'll need to be lucky."
Race 7: Riverman Sam
7.55pm
"I think he's the best horse in the race and I don't see why he can't do it again. The 2200 metres won't worry him. He's no slug, he's got speed. I got him home in 27.2 when he won over 2700 metres."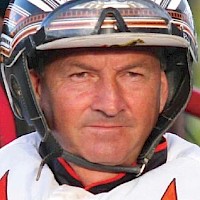 Mark Dux's comments
Friday at Albion Park
Race 6: Captain Nemo
6.07pm NZ time
"It's a pretty strong field - every bit as good as last week, maybe stronger - and while he's starting to get back to where he was, he's not quite there yet. We'll come out steady on, get into the running line, and play it by ear."
Saturday night at Albion Park
Race 1: Tommy Lincoln
7.15pm NZ time
"He's first emergency so I'll give him a week off to freshen up and then start again. I don't know whether he just had an off night last week or if the 26.6 first quarter played into it. That other horse was in our face the rest of the way too."