Lincoln Farms' precocious juvenile trio ready for the big city lights of Auckland
Next stop Alexandra Park.
That's the plan of Lincoln Farms' trainer Ray Green for his three most precocious two-year-olds after their latest sparring match at Pukekohe yesterday.
Once again it was Chicago Bull's baby brother Perfect Stride who showed he was the one to beat in the first Young Guns heat at Auckland when he ran past his stablemates to win their mobile 1609 metre workout.
With just a month until the opening heat of the juvenile series at Auckland, the only competitors again in the two-year-old heat were Perfect Stride, Man Of Action and Sir Tiger.
And they finished in that exact same order as the previous week's qualifying trial, with Perfect Stride this time coming from off the pace to outgun his rivals up the home straight.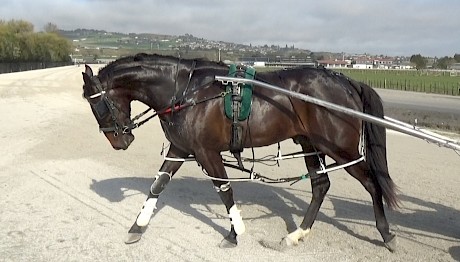 Perfect Stride … the 'Mercedes' of the two-year-olds on show yesterday, according to trainer Ray Green.Going right-handed yesterday, driver Zac Butcher started Perfect Stride from three at the gate, even though he was carded to score up from the inside, following Green's instructions to educate the horse rather than just let him slide to the lead.
And that saw Butcher ease the horse to the tail of the trio, allowing Sir Tiger to lead and Man Of Action to trail.
The order stayed unchanged until Butcher made his move 400 metres out and exploded to the lead in the run home, surprisingly holding only a half head margin at the line.
His winning time of 2:07 was quite tame, 2.1 seconds slower than the qualifying heat a week earlier, but that was due to the leisurely pace set by Sir Tiger.
The trio really only sprinted their last 800 metres, clocking 58.5, with a hot last quarter in 26.9.
"He's still quite green,'' says Green of the Emilio and Mary Rosati-owned colt. "Zac said he swished up real quick when he pulled him out then he buttoned off, likes colts can do, and he had to chase him up again.
"He's clearly our Mercedes, the benchmark two-year-old, until Double Or Nothing comes back.''
Double Or Nothing has been in the paddock for the last couple of weeks after he was gelded but, after a trouble-free recovery, Green plans to start jogging him again on Monday.
"The gelding went very well - he's been charging round his paddock like a lunatic - and he'll be back on track pretty quickly.''
Runner-up Man Of Action continued his solid rate of improvement, showing good fight for driver Andre Poutama yesterday.
But while he finished only one and a half lengths astern in third, Sir Tiger was very green in the running, getting out on the bends.
"He was OK once the others presented themselves but he probably needs a pole again - I've had it on him before. He's not quite up to those others just yet though.''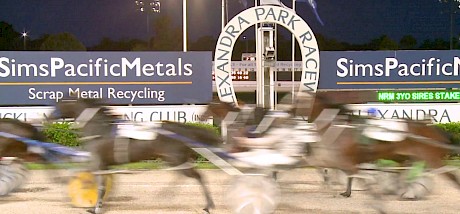 Alexandra Park under lights … a novel experience for two-year-oldsThe next step in the trio's Young Guns education will be a float trip in to Alexandra Park on Friday night when Green has been granted permission to "give them a trundle round" in between races.
With no trials or workouts being held at the Park while the building project continues, Green understandably wants to make sure that race night on December 14 doesn't come as such a big surprise to the babies.
Hilary sharp
Green elected to start his other two-year-old, Hilary Barry, two heats earlier in the learners' event, where she ran fourth of five, three and three-quarter lengths behind winner Miss Shuga.
But while the heat was run at a pedestrian 2:12 - under the guidelines the heat should be run at 2:10 or slower - Green says the Bettor's Delight filly could have gone much faster.
After trailing fourth in the running, driver Zachary Butcher managed to slot the filly in behind leader Art Christian turning for home but she appeared to pace roughly soon after.
"Zac said the gap presented then closed when he went for it. She went to the line really well and Zac reckoned if the gap had stayed open, she would have bolted in. She could have run 2:05 or 2:06.''
When Butcher pulled Hilary Barry off Art Christian's back very late she really hit her straps, powering to the line.
Green says he was really happy to see the filly get round safely after the previous week's debacle.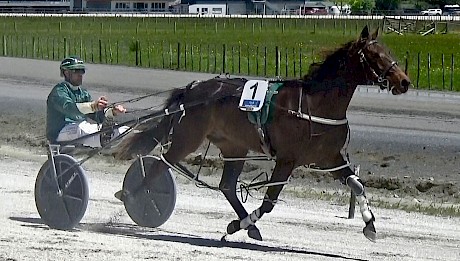 The hopple carrier strap can be seen getting tangled up between Hilary Barry's legs.Hilary Barry had two unsuccessful goes at getting round that day. First she was pulled up in her qualifying trial by driver Rhys Fensom after having trouble pacing in her preliminary then galloping at the start. Then in a later workout heat she galloped again out of the gate for Andre Poutama, and was pulled up, not helped by a hopple carrier strap which came undone and was flapping around her legs.
Green says he was shocked at the first display.
"I told Rhys before the trial that he'd have no trouble because she was bombproof.
"I was shocked what happened. But she was heavily in season and also in need of shoeing. She was reshod on Tuesday - her feet were really long.''
Green says the filly, while no champion, was going to make a tough racehorse.
"She's a little pro.''
One more gig and Punk is ready to rock
The only other runner for Lincoln Farms yesterday was newcomer Steam Punk, who was sent north a week earlier by new owner Merv Butterworth.
The unraced McArdle three-year-old, formerly with Michael Howard in Canterbury where he won two trials and a workout, was given a very quiet run in a 2050 metre mobile heat.
Steam Punk ran fifth in the heat, won by Tony Herlihy's Mr Yips, with the trip cut out in 2:33.6, last 800 in 57.7 and 400 in 27.9.
"He needed a run so we didn't ask him to do anything flash,'' says Green.
"He just followed the field round, and rushed up behind them at the finish.
"He'll have another trial next week and then he'll be ready to race.
"I sat on him during the week and he's a lovely driving horse - lazy, but with a bit of zip.
"He's looking like he'll be an extremely nice maiden at Auckland. How much further he goes, remains to be seen.''
Our runners this week
Friday night at Auckland
Sunday at Menangle
Make Way.