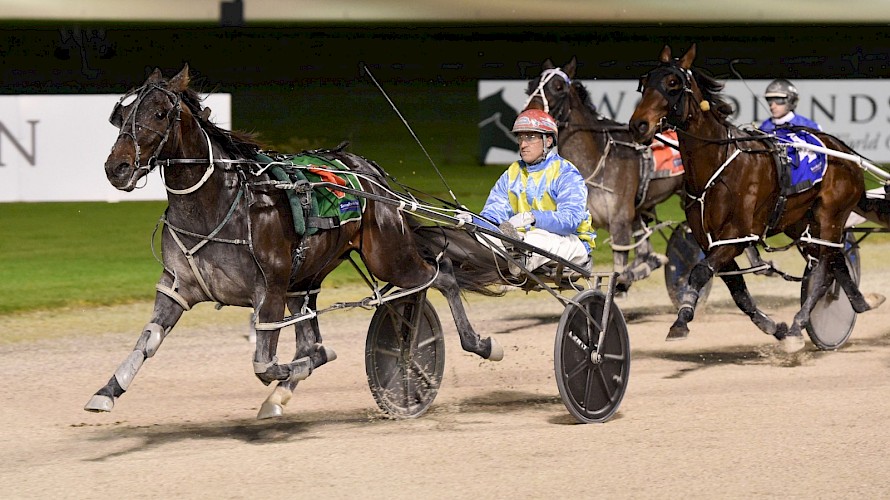 Lincoln Farms' team triumphs - That's about as Perfect as nights at the races come
Nights at the races don't come much better then Friday when horses from Lincoln Farms won five races, both here and across the Tasman.
At Alexandra Park, Pukekohe trainer Ray Green lined up horses in four races and scored with Perfect Stride, The Empress and Just Wing It, the eighth time he has bagged three in a night for Lincoln Farms.
And had it not been for the fact he was trapped three wide and working for the first 700 metres, Man Of Action could have delivered too, instead of running third, going down bravely by little more than half a length.
Just 40 minutes later, however, at Albion Park in Brisbane, Man Of Action's older half brother Make Way made up for the defeat when he came from a horror draw to destroy his opposition by nearly 20 metres, firming in favour for the Queensland Derby in two weeks.
But perhaps the most vocal of cheers on the night was heard for the trotter Take No Prisoners, who led all the way for Lincoln Farms' Andre Poutama, giving him the rare achievement of training, owning and driving a winner - just a week after fellow Lincoln Farms' driver Zachary Butcher did it with Zeuss Bromac.
Green, basking in not just his own success but that of one of his proteges, was only sorry he mistimed the big night - it came a week after his No.1 Australian owner Merv Butterworth was at the Park to see his charges The Empress, Just Wing It and The Bull Pen run three placings.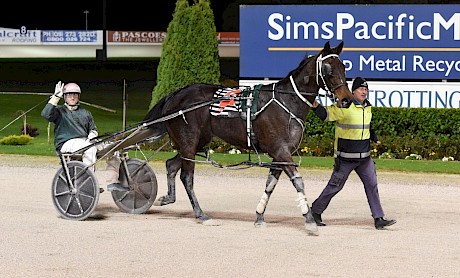 Zachary Butcher brings The Empress back to scale. PHOTO: Joel Gillan/Race Images.Green described The Empress as the loveliest filly to work with after she capitalised on a perfect Zachary Butcher drive to outfinish Young Conqueror in a fine 2:42.1 for the 2200 metres.
"She's not a super speedster but she's totally honest and very tough, she just keeps going.''
In four starts for Green since moving north, The Empress has now had two wins and two seconds for $23,825 in stakes.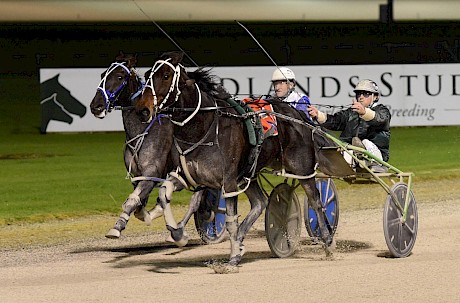 Just Wing It and Andre Poutama pounce on Delightful Deal on Friday night. PHOTO: Joel Gillan/Race Images.Just Wing It, or Wingy as Green fondly calls him, isn't nearly as tractable as The Empress but the trainer has really warmed to him since he arrived from Southland "with a bad reputation.''
"He came up here a bad steering horse - he still is a bit - but he's tough and he tries so hard. He has a great attitude.''
With the aid of a spreader on one side, Wingy doesn't hit his knees so badly any more. And even though he was still on one rein on Friday night, over-raced in the trial and touched his knee boots a couple of times, he pounced from the trail to decisively beat Delightful Deal and Adieu Flirt.
Perfect Stride: Speed!
Green was probably most excited, however, with the most deserved win of two-year-old Perfect Stride in the opening race for Australian owner Emilio Rosati.
Butcher's one word summary of the colt on returning to the stable said it all: "Speed.''
Intent on giving Perfect Stride a better trip than he has had in his three runs since resuming, Butcher let the colt drop to the rear of the field early from his wide draw.
Still third last at the bell, Butcher got three wide cover down the back straight before pulling him out, not four, but five wide round the home turn.
For most horses that would have spelled disaster but Perfect Stride motored round like a Rolls Royce and quickly had the race in safe keeping on straightening.
His fastest last 400 metres of 27.5 was remarkable given how much extra ground he covered round the home turn.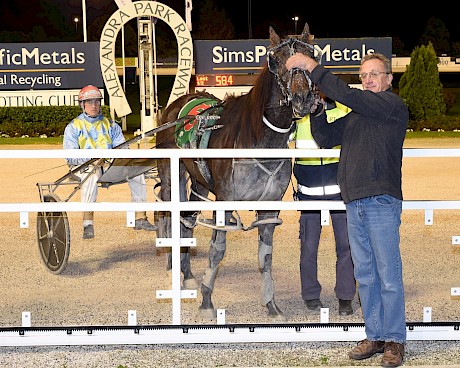 Trainer Ray Green greets Perfect Stride and Zachary Butcher after their explosive win. PHOTO: Joel Gillan/Race Images.Butcher rated Perfect Stride probably on a par for speed with his own horse Zeuss Bromac, who is also Breeders' Crown bound next month.
"That's why when he ran at me last week I was a bit nervous because I know what speed he's got.''
Green told Butcher before the race not to worry about getting too far back on Perfect Stride.
"I said even if he sat last he'd have too much speed for that lot.
"He'll be very competitive in Australia and I'd be surprised if he's not in the finish of the Breeders' Crown.''
Green says while punters might have been burned by Perfect Stride a couple of times this prep he was getting back to the form which saw him so dominant on debut at Auckland in January.
"He went through a growth spurt there for a while and lost his form and that was compounded by the virus he caught, which made him more vulnerable.''
Green plans to give Perfect Stride one more race, at Auckland on July 26, when he will clash with Zeuss Bromac again, before he flies to Melbourne on July 30.
Perfect Stride, who will stay in Australia, will be in Green's name for the Breeders' Crown series, which starts at Shepparton on August 7 and climaxes at Melton on August 24, and he is likely to be driven by David Moran.
Our runners this week
Friday night at Auckland
Sunday at Menangle
Make Way.