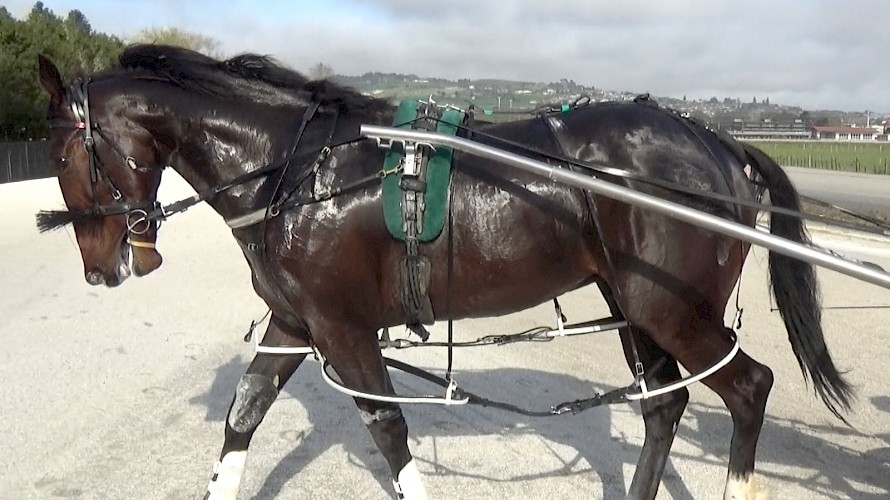 Lincoln Farms' young guns strut their stuff - and it's very good stuff
Mark down the names Double Or Nothing and Perfect Stride in your little black books.
They're the two standouts of the 15 two-year-olds Pukekohe trainer Ray Green has put through their paces at Lincoln Farms this year.
The pair, both by freshman Woodlands sire Sweet Lou, are so far advanced, Green had to give them a week off last month or risk having them peak too soon for the Young Guns series.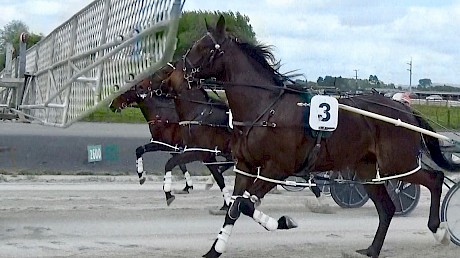 Behind the gate for the first time on Saturday, from outside in, Man Of Action, Perfect Stride and Double Or Nothing.On Saturday at Pukekohe, eight weeks out from the first Young Guns heat at Auckland, the pair, along with stablemate Man Of Action, had their first look at the mobile gate, contesting a 1609 metre learners' heat at the workouts.
And they came through the experience in great style, comfortably clocking 2:07.9, with their last 800 metres in 59.2 and 400 in a very slick 27.5.
"That's the quickest we've asked them to run and they handled it easily,'' said Green.
"Neither wear overchecks - they're both beautifully balanced colts - and are just as good as our Young Guns horses last year.''
Green describes Double Or Nothing as the stable's "great white hope.''
The colt, who cost Lincoln Farms' boss John Street $100,000 as a yearling, is a half brother to Tim Butt's crack pacer Left It Ride, winner of 15 of this 27 starts, with his last six on end including the $200,000 Black's A Fake in Queensland and the $100,000 Four-Year-Old Breeders' Challenge at Menangle in 1:49.4.
Prepared for sale by neighbouring horseman Logan Hollis, Green says he loved the Sweet Lou colt as soon as he laid eyes on him, long before the sale.
And he fulfilled his No. 1 criteria for a yearling, with great conformation.
"No conformation, no movement, no ability,'' says Green.
A big, scopy colt, Double Or Nothing has never stopped improving since he began work.
On Saturday, piloted for the first time by top driver David Butcher, Double Or Nothing led his two stablemates from the inside draw and fought strongly in the run home when challenged by Perfect Stride, who was credited with a half head margin at the line.
"I didn't chase him up, I just sat there'' said Butcher. "He has a nice feel to him and is nicely gaited."
Chicago Bull's nuggety brother
Perfect Stride, a full brother to West Australian powerhouse Chicago Bull (39 wins and $1.6 million), and just as nuggety, is one of only two horses Lincoln Farms is training for outside owners.
It was quite by chance that Green was given the horse to train by big spending Australian owner Emilio Rosati.
Green told the owner he rated the colt the best in the Christchurch draft and after Rosati bought him for $190,000, he was struggling to decide who to give the horse to train.
But after a dinner out, when Green's wife Deborah clicked with Rosati's wife Mary, came the surprise offer which Green could not refuse.
On Saturday, handled by Lincoln Farms' No. 1 driver Zachary Butcher, Perfect Stride showed he would be a force in the early two-year-old races when he wound up nicely from the trail.
Butcher said while green in the running, the horse was good and would prove very good once the penny dropped completely.
Perfect Stride and Double Or Nothing quickly sorted themselves out from the pack when Green started to increase their workload.
"The natural ones always give you a good feel. Initially there were eight we couldn't separate but as you progress you find some of them can't cope and they start doing things wrong.''
Don't forget Man Of Action
Man Of Action is one who is on an upward curve now.
Even though he galloped turning for home on Saturday, when driver Andre Poutama said he became unbalanced leaning on his boring pole, Green has seen enough to know he will also show up early.
"Since he's been gelded, he's been fine. He used to kick a lot when he was a colt, and he's very strong.
"It would be nice if he was as good as his brother.''
Man Of Action's brother Forgotten Highway has an enviable record, having notched five wins and 11 placings from only 22 starts for Mitchell Kerr. He has a guaranteed berth in next month's New Zealand Trotting Cup.
"Mitchell told me it took him a year to get him gaited but this fellow is a natural.''
Man Of Action is also a half brother to the stable's own promising three-year-old Make Way, who on Friday night at Auckland will attempt to quality for the Sires' Stakes Final.
Green says the next step in the education of the babies will be to take them in to Alexandra Park on a race night to expose them to the lights and extra bustle.
"We don't want them turning up to race under lights never having seen the place.''
Green has permission from the club to work the two-year-olds between races.
Behind his most precocious babies are a phalanx of others, the ones Green deemed would benefit from a little more time. And among them are plenty of well bred types who will also eventually make the grade.
Our runners this week
Friday night at Auckland
Sunday at Menangle
Make Way.