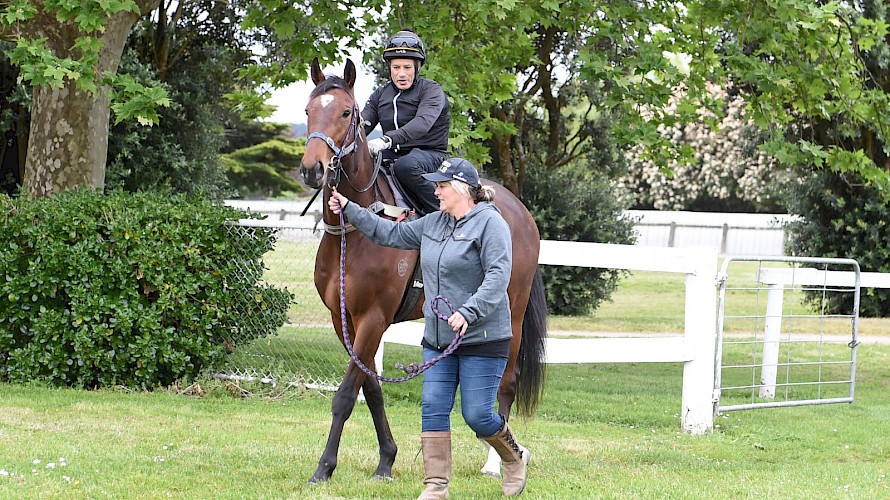 Lincoln Fury gets three star rating from Latta - mark him down as a fresh-up bet
Mark down Lincoln Fury as a strong chance to win fresh-up, tips trainer Lisa Latta.
The All Too Hard three-year-old gets top billing of Lincoln Farms' 11 horses who competed at the Levin jumpouts yesterday, run on a dead 4 track, on a day when three won and most of the team performed with credit.
Lincoln Fury was ridden by Robbie Hannam in his 1000 metre heat and really impressed Latta, scoring his second jumpout win on end.
"He was slow to begin and got back last on the inside. When he switched out, he ran home nicely down the outside to get up and win.
"It was a pleasing jumpout and he is now ready to head to the races. On his two runs this time in, he'll be hard to beat fresh-up.
"He's a quiet achiever. Nothing much rattles him.''
Lincoln Fury, who clocked 59.2 for his gallop, raced twice at two, both times on slow tracks, and ran fourth equal last time in May, but is a much stronger specimen now, says Latta.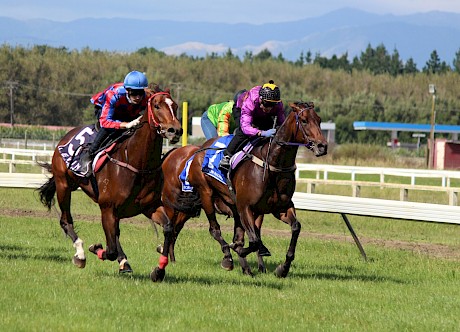 Authentic Charm, very big in condition, but still too good for her Levin jumpout rivals. PHOTO: Royden Williams.Latta had no hesitation in labelling Authentic Charm as her next best performer.
The Per Incanto four-year-old, also ridden by Hannam, won her maiden 1000 metre heat in 60.17, which came as quite a shock to Latta.
"It was really surprising given how big in condition she is. I never thought for a minute she could win.
"I asked Robbie to give her a quiet jumpout. She sat back second last and came through them, running home nicely to win under a decent hold.
"It was a great jumpout. I will see how she comes through it and make a decision on where we will head next with her. But she will definitely need another jumpout or trial as she is carrying so much condition.''
Authentic Charm's form line looks bleak, with four unplaced runs in two preps, but Latta says she's been very immature.
"It's also a late developing family.''
Authentic Charm is a half sister to Latta's top performer Authentic Paddy (11 wins) and up-and-comer The Rippa (three wins).
Lincoln Sky fastest
Latta also liked the run of Savabeel three-year-old Lincoln Sky, who clocked the fastest 1000 metres of the maidens and three-year-olds, running 58.67 for Madan Singh.
"He jumped well, sat second in the running and quickened up nicely at the 200 to go on and win by around three-quarters of a length. He is now ready to head back to the races.''
Latta says while Lincoln Sky ran last in his debut at Hastings in May, he was a comparative weakling then.
'We've also gelded him and he's a really professional type now. He only does what you ask him to.''
Out of the former talented filly Dating, winner of the Ryder Stakes at two and Desert Gold Stakes at three, Lincoln Sky is a brother to Lincoln Farms' winner Lincoln Star.
Another likely type worth jotting down is Showcasing three-year-old Lincoln Hanover who ran third in his 850 metre heat but could have done a lot better.
"He sat third in the running in the one-one and Robbie never moved on him. He finished third but could have won easily.
"I didn't want him to have a hard run today.
"He's always shown a lot. He won a two-year-old trial in May and while he was disappointing first-up you couldn't read much into that as it was on a July heavy 11 track at Awapuni.
"His coat is still not quite there yet so we will head back to the jumpouts with him on November 28.''
Lincoln Lane budding stayer
Don't take much notice of the fact talented grey Lincoln Lane ran only fourth for Tim Johnson in his heat behind Lincoln Fury.
"He sat in the trail on the fence and maintained a nice run to the line to be less than two lengths from the winner,'' says Latta.
"He is obviously looking for more ground. That run should tidy him up nicely to head to the races over 1400 metres first up.
"But he's a really big Savabeel, different from some of the other ones John (Street) bought, and he'll be better with a bit of time and over more ground.''
Alesha Lincoln is also ready for a race, says Latta, after finishing third for Johnson in her 1000 metre heat.
"She settled back in the running and ran home nicely through them. She is doing everything right and I will now find a 1400 metre race for her first-up.''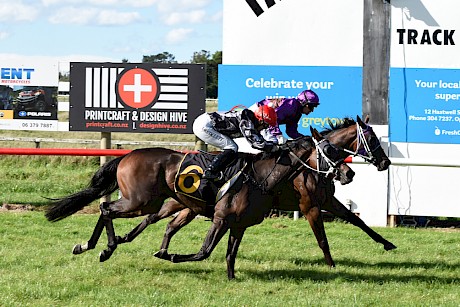 Lincoln's Secret, pictured winning his maiden, needs better footing. PHOTO: Race Images.Lincoln's Secret also put some lacklustre runs in his last campaign behind him when he powered home for fourth in the open 1000 metre heat behind Sweepstake.
"He got back last in the running, run off his feet over the 1000 metres. But he was doing his best work on the line.
"It was good to see him put in a decent jumpout as he has been a bit disappointing on the wet tracks. He obviously needed a better track and is ready to head back to the races now.''
Lincoln's Secret won his maiden over a middle distance in March.
The three other Lincoln Farms' runners Latta lined up will all head back to another jumpout on November 28.
Hurricane Lincoln, a Sacred Falls two-year-old, was a shade slow to begin for Bruce Herd but was soon up and travelling.
"He ran home nicely for third, doing his best work at the line.''
Two-year-old Platinum Touch was even slower to begin for Johnson and stayed in the rear.
"But I pressure cooked her to get to the jumpout and she will learn a lot from the outing.''
A Jimmy Choux-Musigny two-year-old also looked in need of more education as he began slowly and made up little ground.
Four-year-old Lincoln Honey, in work with Mike Breslin, was unplaced in Authentic Charm's heat.
Lincoln light
News in brief
GREEN FIBRILLATES: Lincoln Green had an atrial fibrillation at Otaki on Thursday and will need a vet clearance before racing again. The horse raced keenly early but gave ground quickly near the 600 metre mark and rider Robbie Hannam did not persevere with him in the run home when he suspected there was something amiss.