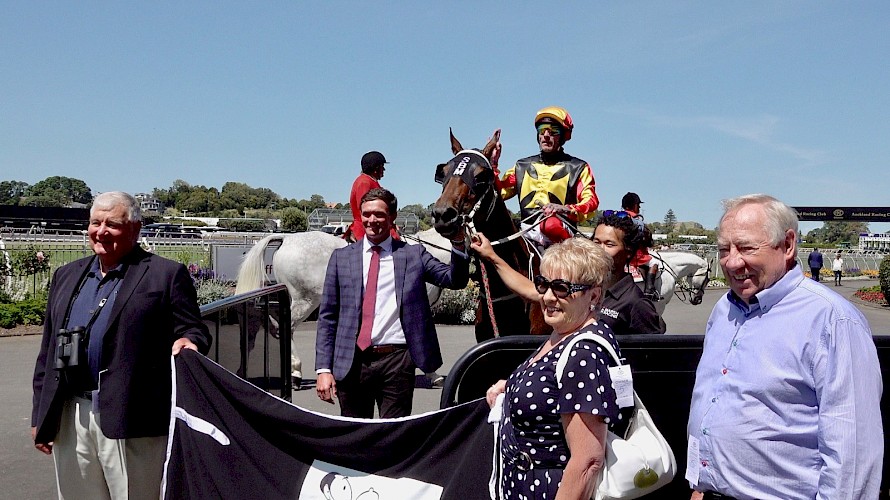 Lincoln King books himself a crack at the cups next campaign with demolition at Ellerslie
Trainer Stephen Marsh can see Lincoln King tackling cup races for Lincoln Farms next campaign given how rapidly he's improved this preparation.
The Shocking five-year-old took his record this time in to three wins and a second from only seven starts when he destroyed his opposition at Ellerslie today.
Set alight in a planned move 1000 metres from home, when the pace slowed markedly, high-flying jockey Jason Waddell took Lincoln King up to race on the leader's quarters, injecting much needed speed into the race.
And while part owners John and Lynne Street and Ian Middleton looked on from the grandstand thinking the jockey had gone too soon, once Lincoln King took over turning for home the gap only widened the further he went.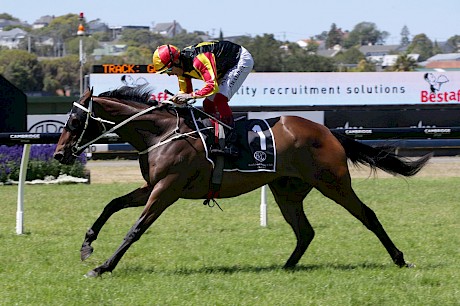 Jockey Jason Waddell puts his whip away and lets Lincoln King cruise to the line well clear at Ellerslie today. PHOTO: Trish Dunell.At the line, Waddell had put his whip away and was easing up on the lanky stayer as he cruised in by three and a half lengths over Scaglioni and Church Road.
"I said to Jason before the race that he's hard fit, he's run over 2400 metres and he's on a relatively quick back-up. You've seen his last two runs, he's ground his way to the line nicely.
"I told him to get on his bike early, make it a hard staying test, and with how hard fit he is, he won't be stopping."
The words proved prophetic and without doubt helped earn $18,000 for the Streets, Middleton, Wellfield Lodge and Marsh himself, taking his earnings this prep to $46,750.
'He's done a really good job," said Marsh who was very bullish before the race. "But he's going to need a freshen-up now.
"We'll put him in the paddock and give him a light let-up then bring him back up for an autumn campaign.
Lincoln King kicks clear as the pacemaker Take It Out weakens and Scaglioni mounts his run for second."He's an improving type and you'd imagine next time in he should be a cups type of horse. That was a really good, tough staying effort today."
Out of the good staying mare Shi Kin Fly who won seven races and $175,000, Lincoln King was bred by Wellfield Lodge's Bill Gleeson and was so slow to mature he was left behind when Lincoln Farms and Wellfield sent a team to Singapore.
Brought along slowly by Wellfield Lodge manager Peter Didham, Lincoln King gradually found his way but when he was finally sent to Marsh at Cambridge it was with the warning that he "didn't have a massive turn of foot" and should be trained like a stayer.
"The horse has taken time to learn his trade but if he keeps on improving you wouldn't know what he could do over ground," Marsh said at the time.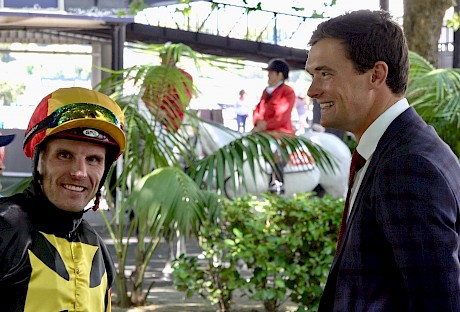 Jason Waddell with Marsh stable racing manager Todd Pollard at Ellerslie today.Lincoln King's win today capped a day of threes for Marsh, Waddell and Lincoln Farms.
It was both Marsh and Waddell's third win of the day and the third win of the weekend for the Streets who also scored with pacers Man Of Action at Cambridge on Friday night and Double Or Nothing at Albion Park in Queensland.
Waddell's hot streak will also benefit the victims of the Australian bush fires as he has pledged to donate $150 for each of his wins this month and 5% ($300) of his winning $6000 percentage from riding Railway winner Julius on New Year's Day.
Marsh advanced to 58 wins for the season, second on the premiership to Te Akau's Jamie Richards (68).
Our runners this week
Saturday at Awapuni
Saturday at the Gold Coast
Lincoln Sky.