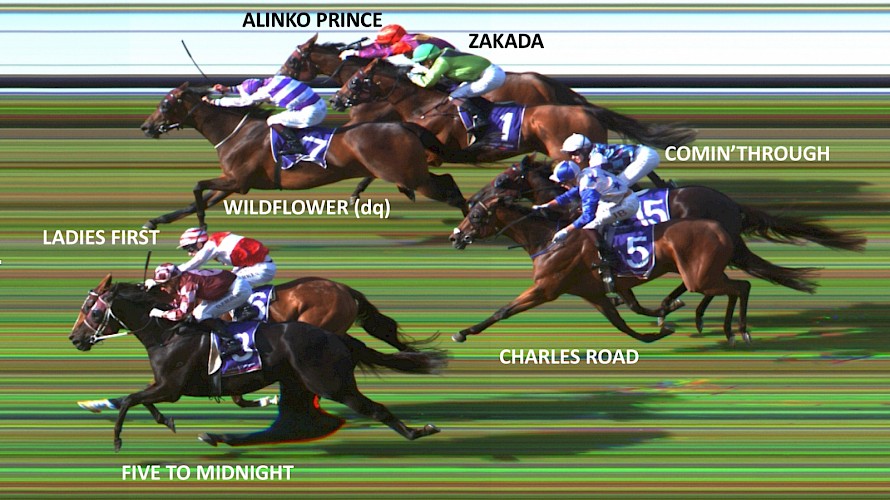 Lisa: Auckland Cup weight scale dead against the Kamanda, we'll be doing well to run top 6
Kamanda Lincoln deserves his shot at the Auckland Cup but realistic trainer Lisa Latta reckons he'll be doing well to run top six.
And that's not because the horse isn't going well - he showed with his unlucky and late charging third in last Saturday's Nathan's Memorial that he's in great heart.
But under the set weights and penalties conditions of the race, he's terribly off against a number of far better performed gallopers.
Under normal conditions Kamanda Lincoln, a rating 76 horse, could have expected to get into the race with 52kg or 53kg and be receiving 6kg and more from the favourites at the head of the handicap.
Instead he is on 55kg, just 1kg below last year's runner-up Five To Midnight, and only 2kg below Charles Road and Vengeur Masque, who are both rated 104 and have infinitely superior records.
Charles Road has won a Group II race in Australia, the Chairman's (2600m) at Randwick and he finished third in the Sydney Cup (3200m) and seventh in the Melbourne Cup (3200m) last year.
He will carry only 1kg more than in last year's Auckland Cup despite in the last 12 months having won A$601,990 in Australia and another $46,750 in New Zealand.
Vengeur Masque has won two Group III races, the Geelong Cup (2400m) and Queen Elizabeth (2600m) at Flemington and also ran third in the Listed Sandown Cup (3200m) last November.
"It's crazy really and certainly a big ask for him,'' says Latta.
"But hopefully getting the good draw of four will make up for it.''
Latta says the cup will be good experience for Kamanda Lincoln, rated a $41 chance with the bookies.
Twelve months too soon
"But it may be 12 months too soon for all this. Next year should be his year.
"He's really only just starting to learn to do things right, he's not pulling as hard or getting his head up.''
Latta says Kamanda Lincoln's lead-up hasn't been ideal, with Saturday's race his third in just 15 days.
"He's lightened up a bit, which is what you'd expect, but he seems well and any fire out of the ground would help him.''
The metservice is forecasting 23ml to fall on Friday, with possible thunderstorms, but clearing skies by lunchtime Saturday. The track was a good 2 this morning.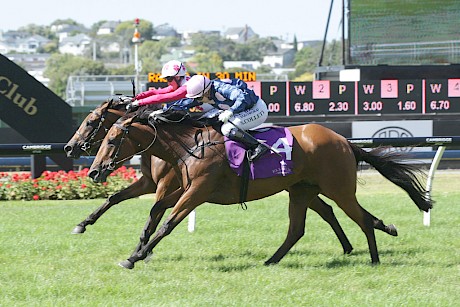 Glory Days, outer, nabs Blue Breeze near the post in the Avondale Cup at Ellerslie. She has eased slightly in the betting after drawing wide. PHOTO: Trish Dunell.Latta was disappointed her other cup runner Five To Midnight drew 13 but the horse now shares second equal favouritism on $5 with Glory Days who is one from the outside in gate 15.
Five To Midnight is one of the beneficiaries of the race conditions, getting in with the luxury weight of 56kg, half a kilo less than he carried in the cup last year when beaten the smallest of noses by Ladies First.
It is the lightest weight he has carried for nearly 12 months. In his previous nine starts in New Zealand he has had 59kg (third in the Avondale Cup), 60kg (first in the Karaka Cup), 59kg (fifth in the City Of Auckland Cup), 60kg (third in the Waikato Cup), 60kg (eighth in the Counties Cup on a slow track), 60kg (first in the Feilding Cup), 59kg (eighth in the Livamol Classic), 58.5kg (first in the Fasttrack) and 57.5kg (seventh in the Reliable Man Trophy).
Not since he ran second in the Awapuni Gold Cup on March 31 last year has he enjoyed only 56kg in New Zealand.
Our runners this week:
How our trainer rates them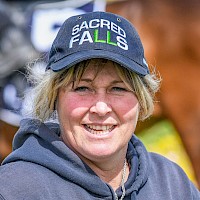 Lisa's comments
Sunday at Tauherenikau
Race 1: Lincoln Hanover
"He's done very well since his first-up run at Awapuni and continues to please me. He has come up with the outside gate which isn't ideal but he has the speed to get across them. The step-up in distance will help and, while the top two horses look hard to beat, he is capable of taking this out.''
Race 6: Platinum Rapper
"She has trained on well since her first-up win. Tauherenikau is a track that does not get overly hard, which we are looking for. This race will tidy her up to head south. There are some handy types in it and she is up a rating band but I am happy with her progress and expect another good run.''
Lincoln light
News in brief
STEPHEN POSITIVE:
AUTUMN PREP: Trainer Lisa Latta may consider an autumn campaign with Lincoln Falls if he comes through his gelding operation well, kicking off with the Group III Cambridge Breeders' Stakes (1200m) at Te Rapa on April 27. The horse, who did not see out the derby trip last Saturday, went out to the paddock today for a freshen-up before visiting the vet.
RETIRED: Bush Whacked has been retired. Despite showing promise at trials the Sepoy three-year-old showed in three starts for Cambridge trainer Stephen Marsh that he simply didn't want to be a racehorse.
TOUCH FLAT: Rider Robbie Hannam told stewards he thought Platinum Touch was feeling the effects of her debut run and felt flat after beating only two home at Trentham.
LOST DREAMS: Dreams Of Platinum has been sold to Australia. The four-year-old mare won one race and placed seven times in 21 starts, earning nearly $35,000.