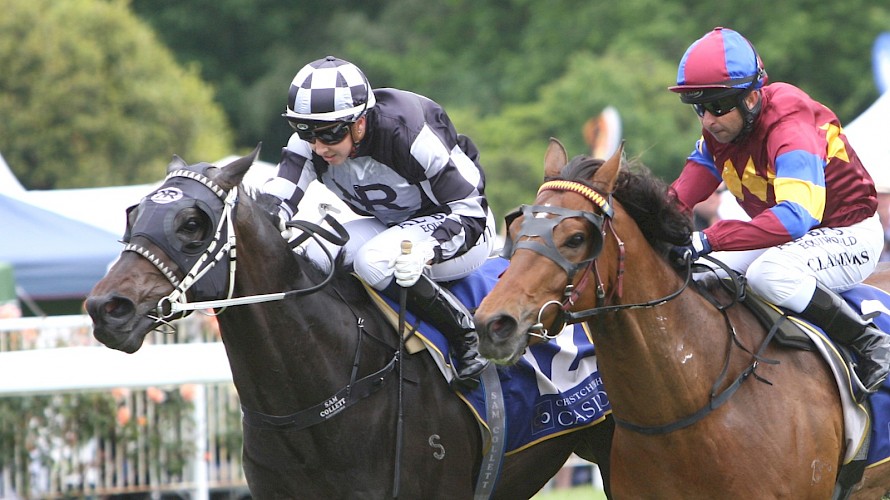 Lisa rapt with where Kamanda Lincoln's at - physically, mentally and in the gates
Kamanda Lincoln needs to pull out a big one at Awapuni on Saturday to force his way into the Wellington Cup - and trainer Lisa Latta says he's in just the right order to do it.
"He's a very happy horse at the moment. He looks fantastic and is really thriving.
"And most important of all, he's finally come up with a good barrier (one) which means we can be much more positive on him from the gates.''
Kamanda Lincoln presently sits on a lowly rating 69 which sees 27 horses ahead of him in the ranking for the $250,000 Wellington Cup in two weeks.
But he looks to have a royal chance of winning on Saturday in a rating 72 event where he will be ridden by leading jockey Samantha Collett.
Collett knows Kamanda Lincoln well now - it will be her fourth ride on the horse - and she was on board at Riccarton two starts back when he drew well and jumped straight into a handy possie before outstaying his rivals over 2500 metres.
Collett experienced the frustration of riding Kamanda Lincoln from a bad gate at Te Rapa last time when he got too far out of his ground and never got into the race behind The Good Fight over 2400 metres.
On Saturday, from the inside alley, everything sets up perfectly for Kamada Lincoln and Latta says she isn't worried about the horse coming back to 2100 metres.
"It's his home track and I really expect him to go close.
"Safely through Saturday's run I will make a decision on whether he needs to back up next Saturday or whether we will head straight into the Wellington Cup.''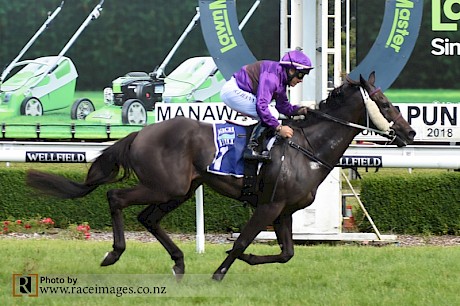 Lincoln Star carries more weight than Kamanda Lincoln. PHOTO: Race Images.Latta says, with his experience, she favours Kamanda Lincoln on Saturday over improving stablemate Lincoln Star, who after a recent win on the course and two seconds is carded to carry half a kilo more with top weight of 59kg.
"Lincoln Star hasn't got the good draw of the other horse and while he will enjoy getting back onto a better surface, I veer towards Kamanda Lincoln.''
Lincoln Star was very brave in his latest outing at Awapuni on Boxing Day when he battled through a heavy 10 track to run second to Skyphyta.
"Rosie said he didn't like the footing at all.
"He has trained on really well since and we will be positive with him from the gate too as we know he jumps well and can put himself on the speed.''
Good no good for Father Lenihan
Latta will delay until the last minute a decision on whether to run Father Lenihan in the opening race.
"We know he likes the fire out of the track. It is currently rated dead with no rain forecast. If the track does get back to a good 3 at scratching time on Saturday morning I will pull him out and save him for Wellington the following week when showers are forecast.
"But being the first race hopefully they will come up with a dead track through irrigation and we can run.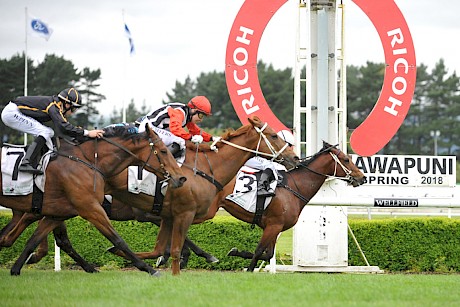 Father Lenihan in winning form at Awapuni. He gets weight relief on Saturday but must have the fire out of the ground to start."He continues to please me and looks really well.''
Latta says she entered Father Lenihan in the rating 82 race so he could get some weight relief - the horse has carried 59kg or close to it in 10 of his 11 career starts and has not had the luxury of 56kg since his debut in May, 2017.
The O'Reilly four-year-old felt this weight late at Awapuni on December 22 after being wide all the way.
"Robbie (Hannam) admitted last time he probably should have been more positive and gone forward so we will look to do that on Saturday.''
Father Lenihan showed what he could do on rain-affected ground at his previous start when he disputed the lead throughout at Trentham before running third to talented stablemate Lincoln Raider.
Our runners this week
Monday at Otaki
Authentic Charm, Lincoln Fury, Ajay Lincoln, Alesha Lincoln, Port Lincoln, Master Lincoln, Lincoln Dreamer.
Our runners this week:
How our trainer rates them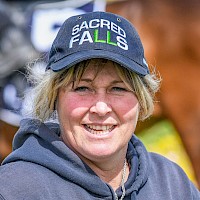 Lisa's comments
Saturday at Trentham
Race 1: Platinum Mam'selle
"There appears to be a lot of speed in the race which will suit her pattern of racing which is to get back and finish over the top of them. She has trained on well after her unlucky run at Stratford and is back against her own age group on Saturday in a small field.''
Race 2: Miss Oahu
"It was a very average ride at Hastings last time which saw her caught four wide in the running. She has trained on well and has good gate speed so we will look to go forward and hopefully end up right behind the speed. I am expecting another bold run from her.''
Race 3: Platinum Invador
"He has come up with another good draw in three and gets in with a nice weight of 56.5kg. He is up another rating band, however, and this field is a lot stronger field than the one he beat at Otaki. I am very happy with the way he has come through that race and also with his work this week."
Race 6: Lincoln Sky
"He came through last Saturday's race really well but I want to see how he does over the rest of the week before committing to a start on Saturday. Madan (Singh) said last week that he felt the horse was looking for a mile as he is so laid back.''
Race 9: Kamanda Lincoln
"Unfortunately he has drawn wide (18) in the Wellington Cup which means we will probably have to ride him for luck, which is always more difficult in these big races. I am happy with where he is at but we are going to need a magical ride from Sam Collett.''
Race 10: Father Lenihan
"He galloped well yesterday morning but pulled up sore in his near front. He had a pulse in the foot so we poulticed it for 24 hours and the blacksmith came this morning and said he had a bit of bruising. He was about 95% right today and providing we keep on top of it I am reasonably confident we will get him there on Saturday. If he is not 100% he will be scratched.''
Race 10: Lincoln Raider
"I've engaged Leith Innes to ride him and he has freshened up nicely after his Ellerslie run. After watching that race you can see him bounce off the rail two or three times. I think he is a better horse left alone early and given one clear run at them and that is what we will aim to do on Saturday.''
Lincoln light
News in brief
LOST DREAMS: Dreams Of Platinum has been sold to Australia. The four-year-old mare won one race and placed seven times in 21 starts, earning nearly $35,000.
TOUCH FLAT: Rider Robbie Hannam told stewards he thought Platinum Touch was feeling the effects of her debut run and felt flat after beating only two home at Trentham.