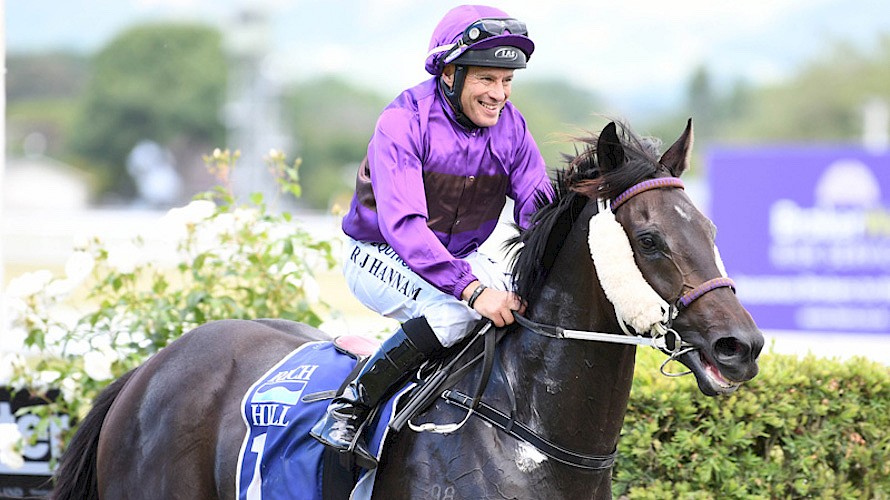 Lisa reveals which Lincolns she expects to Star on a very wet Saturday in Wanganui
You wouldn't pick it from his formline but Lincoln Star gets trainer Lisa Latta's vote as the best of Lincoln Farms' eight runners at Wanganui on Saturday.
Lincoln Star is one of three Lincoln Farms' horses in the final race of the day and while he has yet to win in heavy conditions, Latta is pinning her hopes on the fact the track should be loose.
Nearly 50ml of rain is forecast for the Wanganui area on Friday and Saturday morning to add to what is already rated a heavy 10 track.

49.5ml of rain is predicted to fall in the Wanganui area tomorrow and on race morning.And while her other runners in the race - Father Lenihan and Almo Street - might be expected to be more at home in the conditions, Lincoln Star has shown he is adaptable and he is definitely the fittest of the trio.
"This is his third run back and he should strip spot on,'' says Latta.
Lincoln Star has put in two solid efforts since resuming without really catching the eye, finishing only 3.8 lengths behind Midnight Story at Trentham before running sixth, 5.7 lengths behind Myrtle at Awapuni, both times in heavy 10 ground.
"He just came to the end of his run last time.
"He gets in nicely at the weights and has a draw that will be favourable by the last race given the pattern of racing at Wanganui.
"He has continued to work well and I am expecting a good run from him.''
Lincoln Star, a four-year-old by Savabeel, has been a consistent performer, winning twice and placing six times in only 14 starts.
And he has been a versatile performer too. Just 11 days after winning on good 3 ground at Awapuni last December, he stepped up a grade and finished second in heavy 10 footing.
Topweight Father Lenihan might be a better galloper - he is being aimed at the Winter Cup at Riccarton - but Latta says he will almost certainly need another run and it's not ideal stepping him up to 1600 metres straight away.
Latta has put 3kg claimer Sam O'Malley on to reduce the horse's weight to 58kg.
"He has improved since that fresh-up run but still has some improvement in him to come.
"But he has won at Wanganui previously and has a good draw in a very even line-up.''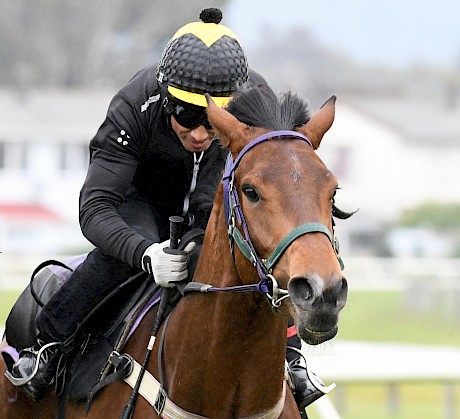 Master Lincoln looks well placed in the opening race. PHOTO: Royden Williams.It's not Father Lenihan who gets Latta's nod for second best winning chance on the day, however, that spot belongs to Master Lincoln in the opening race.
Master Lincoln meets the weakest of the 29 horses who were entered for the rating 65 event. The best 18 were chosen for the $22,500 race and the rest put into a second race for $10,000.
Master Lincoln, who is second ballot for the richer - and stronger - race, must start in race six if he regains the field but Latta is comfortable with either scenario.
"I still expect him to be right there at the finish even if he does regain the other field.
"His last two runs have been very good and last time out he just came to the end of it over the 2200 metres so the step back to 2040 metres will suit.
"He has continued to work well and looks well placed.''
Master Lincoln looked a winner in waiting last time at Awapuni when stepped up to a middle distance, collared only late, a long neck by Prior Engagement. Top apprentice Ryan Elliot takes over from the suspended Darryl Bradley on Saturday.
Chasing black type with Platinums
Latta fancies Platinum Bordeaux (race 5) as her third best chance of the day, even though she's a maiden and meets a very strong line-up of two-year-olds from many of the country's top stables in the Listed $50,000 Castletown Stakes.
"She has continued to improve since her placing at Awapuni and her work has been very good. I think she's capable of being competitive.''
Platinum Bordeaux, a filly by Per Incanto, finished two lengths behind She's A Lady on a heavy 10 at Awapuni last time, doing her best work late.
She is raced by Lincoln Farms and Neville McAlister, who is keen on chasing black type with his three-year-olds, the same reason Platinum Rapper is tackling the older horses at weight-for-age in the $50,000 Challenge Stakes.
It's a big ask against some vastly better performed and seasoned campaigners but Latta says the filly's ability to handle very wet ground will be in her favour.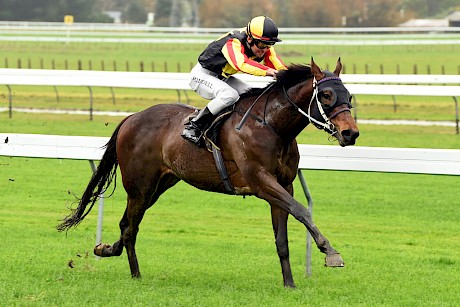 Manhattan Street eating the mud as a two-year-old … he can really jump.Saturday also marks the reappearance in the fourth race of five-year-old Manhattan Street after a hiatus of seven months.
The former wet weather star has won only one race since his all-conquering two-year-old days and Latta has been schooling him to try to rekindle his enthusiasm.
"He's a very good jumper. Shaun Fannin, who is one of the country's top jumps jockeys, rides work for me and he's very excited about him. He'll go for the first half of his ticket next week.''