Lisa: Slow footing will help consistent Lincoln Town go fast at Hastings on Wednesday
Drastically improved track conditions will play into the hands of Lincoln Town at Hastings on Wednesday.
When the Tavistock four-year-old resumed at Wanganui on July 10 he really struggled in the heavy 11 conditions, failed to show his customary early dash, was wide all the way, yet still fought bravely for third.
Improved with the run, and likely to strike slow 7 footing in the Bay with good weather predicted, he should get his chase to break maidens in the fifth race.
Trainer Lisa Latta says all she wants to see is rider Kozzi Asano bounce the horse out from gate 12 to be with the early leaders.
"He doesn't seem to try as hard when he gets back, even in his work. And the improved conditions will really help him, he's not a real mudder."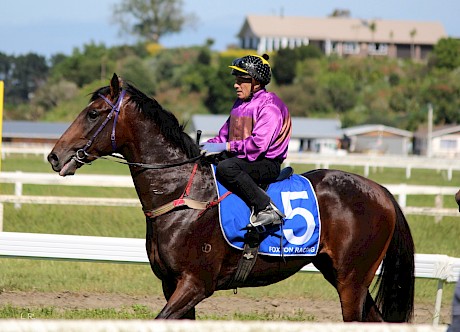 Lincoln Town … ready to break maiden duck.Lincoln Town proved that fresh-up when he made up a nice slice of ground on the home turn, angled right to the better footing near the outside fence by Asano and closing within two lengths of the leader before his condition ran out.
Lincoln Town, a model of consistency even when unhappy in the going, has racked up six placings from his eight starts. And two of his best efforts were at Hastings when second in slow 7 and third in slow 8 footing.
When he won a trial at Waverley last month the track was also running better than a slow 7, giving him the chance to use his speed.
"I have left him on the fresher side to keep him to 1200 metres while the tracks are so testing but will step him up after this run.
"He should run well as long as he doesn't get stuck too wide."
Heartbreak horse
Almo Street has been a heartbreak horse for the last two years but if he's ever going to show something it has to be on Wednesday in the eighth race.
He drops from rating 79 to rating 65 company
His work has been markedly improved since his first-up run
Both his wins have been on slow footing
The last time he placed was at Hastings (in September, 2017) on slow 9 footing when he came with a big late run to be beaten only half a head in a rating 75 1600, the same distance range as on Wednesday
His last win was at Hastings on slow ground in July, 2017.
"His work has really improved from his first-up run when he didn't handle the testing track at all," says Latta.
"The draw (nine) is a bit tricky so he may have to go back a little to get cover but I expect him to be finishing off well in a field that looks even but not overly strong."
But we're talking Almo here, he who sometimes goes to sleep in the gates and who has no respect for your money.
Our runners this week:
How our trainer rates them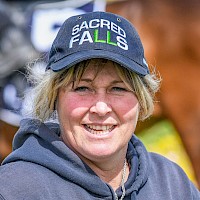 Lisa's comments
Friday at Otaki
Race 1: Platinum Parade
11.24am
"She has drawn one and Sarah Macnab will ride after being on in her last jumpout. She will race in a tongue tie as she was getting her tongue back at the jumpouts and not breathing as well as she could. The question will be whether she handles the going now the tracks are heavy."
Race 6: Platinum Bordeaux
2.17pm
"She has drawn 17 but will come in five spots if the ballots don't make the field. She gets back a bit in the running so this may be a nice draw later in the day. She had a quiet week after her last gusty run when she just got beaten and she worked really well on Tuesday. She is a bright, happy horse and I expect her to be right in the thick of things with Hazel Schofer claiming 1kg."