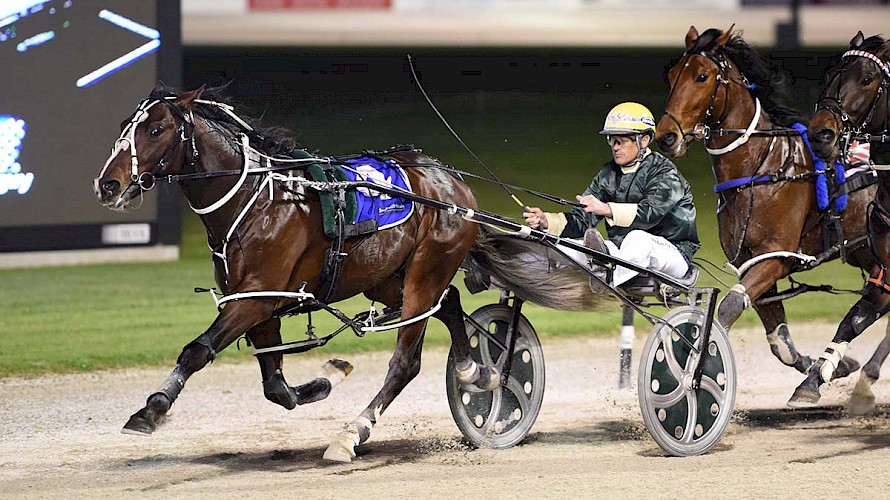 Little American Dealer will start at a little price at Cambridge - $1.45 and set to shorten
It's no surprise the TAB bookies have American Dealer a $1.45 favourite for Thursday night's Sires' Stakes heat at Cambridge.
Given the way the little colt rocketed home from last on the home turn at Auckland last Friday, it's a fair bet he might get even shorter come the last race of the night.
American Dealer was driven very conservatively last week, last all the way, and didn't move until the field had straightened up for home.
His performance to get within 3.7 lengths of winner Kango was the subject of a stewards' inquiry when driver David Butcher was quizzed over his tactics.
Butcher explained that up in class, against older horses, he had little option other than to restrain to the rear early from seven on the gate when unable to secure a position in the running line.
Butcher said he did not get a trail into the race as he had hoped and that when the tempo increased markedly from the 600 metres he felt he would not be able to make up ground three wide on the final bend.
Butcher said he believed his best option was to save the colt for a final run in the home straight.
American Dealer made up many lengths in the run home, clocking the fastest sectionals in the race - his last mile in 1:56.8, last half in 56.5 and quarter in 27. The 2200 metre trip was run in a searing 2:40 flat.
Times like that would be enough to account for easier rivals on Thursday when Ray Green's colt has only six others to beat.
"Based on what we've seen so far you have to label him a serious winning chance," Green said.
"He should be able to get over the top of them, especially in a small field."
The only fly in the ointment could be pole runner B D Joe, who in his last two starts has run third in the Harness Millions and fourth, behind American Dealer in the postponed Two-year-old Sires' Stakes Final.
Stablemates no threat
Green doesn't expect Captain Nemo or Apieceoflou to threaten their stablemate from the two outside draws.
But Green says with a little more luck than they've had in recent starts either of them could place.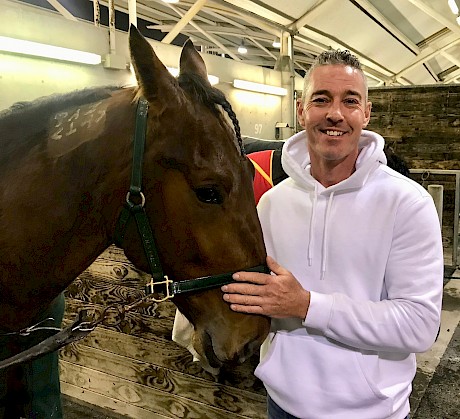 Part owner Gareth Paddison with Captain Nemo.Captain Nemo was expected to go close at Auckland last week, dropping down in grade from racing the best three-year-olds. But after getting parked out, he started over-racing, and David Butcher eventually went to war with pacemaker Edam Fast.
"David had to let him roll in the end and he just did too much. He was hitting a knee as well which wouldn't have helped."
Green said Captain Nemo might be better suited the left-handed way round at Cambridge, a track where he cleared maidens in July.
Green says Apieceoflou will start in the Sires' Stakes heat in preference to the seventh race, where he drew the second row.
"It's only a small field so he won't be far off them in the running and it would be nice to see him race up to what we think he can do.
"And if he can lob a place it would put more value on him."
Green said Apoieceoflou would also earn more from running last ($500) in the Sires heat than if he finished fourth in the earlier race.
Apieceoflou's career-long unlucky streak continued last week at Auckland when he lost his running line spot a round from home as the field took evasive action to avoid the breaking leader.
He ended up three wide and was forced to make a run at them, ending up parked 600 metres out, with a petrol tank blinking on red.
Trainer Ray Green wth Bondi Shake. PHOTO: Trish Dunell.Bondi Shake will get his best chance yet in the seventh race, Green labelling his drawing the pole as a big win.
"If he's ever going to win a race this will be it as he loves leading," said Green.
"He's had terrible draws and the only time he led he was just pushed a bit too hard. He certainly has the ability to win a race like this."
Revitalise was the big improver last week at Auckland and will be a chance in the eighth race despite his second row draw.
Revitalise was driven quietly last week, second last early then three back on the outer, before making a strong run round the home turn and sustaining it to the post for second, albeit distant, to the capable Mr Fantastic.
"He's obviously a lot better suited when driven as a sit-sprinter. In the two runs where he sat back, he got home not badly. And the other time when he was put in the race he didn't finish it off."
Our runners this week:
How our trainers rate them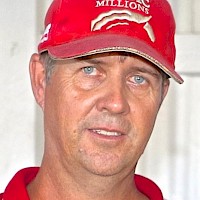 Al's comments
Tuesday at Albion Park
Race 8: Man Of Action
7.38pm NZ time
"He's come through his win last week really well and should run first or second again from another good draw. Soho Tsunami will be a big danger. He'll get a good trip on our back."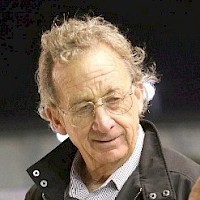 Ray's comments
Friday night at Auckland
Race 1: Apieceoflou
6.19pm
"He's just been incredibly unlucky - he was knocked over at the start last time - but if things go his way we'll see a better animal."
Race 1: Captain Nemo
6.19pm
"If he gets the right trip from five, he'll be right there at the finish. This is little more than a jumped up maiden race."
Race 4: Tommy Lincoln
7.39pm
"He's in a grade now where he can't get away with being driven like a toe rag all the time and from the second row he's obligated to have a much more conservative trip. He'll need a bit of luck but, if he's not put in the race too soon, he shouldn't be too far away."
Race 7: Revitalise
8.59pm
"I've scratched him. He's recovering from a foot abscess."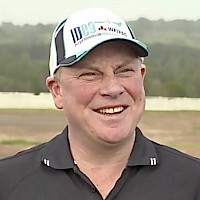 Ants' comments
Friday night at Melton
Race 1: Make Way
7.33pm NZ time
"He pushed them over the line last week and felt really good - he was only jogging at the finish. The (seven) draw has killed our hopes a bit but you never know …"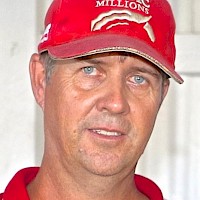 Al's comments
Friday at Albion Park
Race 5: Larry Lincoln
10.18pm NZ time
"We'll drive him quietly on Friday, just hold our position out of the gate, and give him some confidence. It's not a strong field - it's a bit of a drop in class on what he's been racing - and on the times he's been running in training this week he should be winning."
Saturday night at Albion Park
Race 3: Northview Hustler
9.48pm NZ time
"His run last week was exceptional. His chances depend on how the race is run. With the one and three horses having gate speed there could be early fireworks, which would suit him, as we'll probably drive him the same and use his speed late."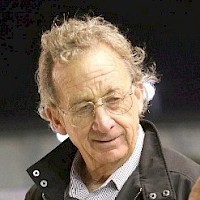 Ray's comments
Sunday at Cambridge
Race 6: Bondi Shake
5.47pm
"He would have won had he not galloped close to home last time. He just turned his head to one side when he got alongside that other horse and might have touched a knee. We'll rectify that by putting two poles on him."
Monday at Ashburton
Race 5: American Dealer
2.27pm
"From the pole, he should get a perfect trip. It's hard to know what the others will do but we get out well enough to be handy. He'll go well but he's already qualified for the final so there's no urgency. It would be nice to win it but we don't have to."
Race 7: Copy That
3.37pm
"He's never gone away badly from a stand - he's always reasonable and safe - so he shouldn't be far off them when they settle. I see him in midfield. I'm not expecting too much from him. So long as he goes well, I'll be happy."