Make Way by a big space in 1:53 - and Ants says he did it in second gear
Top horseman Anthony Butt is adamant Make Way will be competitive in the two derbies coming up after the little colt won by a wide space at Albion Park on Friday night.
Despite being warned by everyone that no matter how good your horse is, it's very hard to win from the outside of the second row over 1660 metres, Make Way jogged it, scoring by nearly 20 metres in a 1:53 mile rate.
"And he did it in second gear,'' says Butt. "He just cruised it up the straight and was never all out.
"There'll be two or three really good horses against him in the derbies but I'm sure he'll be competitive."
Butt knows the All Stars' pair of Self Assured and Jesse Duke will be tough in Saturday's A$31,000 South East Derby, and there's a chance the Blue Army's top filly Our Princess Tiffany might also contest the A$100,000 Queensland Derby on July 20.
"But it will come down to draws and with the right run, he'll give them a fright.''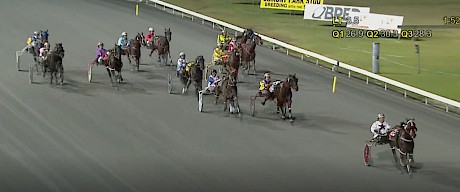 Make Way is doing it easily as he romps clear at Albion Park on Friday night.Butt was again impressed by the way May Way scored on Friday to make it five wins from his last six starts and six in all for his partner Sonya Smith since starting his Australian campaign in late January.
"He's got the all round game now. I'd love to draw well next week as he has really good gate speed but he's also so adaptable. He had to do a bit of work to get to the death last night but he relaxed so well out there.''
Butt let Make Way roll forward out of the gate without getting into any of the early fireworks and was able to work round the field during the slowest second quarter of 30.3.
"We were lucky that horse (Janies Got A Gun) I was following didn't pull back to last and went forward instead, or we could have been in trouble.
"But considering he was never on the track, three wide to the death, he ran very good time.''
Make Way sprinted his last 800 metres, outside the leader, in 55.8, home in 28.3 to race clear of Couldntbetold and tiring leader Soldier Of Fortune.
Only Smooth Sailor, in the rating 75 to 85 event that followed, ran faster overall time on the night, clocking 1:52.3, home in 56.9 and 29.1.
"He's had a great preparation, everything's gone perfectly to plan," says Butt of Make Way.
"He had some racing, then a break, as rather than racing him every week we chose to peak him for the big races.
"He had a bit of a blow last night and I'm sure he'll now be spot on for the big ones.
"You always need a bit of luck in big races but he's flying and he's a great wee opportunist, the perfect article.''
Our runners this week
Friday night at Auckland
Sunday at Menangle
Make Way.