Make Way feeling bullet proof, says Ants, thanks to Australia's superior handicapping
Lincoln Farms' partners in Make Way might have been sad to see him leave New Zealand but they're certainly enjoying the way he is making the most of the superior handicapping system in Australia.
The smart three-year-old was untroubled to score at Penrith last night to notch his third win since arriving at Sonya Smith's Menangle stable.
And, incredibly, only now does he rise to c1 status with six wins and 10 placings on his 30-start career sheet.
"It's such a good system over here,'' says Smith's partner, top horseman Anthony Butt.
"They can pinch a few easy wins and it gets their confidence up. They start thinking they're bullet proof.''
Bullet proof Make Way certainly was last night when Butt eased him off the inside second row draw at the go button and enjoyed a nice run through to be three back on the outer.
"There wasn't a lot of pace on so I took luck out of the equation, got out and around them and was able to control the race from outside the leader.
"He travels beautifully there, nicely on the bit, and I can go as fast or slow as a I like.
"He jogged it in the end and I didn't pull the blinds down, he had plenty left and wouldn't have blown one match out afterwards.''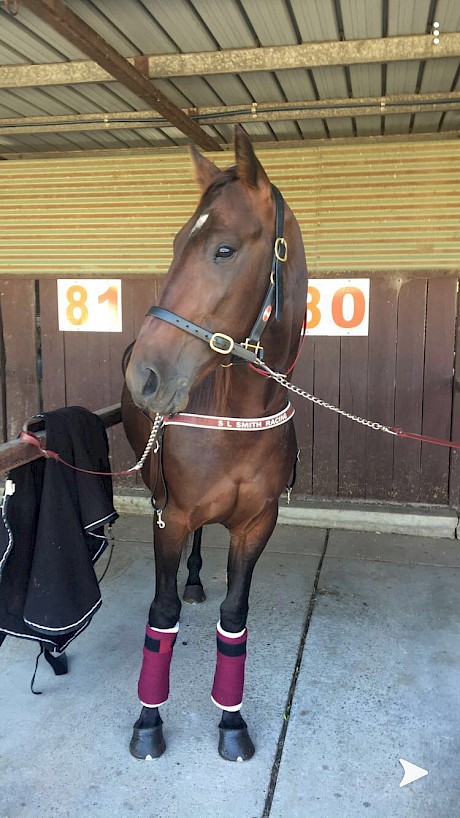 Make Way is really in the zone, says top horseman Anthony Butt.Make Way's time for the 1720 metres of 2:05.9 represented a mile rate of 1:57.8, which was 3.4 seconds faster than the c0 race for three-year-olds and quicker than the times run by the c1 and c2 winners on the night.
And it compared very favourably with the 1:57.7 and 1:56.8 mile rates clocked by the winners of the c3 to c5 races.
Butt says Make Way is really in the zone and gives the credit to Smith.
"Sonya's done a great job with him and treats him like her son.
"He's really in a happy place and has a lot ahead of him.
"He has the whole package really. He has gate speed and I think he'd be a really good sit-sprint horse as well.''
Butt hasn't yet confirmed Make Way's next start but says he could line up at Penrith again next week in a c1 race.
"I'd like to get back to Menangle on a Tuesday at some stage but we'll wait until there's a c0-c1 race, rather than a c1-c2.''
In nine starts in Australia Make Way has now earned A$17,350 form three wins, three seconds, one third, one fourth and an eighth - when he was sick.
It's still an occasion
The colt is raced by Duncan, John and Dave Chisholm, Warwick Orr, Bob Best, Amy Myocevich and the 10-member Excell Syndicate in partnership with Lincoln Farms' John and Lynne Street and Ian Middleton.
Northland owner Duncan Chisholm says he and his brothers and partners still make an occasion of Make Way's races.
"Nothing beats watching live at Alexandra Park, but we are fully behind him racing in Australia, with so many more options for the horse.
"So long as the race is not too late when he lines up we all get together and cheer him on."
Chisholm says with Make Way racing in Australia it also gives them an excuse to fly over to watch him.
"If he goes to Queensland for the derby, Kathy and I will be there."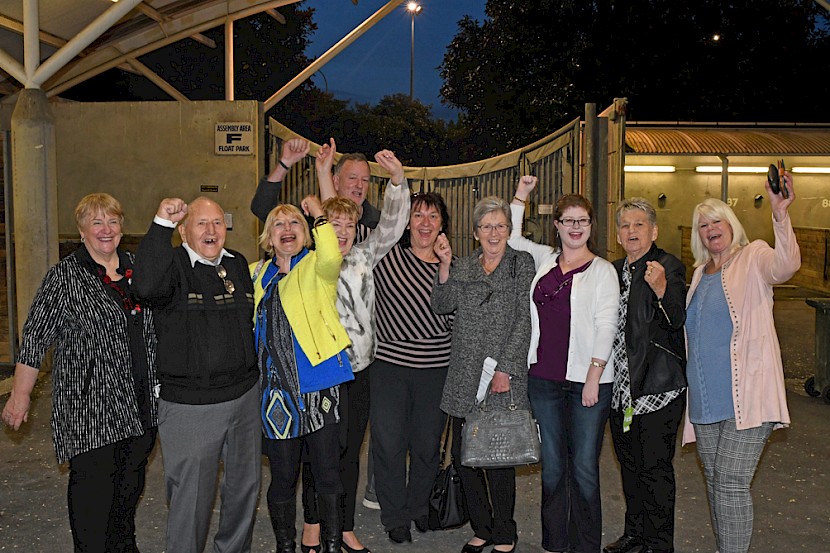 Make Way's owners whooping it up after one of his wins at Alexandra Park earlier in the season.