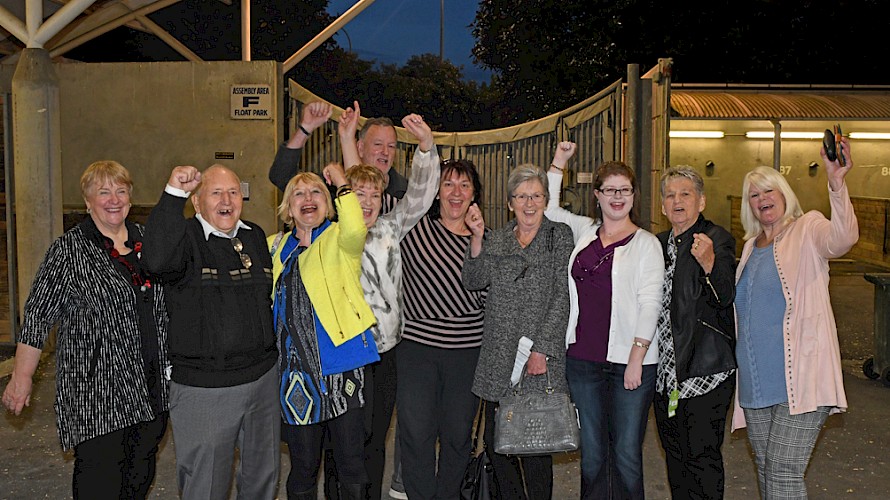 Make Way, the wacky Excell women from Hunua are on the rampage
One of Lincoln Farms' wackiest partnerships was out in force at Alexandra Park last night when its horse Make Way scored a dramatic photo finish win.
Most of the noise in the owners' area of the grandstand afterwards was coming from a few members of the Excell syndicate, a larger than life group of 10 women whose friendship is enduring through harness racing.
The two Christines were there, group leader Christine Stuart shepherding her flock, and life-of-the-party Christine Rupp egging everyone on, two of the stalwarts of the group, all originally from Hunua, south of Auckland.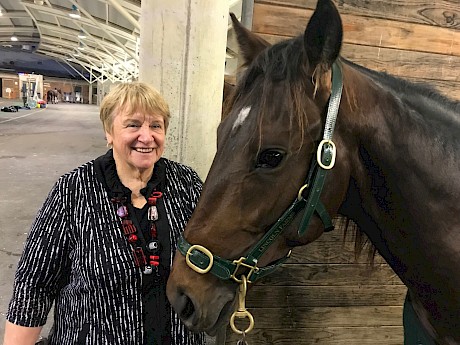 Christine Stuart visits "Tommy" after his win.The syndicate has been together for 12 years, friends from tennis or bowls or just through their kids being at the same school.
And what started out as a challenge to outdo their husbands, who were involved in racing syndicates, has blossomed into a great form of bonding.
Christine Stuart, principal of Ararimu School between the Hunua Ranges and Bombay, got her troops into the Lincoln Farms' partnership scheme as a way of keeping their friendship going when three left the area.
"Out of the 10 people we started with eight are originals,'' says Stuart who along with Rupp races Make Way with Lynda Irwin-Parson, Liz Bilton, Sue Donovan, Sue Wilson, Jackie Taylor, Mary Ingles, Sharon Rack and Shirley Arnett.
"The first one we owned was a galloper but none of us could see it race during the day because we were all working.
"Anne and Steve Phillips got us into harness racing. They were exceptionally good to us and made sure we had successful horses.''
But the ride got even better with Lincoln Farms after a chance meeting.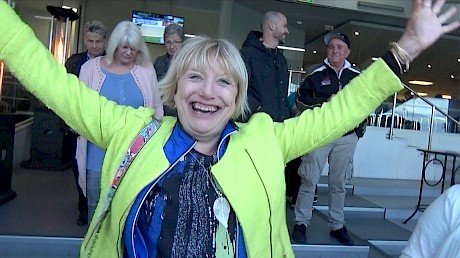 Christine Rupp goes off moments after Make Way's win.Christine Rupp recalls bumping into Lincoln Farms' John Street before a race one night at Auckland when each had horses competing.
"I invited him to come into the winners' circle if we won, and he reciprocated.
"He won the race and we went down to the winners' circle with them and decided they seemed like fun guys.''
So the Excell syndicate took out shares in Spring Campaign and Royal Lincoln, who both won four races before their sale to Australia.
Under Lincoln Farms' unique partnership scheme they were put into other horses as a replacement and last night they enjoyed their third win with their beloved "Tommy".
They're also now in a partnership that will race two-year-old filly Princess Isabel, and this week will finalise a 10 percent share in another juvenile.
That means it's a foregone conclusion you'll see the campervan that Rupp sometimes brings to the races so she and her buddies can let their hair down.
The "bus' wasn't there last night - "we only misbehave sometimes" - but the joviality was.
Says Rupp: "I remember the first time I came to the races and I was jumping up and down, someone nearby said I must have won. When they found out we'd only run second they said they'd hate to be around when I won!''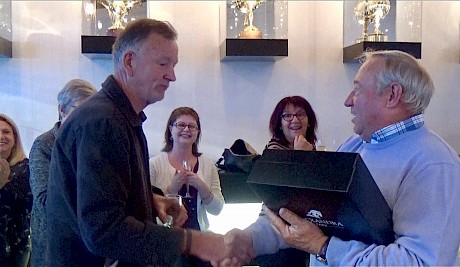 John Street presents Lance Myocevich with the trophy.Fellow owners Lance Myocevich and Bob Best, 85, were slightly less animated than the Excell team last night but nevertheless chuffed at their win.
For Myocevich it was a little welcome relief from the sadness of the previous week when he lost his mate of 38 years through cancer.
Myocevich, who has a share with his daughter Amy, was also humbled when Street presented him with the wine and glasses set given by the Auckland Trotting Club.
Street had a special thank you for race sponsors, the Laura Fergusson Trust, acknowledging the years of help they gave his late nephew Brian Glass, who battled spina bifida until his death at the age of 45 in 2010.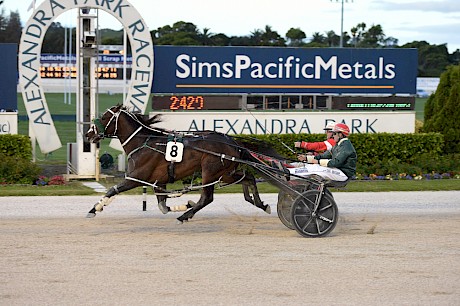 Legs in unison … There's little in it but Make Way, outer, gets the decision from Aha Reaction. PHOTO: Race Images.Trainer Ray Green will now aim Make Way at the $175,000 Yearling Sales' Final at Auckland on New Years' Eve.
But before then he'll be trying the horse with pull down blinds after he again turned what should have been an easy win into a close go.
"Zach said he was jogging on the corner. I think it's just greenness but we'll try the blinds next time to see if that helps.''
Our runners this week:
How our trainer rates them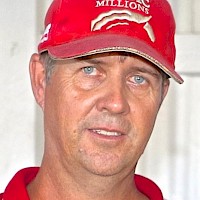 Al's comments
Thursday at Albion Park
Race 2: Joey Lincoln
2.12pm NZ time
"We're pretty confident he can win first-up. He's just got to do everything right. I'm happy he drew six. He's got speed out of the gate but he doesn't have to be hustled and bustled from out there. Hayden can do his own thing, let him balance up, then slide forward and find his way to the top."