Man Of Action and Larry Lincoln show they're ready to let rip in Queensland
Trainer Al Barnes will take Man Of Action and Larry Lincoln to the races next week with plenty of confidence after they all but dead-heated for first in a trial at Albion Park today.
Lincoln Farms' latest imports contested a 1660 metre heat and finished with only a nose between them in the good mile rate of 1:54.8.
Both horses were handled quietly out of the gate, Hayden Barnes first to move on Larry Lincoln, taking the lead at the bell.
And after following him forward, Man Of Action then took the front for brother Brendan, rolling along freely, the last four quarters run in 28.2, 29.8, 28.7 and 28.4.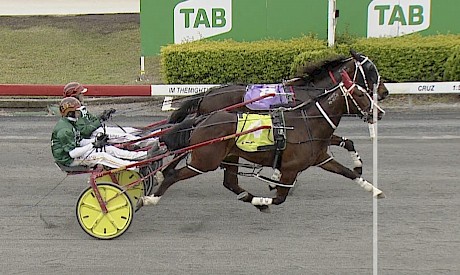 Man Of Action, inner, and Larry Lincoln all but dead-heat in a trial at Albion Park today.While he held on by the narrowest of margins, Al Barnes says Man Of Action will need a few little fixes before next week.
"Brendan was rapt but said the horse was hanging in a bit and we'll give him an ultra sound because he's feeling his hamstrings and stifles a bit. He humps up when you put the crupper on.
"Larry was doing it easily at the line and could have put a couple of lengths on the other horse the way he was cruising.
"Hayden was really happy with him. Both their heart rates were good - Larry's was a little higher.
"They both did a bit of work in the run and are ready to go. There are a couple of nice races for them next Friday."
Man Of Action, a last-start runner-up at Auckland, starts his Queensland campaign with a record of two wins and seven placings from 19 starts. Larry Lincoln, more of a sit-sprinter, has one win and one placing from seven starts.
Our runners this week:
How our trainer rates them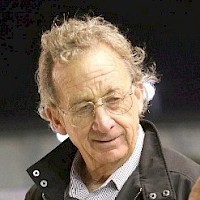 Ray's comments
Friday night at Auckland
Race 3: Revitalise
6.52pm
"Maurice liked his run last week, he has a better draw this time (five) and I'd like to think there's a lot of improvement in him. He should go well and hopefully he'll get a cheque."
Race 5: Captain Nemo
7.53pm
"It will be very tough for him from the outside of the arm. He didn't pace the best last week, Andre (Poutama) had to hold on to him the whole way. But I'll tweak his gear a bit - his hopples might have been a tad long - and hopefully he'll get round OK."
Race 5: American Dealer
7.53pm
"It's difficult to make a plan from four on the second row - you're relying on pure, unadulterated luck - and that's not ideal. I can't imagine anything beating Krug from the one draw - he'll lead out and I doubt he'll hand up - but hopefully we can pick up some of the minor money."
Race 6: Tommy Lincoln
8.24pm
"He's not really a 2700 metre horse so 2200 this week will suit him a lot better. Seven is not the ideal draw on the mobile but if David (Butcher) gets a good trip I'd say he'll be the one to beat."
Race 7: Copy That
8.55pm
"He's absolutely donkey licked everything so far and they're all the same horses again except for Mark Purdon's Another Masterpiece. Now that he's on the front I can't see why he wouldn't flog them again."
Race 9: Apieceoflou
9.52pm
"He was used a bit early last week, and parked for a while, and hung on well for third. I'd like to see him lead and then I think he'd be a serious chance. This is the best draw he's had."
Race 9: Bondi Shake
9.52pm
"He's been training not bad but he's out wide again and will need some luck."