Mark takes a turn in the sulky behind luckless Captain Nemo at Albion Park tonight
The outside of the second row is no fun zone to be starting from at Albion Park but at least trainer Mark Dux says Captain Nemo should be able to clear traffic from there tonight.
Dux will take the reins himself behind the horse in the third race after his luckless run last week when Paul Diebert was quizzed by stewards over why the hot favourite became buried three deep on the markers and was never able to secure room in the run home.
Diebert came out of the gate conservatively, conscious that when he lit the horse up early the previous week he over-raced terribly, was going backwards before the home turn and ran 51 metres last.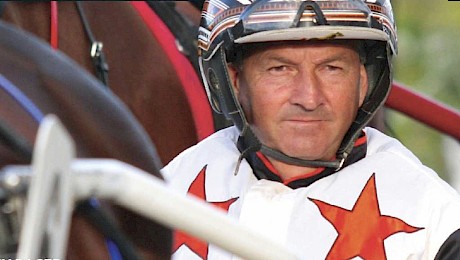 Trainer Mark Dux … "With average luck he'll be right in the finish."Diebert told stewards he thought he could secure the leader's back without driving the horse hard but was unable to raise enough speed, was crossed by a rival, and became trapped on the inner.
"He's still looking for a run," Dux said today of Captain Nemo who ran sixth.
"I think he would have won easily, he was going half pace."
Captain Nemo drops in grade tonight - last week he took on rating 70 to 85 rivals and tonight he is the highest rated horse in a rating 56 to 62 race.
"It's not an overly hard field, it will only be the traffic that stops him. He'll be a long way back early but at least he'll have every chance to get going when he wants to.
"With average luck he'll be right in the finish."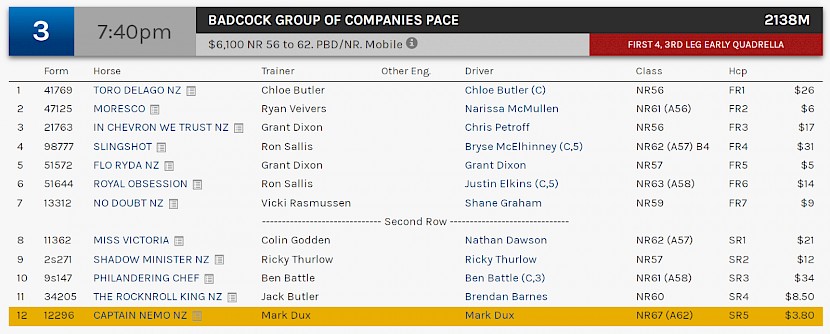 Captain Nemo races at 9.40pm NZ time at Albion Park tonight.
Our runners this week
Friday at Albion Park
Captain Nemo.
Friday night at Auckland
Copy That, Pasquale, Louie LeBeau, Bet On The Tiger, Arden's Horizon.
Saturday night at Albion Park
Tommy Lincoln.