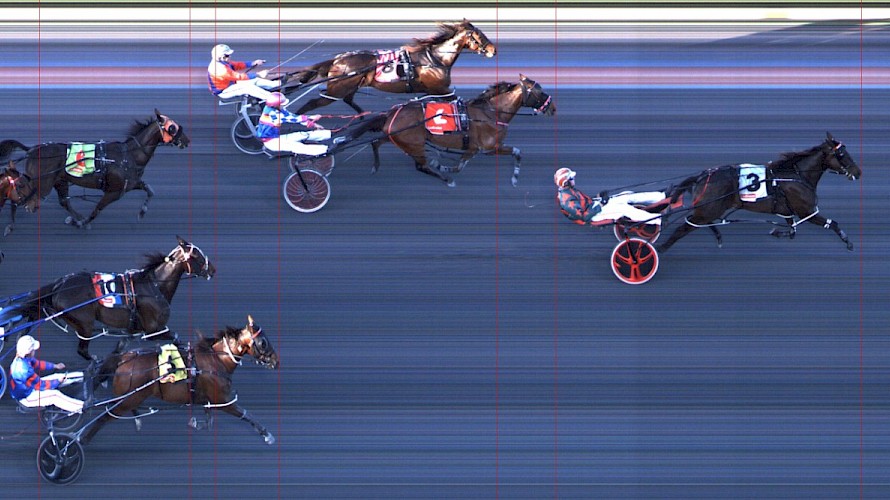 Mark: You just have to roll the dice again with Argyle - he's racing well but needs luck
Punters will have to roll the dice once again at Albion Park on Saturday night if they want to back Argyle from the second row.
Trainer Mark Dux says while Lincoln Farms' pacer is racing well, the pattern of racing in Queensland means that sometimes things will go against him.
"If you draw the two alley you can make your own luck, but two the second row and you're rolling the dice.
"Every week races are won here by leader, trailer or three fence, and sometimes the parked horse. But unless something pressures the horse that lobs in front it becomes too difficult for those trying to come from the back.
"I was pretty happy with his run last week for fifth - he just couldn't win the way the race was run. Once the leader (Rock Supreme) was able to back off the second quarter in 30.6 and that other horse (Tashs Spartan) got to the death he couldn't move on Argyle."
Dux says from his second line draw Argyle did well to close to only 8.7 metres from the winner and his closing sectionals of 55.43 and 28.08 confirmed that.
Three wide trying to mount a challenge, Argyle clocked 27.34 for his third quarter, just two hundredths of a second slower than the best in the race - and he covered an extra 27 metres in the running.
"It all depends on where you lob in the race so I'm hoping he can get a nice run through and won't be too far off them. "It's a good even field with no standouts. On form there are three or four winning chances and we're one of them."
Dux says you have to fancy the chances of the horses drawn one and two.
Pole runner Pacifico Dream is a newcomer to the state and Grant Dixon's team, having previously won 15 races in New South Wales, and on a rating of 112 is 37 points higher than Argyle.
The horse won New South Wales and Victoria Derby heats in 2020 when with Emma Stewart and Andy Gath later trained him to win a Vicbred Final.
But the now six-year-old has had issues and ran down the track in his last four starts for Alex Ashwood when resuming from a long spell in August and September.
"I don't know the horse much but it ran third in a trial here last week and you'd think it would be tough to beat from a good alley.
"Luxury Lad's last two wins were only at Redcliffe but they were in good times (1:53.6 and 1:54.9 mile rates for 1780 metres)."
* Meanwhile, Tommy Lincoln's planned comeback on Saturday night fizzled when only five horses accepted for the race, leaving the horse stranded on 49th in the rankings for the Interdominion series with little chance of making the 36-horse cut-off before the final list is released on Wednesday.
Dux says the horse will now target easier races during the carnival which starts on December 1.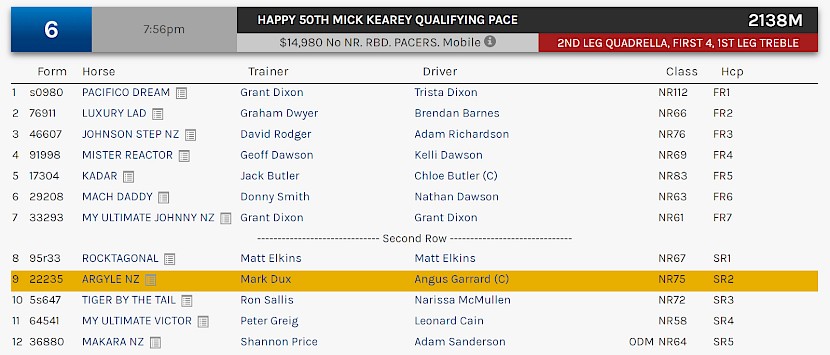 Argyle races at 10.56pm NZ time at Albion Park on Saturday night.
Our runners this week:
How our trainers rate them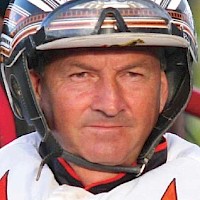 Mark Dux's comments
Tuesday night at Albion Park
Race 4: Tommy Lincoln
9.37pm NZ time
"It was a nice run on opening night considering he'd had only two trials leading in and, for an inkling, Mathew (Neilson) thought he had a sneaky hope of catching the winner. It's going to get harder from here for Tommy because the longer trips don't suit him as much. We can't cross Spirit Of St Louis on Tuesday, he'll lead, but we've got to come out a little bit as Tommy isn't the kind of horse you can drag back. We'll roll out, play it by ear, and hope for some cover. It would be nice to finish top five and keep our points up."
Race 9: Captain Nemo
12.31pm NZ time
"He was KOed into a break 900 metres out last week but we know he's going well so with average luck he'll be right there. It could be a tricky race though because there doesn't look to be much speed so there might not be a lot of pressure. We'll drive him quietly early but if they're going too slowly we might have to make something happen at some stage and put him in the race. He'd be better off outside the leader if they walk."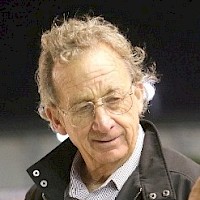 Ray's comments
Thursday night at Cambridge
Race 6: Major Achievement
8.08pm
"He had no chance from a bad draw last time at Cambridge but I can't fault what he's been doing at the workouts since (winning twice). He should get a good trip from the pole and has to be a chance to get some money."
Race 6: Beaudiene Rocknroll
8.08pm
"He hasn't raced since September, when he got worked up after a false start and choked down, so you'd think he'd need the run. He was also only just OK at the workouts last Friday. He tied up on us last time in so he's had his issues."
Race 6: Obadiah Dragon
8.08pm
Scratched.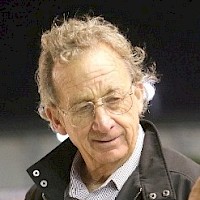 Ray's comments
Friday night at Auckland
Race 2: Leo Lincoln
6.49pm
"I've put blinds on him because he seemed to switch off after he got to the front last week. They went 2:41.7 and it was only his second run for a while so he probably needed it too."
Race 3: My Copy
7.29pm
"Six is a tricky draw so he'll need luck. But you can't fault anything he's done this time in and he made up good ground last start. This field is a lot easier."
Race 3: Onyx Shard
7.29pm
"She's had no chance with the draws and trips she's been getting. From the outside she's going to struggle to get a decent run again but hopefully she'll finish on well."
Race 6: Lincoln River
8.57pm
"He's such a little pro I think he'll manage the step up in class. He lacks a bit of high speed but makes up for it by being very rugged. He's drawn to get a good trip."
Race 6: Simply Sam
8.57pm
"He was held up in the run home last time and a blood I took off him showed he was also slightly tied up which explains his lack of enthusiasm at the finish. I'm hoping he's better this week and, with his speed, if he's sitting on River's back you'd expect him to roll over the top of him."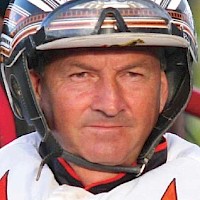 Mark Dux's comments
Saturday night at Albion Park
Race 3: Tommy Lincoln
10.14pm NZ time
"I thought his run on Tuesday was OK. He's drawn similarly (in four) on Saturday night and it would be nice if he didn't get shuffled back this time. We'll come out and play it by ear. I know it's not his best distance but we'll just see how he runs the trip out."
Race 9: Argyle
1.27am NZ time
"I thought he could have won last week if he'd stayed parked. He'll need luck to win this week but he's a realistic place chance. Aardies Flash looks the winner from the inside. He's a nicer than average three-year-old. He can run a bit of time and if he puts the handlebars down I'd prefer not to be parked this time."