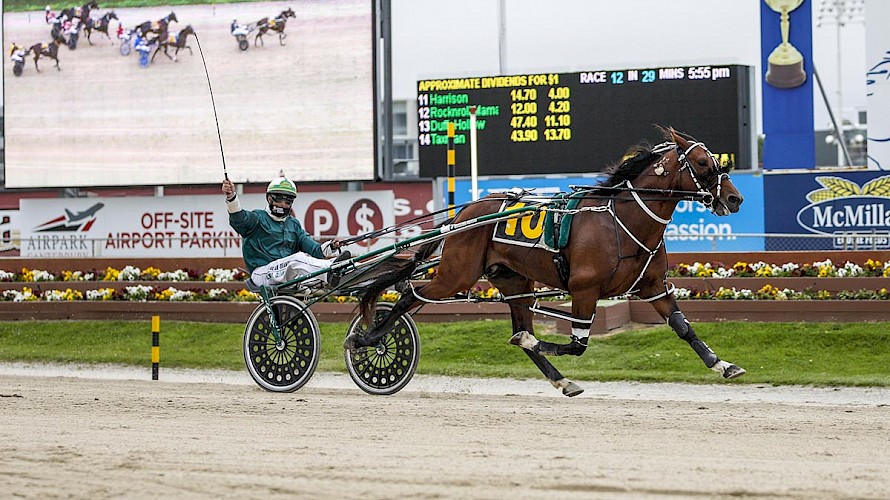 Merv: Count Copy That out if the cup goes to a handicap - I'd be nuts to risk his safety
Owner Merv Butterworth is adamant he will not risk the safety of star pacer Copy That if he has to start from a 10 metre handicap in November's New Zealand Trotting Cup.
Both Butterworth and Lincoln Farms' trainer Ray Green say last year's cup winner will not line up if the insanity of changing the race to handicap conditions is not rescinded by Harness Racing New Zealand.
Butterworth says the $600,000 stake is irrelevant, the safety of his horse comes first and having him stand so close to two lines of horses in front of him would place Copy That in real danger.
"There'll be a full line of horses off the front and some on the second line and the 10 metre position will be right behind that. I'd be nuts to want to be involved in that.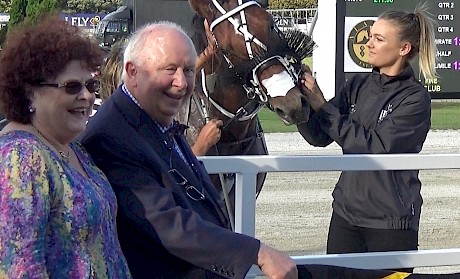 Merv and Meg Butterworth greet their champion at Alexandra Park."Why would we risk having the horse right up their backsides? You only have to remember what happened at the start two years ago to know how badly that could end.
"I can just see it now, the starter will ask the field to turn round once more - how can you do that with 14 horses? - and it will be mayhem."
Green says HRNZ risks reducing harness racing's biggest showpiece to little more than a country cup by enforcing the best horses start from handicaps and seeing them drop out because of it.
"They might as well run the race at Motukarara if Copy That, Self Assured and Majestic Cruiser don't run.
"It's a tough enough race as it is but from a handicap they can't win - you give your horse a hard race for no money.
"I've got to manage this horse for the next 12 months, and I'm not going to run him in the cup just because some lunatic thinks they can get more betting by introducing handicaps.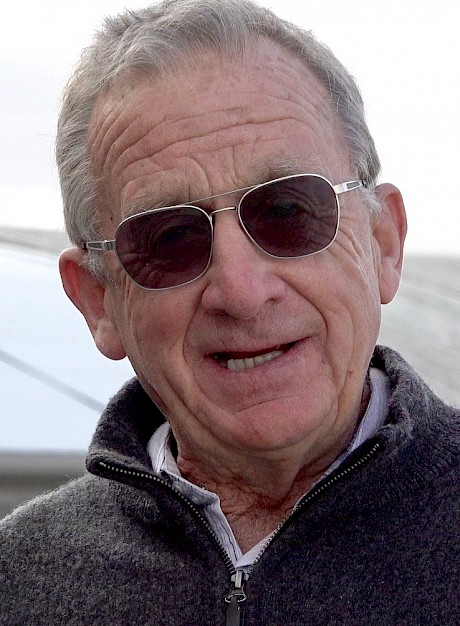 Ray Green … "There are plenty of other options for us.""There are plenty of other options for us. We can go to Victoria where there are plenty of nice races. We might go for the Victoria Cup (October 8) anyway. There are big races in Perth, we have options galore."
Green says the New Zealand Trotting Cup is supposed to be the country's No. 1 event where the best horse wins - "It's not a pony club operation where you give everybody a ribbon.
"It's a Grand Circuit race where you showcase the best horses, it's not the place to help the mediocre ones, nobody goes to see them.
"Everyone takes their chances with the draw anyway, and drawing the second line can be like being on 10 metres anyway."
Green says unless HRNZ backs off its directive to the NZ Met - which opposes the change and has asked for a review - the only race Copy That might contest in cup week is the New Zealand Free-for-all, a race Butterworth says he has yet to win as an owner.
"Half the field will be Cup horses who are buggered and then we could go to Australia with a fresh horse.
"There are lots of races here in November and December, including the Interdoms (November 26 to December 10)."
Butterworth cannot believe HRNZ went along with the belief of its general manager of racing, marketing and communications, Catherine McDonald, that punters would open their wallets more if the best horses were handicapped.
'"How does that improve the race? Punters aren't that stupid.
Standing starts a blight on punters
"If HRNZ are fair dinkum about building up punter confidence they should do away with standing starts. It doesn't matter whether it's the Bong Bong Cup (run by a picnic racing club in New South Wales) or New Zealand Cup, standing starts are a blight on punters.
"Five years ago Victoria banned all standing starts and their turnovers have never stopped going up."
While some traditionalists might want to retain the old ways, and point, say, to the great win by Cardigan Bay from 54 yards in 1963, he says harness racing has changed dramatically in the last 60 years.
"The oldtimers don't punt anyway. Catherine McDonald only has to survey 100 punters at Addington on Friday night and they'll tell her that they prefer mobiles to stands.
"She'd find out in 10 minutes if she did a tour of 10 TABs. But, wait, she can't, they've closed most of them down."
Our runners this week
Thursday night at Cambridge
Whiz On Bye (Scratched).