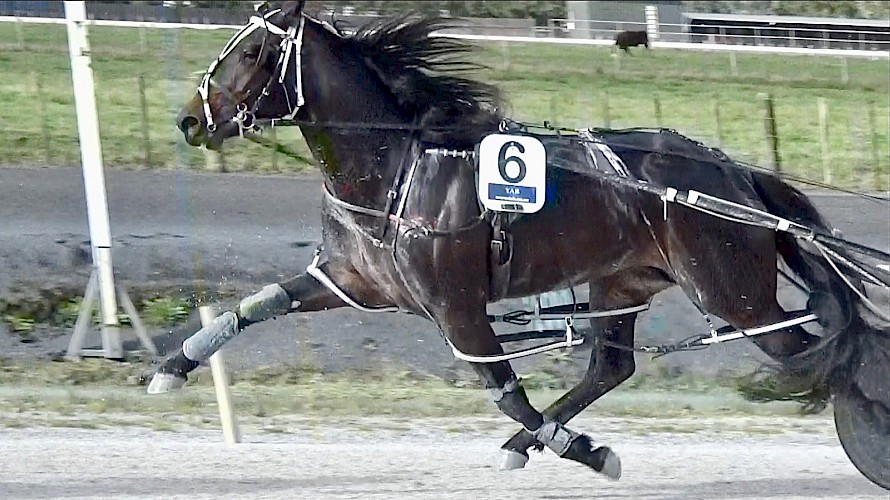 'Merv' hints that he's ready to go to the next level while classy Line Up just far too fresh
A horse with the stable name of Merv appropriately caught the eye at the Pukekohe workouts today, with owner Merv Butterworth still high on his Friday night win with Bettor My Dreamz.
Merv, alias Just Wing It, is the most successful of all the horses Butterworth has given to trainer Ray Green, with three wins from Lincoln Farms' Pukekohe stable.
And even though he didn't win his 2050 metre heat today - both Green and driver Andre Poutama saw and felt enough to be excited that he is on the verge of even better form.
Last in the running, and still there turning for home, Just Wing It powered to the line for a close third, just half a head and half a length behind the higher rated Solid Gold and Baileys Knight.
It was Just Wing It's first workout since Green removed his spreader, suspecting while it had been helping him stay off his knee, it was making him sore.
And the result was stunning.

Just Wing It, at the rear, trails Sir Tiger in the running but really got to the line for driver Andre Poutama.Said Poutama: "He felt super, like a different horse. He went to the line under a hold - and with confidence. He was really strong, stronger than he's ever felt before.
"He even had better manners and came back off the gate for me."
It was the kind of report Green has long been looking for.
"In the past he's hung, cross-fired and scrambled but I always thought if I could get him right he'd be a nice horse.
"He seems vastly improved now. We've got him geared up better and a bit of vet work has helped immensely.
"He used to struggle right-handed round the corners and, while he's still not 100%, he's a lot better."
Just Wing It, an upset last start winner at Alexandra Park on July 5, won't race at Cambridge next Thursday, Green preferring to wait until the next meeting at Auckland the following Friday.
In just 13 starts for Green, Just Wing It has banked $39,125, winning twice at Auckland and once at Cambridge.
Stablemate Sir Tiger finished fourth today, a length behind Just Wing It, but was not extended by driver Zachary Butcher.
"I never let him go," he said.
Line Up much too fresh
Classy two-year-old Line Up, having his first workout in a new preparation, was simply too fresh, galloping 100 metres from home in his 2050 metre heat and running last of six.
Nevertheless, Butcher still clocked him to run his last 400 metres in 26.9, prompting him to declare: ''He's got speed to burn."
Butcher knew as soon as Line Up started to stretch out in his preliminary that he was going to be too keen and when the leaders walked through the opening section of the heat, he was just too full of himself.
"Following Josh (Dickie, on The Paua Diver) made it worse because he was green and hanging and all over the show."
When Line Up spotted half a gap in the stretch and wanted to charge into it, Butcher decided to look after him, angling in instead, which he said put the colt off balance.
"Remember he did the same thing last time in his first trial and we were scratching our heads.
"I'm sure if we put a plain pole and plugs on him next time he'll be good as gold."
As Green pointed out, in a race Line Up wouldn't have been sitting back on such a crawling speed.
"No, we'd have been in front and running away from them," said Butcher.
The slow tempo was illustrated by the time winner Diamondsrbettor returned - 2:41.9 - five seconds slower than the opening event, and a pedestrian mile rate of 2:07, the heat turning into only a sprint home in 57.8 and 26.2.
Butcher was able to give Line Up's owner Emilio Rosati a first hand report on the colt last week when he bumped into him on Breeders' Crown heat night at Shepparton, where he was campaigning his own horse Zeuss Bromac.
"I told him he was the best two-year-old I'd driven. Even when he won on debut he was five or six lengths better than Zeuss Bromac and Perfect Stride."
That about lines up with what Green himself recently told Rosati after the colt ran a fast last mile in work, his exceptional action so deceptive that he appeared to be only cruising.
"I told Emilio he's the best horse he's got," said Green.
"Yeah, if we change round a few little things next time he'll smash them," replied Butcher.
Our runners this week
Friday night at Auckland
Bondi Shake, Captain Neno, Platinum Stride, Classie Reactor.
Friday night at Albion Park
Sir Tiger.
Saturday night at Auckland
Copy That, Line Up, Hampton Banner, Ace Commander, The Empress.