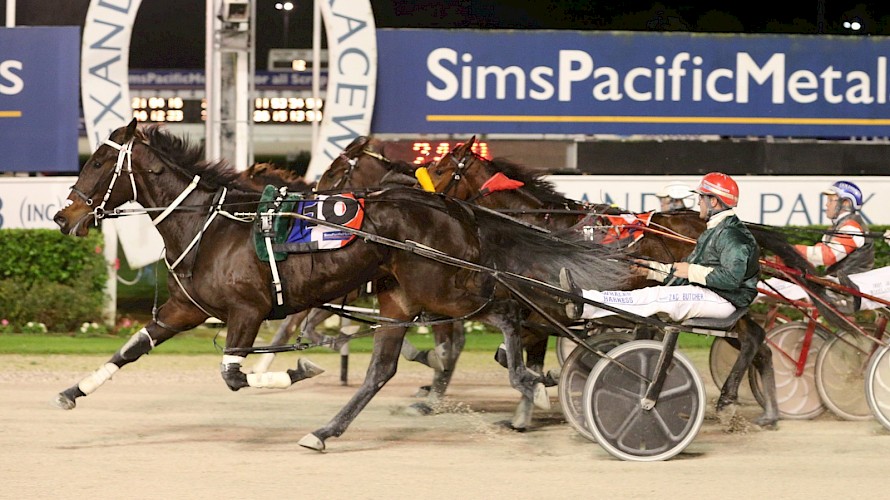 Merv makes an exception buying The Empress - and with her courage, he's glad he did
The Empress became the sixth individual winner for Australian owners Merv and Meg Butterworth since they started sending horses north to Ray Green at Lincoln Farms when she showed great courage to score at Auckland on Friday night.
But the filly, who sat parked for most of the race and still found the reserves to stave off her challengers, breaks the mould when it comes to the proven Butterworth formula.
Whereas Steam Punk, Zealand Star (2 wins), Just Wing It (2 wins), Governor's Bay and The Bull Pen were all bought as going horses, The Empress is one of the few Merv Butterworth has bought out of the sale ring.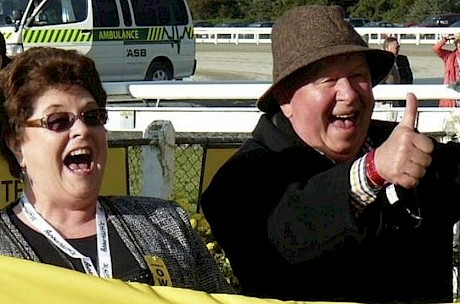 Merv and Meg Butterworth have won eight races since they started sending horses north to Lincoln Farms last November."Buying yearlings is not my cup of tea,'' said Butterworth as he celebrated the win with a nice Aussie red and some barbecued chicken at his Melbourne home.
"I've probably only bought a dozen over a dozen years but I was at the sale in Melbourne in 2017 and everything added up.
"I asked Peter Judd of Benstud in Victoria what was the best of his flock and he pointed her out.
"She looked very big but I liked her and her breeding - she was out of a Washington VC mare.''
The Art Major filly was the first foal of Easton All Action who won 12 races and was a half sister to a 1:49 performer in the United States, Easton Alliance, who won 15 races and $482,000.
With that CV, Butterworth had to go to $70,000 to secure her so it wasn't surprising he sent her to the best in the business, the All Stars' Mark Purdon and Natalie Rasmussen.
"But she got a minor fetlock injury so I sent her down to Diane Cornane (at Grove Bush near Invercargill) for a long spell so she could grow up.''
When it came time to educate the filly she went to Robin Swain, who does a lot of the early work on Butterworth's pacers.
"She won first-up (last September) but then had a couple of viruses and a bit of bad luck.''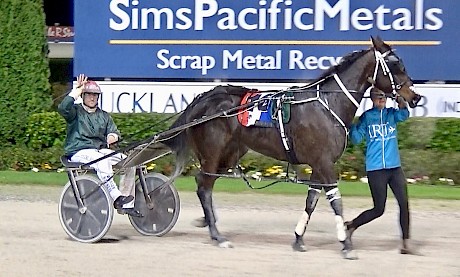 Zachary Butcher brings courageous winner The Empress back to scale at Alexandra Park.After running eighth in the Southland Oaks in April, Butterworth told Swain it was time the filly left kindergarten and joined middle school at Ray Green's to see if she would cope with Auckland company.
"Ray fell in love with her from the start. We'd been told she had a lot of speed out of the gate but she showed none last week.
"What she showed tonight is toughness and Zac (Zachary Butcher) learned from his drive last week. If he'd put his foot down in the back straight she'd have beaten Tommy Lincoln.''
Green wasn't surprised to see The Empress improve on her close second of the previous week.
"She's a lovely big filly with a beautiful nature. She's nice and relaxed and she seems to keep running.''
Butterworth can see a lot of upside in the rising four-year-old.
"I've always held her in high regard. All she's needed is some TLC and time and patience. She's still got some maturing to do so we'll keep looking after her.
"It's a bit early to say she's the best of the ones I've sent to Ray but I'm sure, in time, she'll rise to the higher ranks of mares.''
Our runners this week
Friday night at Auckland
Sunday at Menangle
Make Way.