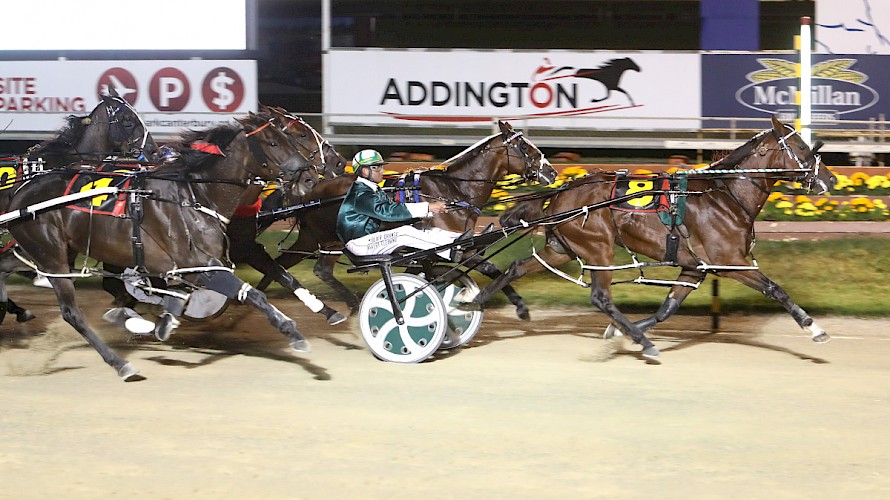 Merv's an armchair viewer at heart so Covid-19 isn't stopping him from enjoying Copy That
Merv and Meg Butterworth have never won a pacing derby but they won't be complaining about not being allowed on course if Copy That wins the $200,000 New Zealand Derby on April 3.
Covid-19 kept the Butterworths at home in Melbourne tonight when Copy That showed true grit to beat arch rival One Change in the $50,000 Vero Flying Stakes at Addington.
And with coronavirus restrictions not likely to be relaxed any time soon, Merv Butterworth says he's resigned to not being able to experience first hand one of racing's greatest thrills in a fortnight.
"It doesn't really matter - winners are grinners.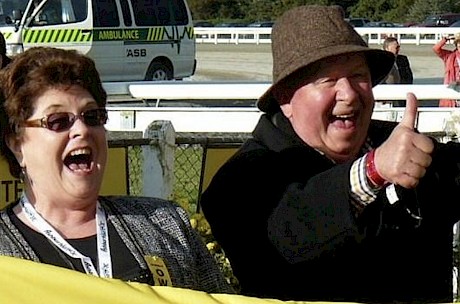 Merv and Meg Butterworth are enjoying Copy That's progression."I'm a great believer in armchair racing anyway. You can see everything that happens, watch the driver's hands, and see a whole lot more that you can't when you're at the track."
Butterworth, like us all, is still coming to grips with the extraordinary measures being reeled out to prevent the spread of Covid-19.
"The Australian Government's new rule is we're not allowed within four square metres of each other when indoors. Meg broke that rule tonight when she hugged me after the race and I'm thinking about whether I should dob her in or not!"
Butterworth was on the phone to Lincoln Farms' trainer Ray Green as soon as Copy That crossed the line, one and a quarter lengths clear of One Change, delighted they'd outfoxed the All Stars after the Northern Derby disappointment last start.
"One Change beat us once by half an inch but we've had his measure every other time we've met and we beat him fair and square tonight.
"We always knew this horse was very good but he's getting even better and that's because Ray's done a bloody exceptional job.
"To keep the horse up and racing for so long and to see him still improving is great testament to Ray's skill."
Copy That ran the 1980 metres of the Vero in 2.20.3, only 1.3 seconds outside Ultimate Sniper's New Zealand three-year-old record.
The time represented a blistering mile rate of 1:54, sensational time given Copy That hardly had the easiest of trips.
Green admitted that when he saw the horse stuck out three wide early then new driver Blair Orange take him up to the death seat before working over One Change for the lead, he thought it was curtains.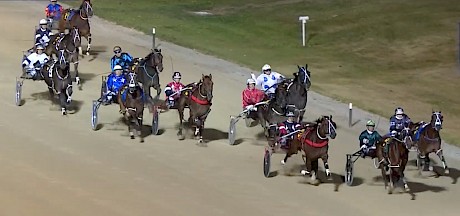 Copy That is brave to the line, holding out One Change, inner, after doing a lot of work in the running."I thought he'd be a sitting duck after that and that the others would have the drop on him. I certainly wasn't expecting him to worry them all out of it.
"But he's just so tough with a big motor and he's fast enough to handle any of those horses out there tonight.
"He's got it all, the whole package, and he's getting better with a bit of age on him."
Green says when he discussed tactics with Orange he indicated he wouldn't be sorry to see the horse lead, even from eight on the gate,.
"I told Blair the horse had two weeks to get over the run but he looks to have pulled up really well. You wouldn't know he'd been out there."
Green is used to hearing Orange use his superlatives sparingly but he did get the impression that "he's pretty high on him and that he'll be hard to beat in the derby.
"I don't think he has to improve any to win it. If he does the same job that he did tonight he'll be the one to beat."
Our runners this week
Wednesday night at Auckland
Franco Nandor, Captain Nemo, Tommy Lincoln, Man Of Action, American Dealer, Copy That.