Message from the workouts: Just give me a draw, shouts Tommy, and I'll get the job done
Tommy Lincoln again showed he's a winner-in-waiting when he scored his fourth workout win this prep at Pukekohe on Friday.
A rating 53 pacer taking on horses of up to rating 77, Tommy Lincoln took an early trail behind the Barry Purdon-trained Some Do before driver David Butcher popped off the makers 600 metres out to sit outside the leader.
The American Ideal three-year-old wasn't tested to beat Some Do (Crystal Hackett) by half a head, with Man Of Action finishing on well for third.
Tommy Lincoln ran the 2050 metres in 2:34.9, a mile rate of 2:01.5, with excellent closing sectionals of 56.5 and 26.8.
Trainer Ray Green said given a suitable draw at Auckland next week it was hard to imagine the horse being beaten.
"He was never able to get into the race last time, it was a total forget run."
Buried three deep from his inside second row draw, Tommy Lincoln ended up being pushed right back to the tail of the field down the back straight by the weakening trailer and could only finish on late for a distant fifth.
Green was also pleased with Man Of Action who swished up three wide round the home turn for Andre Poutama and was going strongly a length behind his stablemate at the line. Cup class pacer Star Galleria was a hard held non competitor in fifth.
Copy That deals to Purdon battalion
Classy three-year-old Copy That continued his good trial form by dispatching his four Barry Purdon-trained rivals in the 2500 metre heat for R85 to R106 pacers.
Driver Maurice McKendry was happy to trail Wainui Creek before easing out at the 400 and taking the lead turning for home.
At the line he had three-quarters of a length on the late closing On The Cards, with another three-quarters of a length to Wainui Creek and half a length to Belle Of Montana, handled quietly by Zachary Butcher.
Copy That ran the trip in 3:17.1, a mile rate of 2:06.8. He ran his last 800 metres in 57.7 with his final 400 in a snappy 26.6.
"Maurice was really happy and said he was just gliding. He said he never had to move on him and he did it easily."
Green will nominate Copy That for Wednesday's meeting at Auckland and hope the horse gets a start, which he was denied at the last meeting. But with Purdon's contingent all likely to need another trial he is not confident of getting a run.
American Dealer, who also missed a start at the last meeting when under offer, was allowed a leisurely outing in the R48 to R58 heat.
Butcher eased him to the rear from his outside draw and was content to stay there, never releasing the brakes in the heat won by Steven Reid's Mr Fantastic in 2:38.1.
Under a big hold
Franco Nandor was under a big hold at the finish of the maiden three-year-old heat won by Arna Donnelly's unraced three-year-old Taipo.
Three deep in the running he was under double wraps turning for home and was never released by Butcher, finishing hard on the back of the third placed Ned Kelly.
The leaders ran their last 400 metres in 26.9 so his was a good effort.
Rock N Roll Heaven two-year-old Jeff Beck, in his first workout since being gelded, looked a nice improver, driven quietly into third, two heads from Eyes On Fire and Colin Bromac in the learners' heat.
"David just sat on him up the straight and he ran home well," said Green.
"I'm pleased with him and we might qualify him next week."
Their time overall was a slow mile rate of 2:08.3 but they sprinted home in 57.5 and 27.5.
Our runners this week:
How our trainers rate them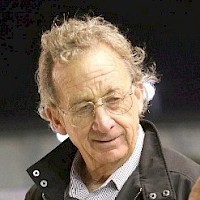 Ray's comments
Thursday night at Auckland
Race 1: Franco Nandor
5.24pm
"From a decent draw this time he'll be one of the hardest to beat because it's not a strong field. He lost a lot of muscle and strength when we gelded him but he should do better from now on."
Race 4: Larry Lincoln
6.49pm
"He'll lead easily and he's good in front so he's a chance to run a hole. But he can't burn at both ends so it depends on how the race is run and in these junior drivers' races they can be quite aggressive."
Race 6: Louie The Punter
7.41pm
"He's a big, dumb sort but he goes well enough. If he could be put on the front end on a nice steady rhythm I think we'd see a different horse. He just gets a bit lost and awkward in the field and the stop-start racing confuses him."
Race 6: Apieceoflou
7.41pm
"Second row draws can be good and if Gopati goes out he'd be right in it. He's come from way back in all his runs and he got held up in the run home last time. He's developing into a tidy horse."
Race 7: Tommy Lincoln
8.06pm
"The wide draw shouldn't worry him - he'll just mooch forward. It's pointless for him to go back, his MO is to get rolling. I thought he was travelling easily at the finish last time."
Race 7: American Dealer
8.06pm
"He's a little tradesman who never goes a bad race. He'll need a bit of luck from the draw but you can be sure he'll be running on strongly at the finish. He was good here last time."
Race 9: Copy That
8.56pm
"This is his most serious test. It usually takes the top age group horses two or three runs to find their feet against the tough older ones but he's exceptional and I expect Maurice will have a dab for the front."
Race 11: Man Of Action
9.46pm
"He'll be at the mercy of the ones he's following out but he's trained super this week and I think he's a definite chance. He's improving all the time."
Race 12: Captain Nemo
10.09pm
"He's a lovely big horse who's also on the up. I think he'll improve on last time here when he got pulling just when he was going to get a good trip and had to come out."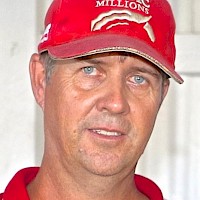 Al's comments
Saturday night at Albion Park
Race 3: Northview Hustler
8.14pm NZ time
"He ran some terrific sectionals last week coming from the back. He's improved through the week and I can't fault him. After his work his heart rate was down to 91, which is a lot better than it's been. He's at his best when it's in the 80s. He's a live chance and I think we'll see a different horse on Saturday night."