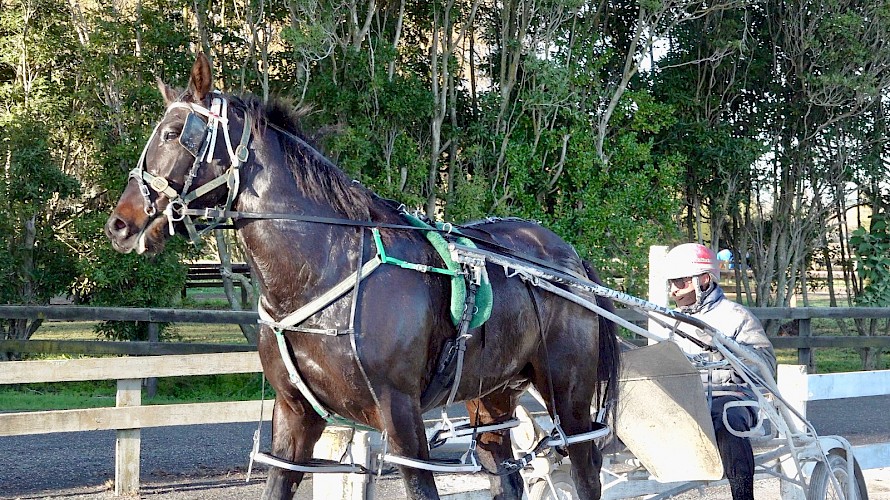 Next To Me drawn to feature for our Monika at Cambridge on Thursday night
Next To Me, from the pole, looks the best winning chance for Lincoln Farms at Cambridge on Thursday, says trainer Ray Green.
Green believes Lincoln Farms' brother of topliner Maxim, will have it over stablemate Whiz On Bye in the second race.
"He's starting to put it together and looks a serious chance. He's gone some nice races. He was entitled to run last there one night (when badly checked) and finished fourth so he's tough enough.
"He's no derby horse but he's not racing derby horses and he should get every chance from the draw."
Green says not to take any notice of Next To Me's fifth placing at the Pukekohe workouts last Friday.
"He always races better than he trains and they only walked in that heat."
While Thursday's race rival Deejay cruised round unchallenged in the lead, Next To Me came from the rear with the widest run round the home turn and finished close up.
The 2050 metre heat was run only in a 2:06.3 mile rate , with the closing 800 in 58.5 and 28.7.
It was Next To Me's first serious hitout for a month, after finishing runner-up to Lieutenant Arden at Cambridge when he unwound strongly from three back on the outer.
The drive on Thursday goes to stable junior Monika Ranger, who is fashioning a tidy record this season with six wins and eight placings from only 30 drives.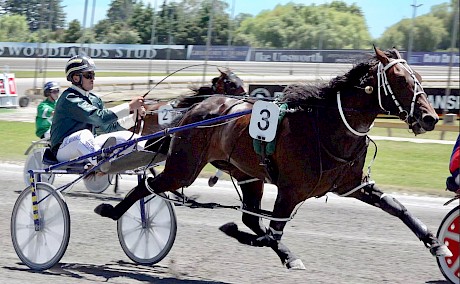 Whiz On Bye unleashes a brilliant late run at Cambridge on Christmas Eve.Whiz On Bye resumes after a break of more than five months, his five career runs marked in the stewards reports by a habit of pacing roughly.
"He's much better now," says Green of the three-year-old. "That was mostly immaturity.
"He was quite good in the last of his three workouts."
Eighth, but only a length behind Next To Me in last Friday's workout, Whiz On Bye also made good ground from the back.
"But you can't tell from the trials, they don't go fast enough.
"I don't think there's much between the two. I hope they can both run in the money but I wouldn't label them."
Whiz On Bye's best effort was at Cambridge on Christmas Eve when he flew from well back on the home turn to be beaten only a neck.
Talented junior Zev Meredith handles Whiz On Bye on Thursday.
Ranger back on
Ranger also gets back on Riverman Sam in the seventh race, after handling him in the first of his recent hat-trick of wins.
"I think he's the best horse in the race and I don't see why he can't do it again," says Green. "The 2200 metres won't worry him. "He's no slug, he's got speed. I got him home in 27.2 when he won over 2700 metres."
Green says he can't mark the horse down as the stable's best of the night because the race is run from a stand.
"I know he did step well in his first try but you never know what's going to happen from a stand."
Riverman Sam starts behind the 10 metre tape, with a 20 metre jump on the much higher rated Arna Donnelly stablemates New York Minute and Rough And Ready.
Phil Cook's other runner Riverboy Ben faces an uphill battle in the third race, drawn three on the second row.
"That draw is awkward for him over only 1700 metres - obviously he'll get back. And I think he's a horse who will need a trip and he's not likely to get one from there. He'll need to be lucky."
Riverman Sam showed improved fitness after two starts for Green when winning at the Pukekohe workouts, scoring all the way with closing sectionals of 57.6 and 27.9.
Our runners this week
Thursday night at Cambridge
Whiz On Bye (Scratched).