Nigel taking it slow with Thunder and Springs but they're having a run along on Tuesday
It's too soon to tell if Lincoln Farms' newest trainer Nigel Tiley has a headliner among the two three-year-olds he is educating.
But with one of them big on presence and the other big on size, he is very happy with how they are progressing.
Lincoln Thunder and Lincoln Springs, bought from Wellfield Lodge's draft at the ready to run sale last November, will both trial at Avondale on Tuesday.
But Tiley says he's in no hurry with the pair who have been getting through some nice pacework.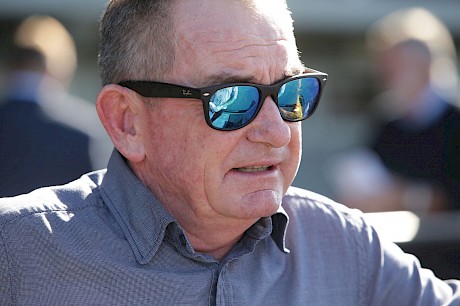 Pukekohe trainer Nigel Tiley … doing the right thing by Lincoln Farms' pair. PHOTO: Trish Dunell."With the weather the way it is I'm doing the right thing by them. I'm reluctant to push them when the tracks are so wet. It looks like we'll be getting a wet spring but I'll have them ready to go as soon as the tracks get better in September.
"They both look like they'll make nice spring three-year-olds. But how good they are, I don't know. I haven't turned any screws on them yet."
Tiley says Lincoln Thunder is a striking black horse with three wide feet and a white blaze.
"I remember seeing him as a weanling when he was at Wellfield and he had a lot of presence about him even then.
"He's more a staying type."
A strong, deep coloured horse, he won Wellfield manager Peter Didham over when he chased him as a yearling in Australia.
"Every time someone else bid on him I came straight back. I really wanted him. And after I bought him Kelly Schweida sat down beside me and said he was underbidder. He reckoned the colt was the closest thing he'd seen to his father, whom he trained. "He's a gorgeous horse.''
By More Than Ready's son Better Than Ready, who won eight of his 16 races, he is out of a Thunder Gulch mare Brilliant Thunder who is a three-quarter sister to seven-race winner Shot Of Thunder.
Brilliant Thunder has had seven foals and six of them have won, including the 10-race winner Monching. Lincoln Thunder is her eighth foal.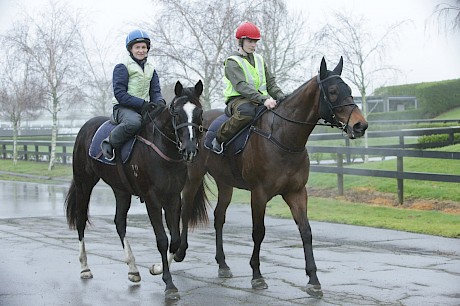 Lincoln Thunder, nearest camera, and Lincoln Springs walk back to their Pukekohe stable. PHOTO: Trish Dunell.At 586 kilos, Tiley says Lincoln Springs is huge for a horse who has only just turned three.
"But he's not a clunker. For such a big boy he's quite athletic and light on his feet. Big horses normally take time but with him I don't think we'll have to wait until he's four or anything.
"He's actually had a jumpout and we took him to the trials but he wouldn't go in the gates."
Didham echoed Tiley's thoughts about how the horse's size didn't slow him down.
"Everyone who has ridden him has been very complimentary about his action. As well as being a good mover, he has an attitude to match."
By Foxwedge, a son of Fastnet Rock, he is out of Fountain Joy who has had five to the races, all of whom have won.
With Danehill blood close up on both sides of his pedigree he is closely related to dual Sha Tin winner Bumble Baby.
It is the family of dual Group winner and now sire Happy Giggle.
Lincoln Farms was delighted to secure the services of Tiley, an accomplished horseman who holds the distinction of having ridden a New Zealand Derby winner, Ring The Bell in 1980, and trained one, Look Who's Talking, in 1994.
Our runners this week:
How our trainer rates them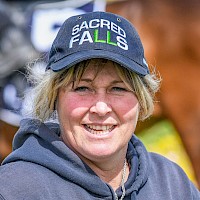 Lisa's comments
Saturday at Trentham
Race 1: Lincoln's Kruz
"He has come through his unlucky Awapuni run well and I am very happy with him heading into Saturday. We could have waited for Wednesday at Hastings where there's a maiden 3yo 1400m but given there are only two winners in this race, and it's worth $30K, it seemed a better option. If he can get some luck in the running this time he can be right in the finish."
Race 2: Lincoln Raider
"He lightened off after the trip south but has quickly put the weight back on and I am happy with him. This is a drop in class from his last run at Riccarton but there are some handy types in the field in Miss Labasa, Times Ticking and Savette. His work has been good and with Kozzi Asano's 2kg claim bringing his weight down to 58.5kg I expect him to be very competitive."
Race 2: Lincoln Hills
"He ran a great race last time after being caught wide at Awapuni and has come through it well. He again has an awkward draw to overcome but there doesn't appear to be an abundance of pace except for Miss Labasa so we will be positive on him. If he can run up to his best form, he is capable of being right in the finish."
Race 3: Kamanda Lincoln
"Sam Collett felt he needed the run at Otaki last start. The new bit definitely helped him settle and he has a lovely draw again to get a nice run. I haven't done a lot with him since he raced but I am very happy with him. Kozzi Asano will claim 2kg, down to 53.5kg."
Race 3: Johnny Lincoln
"He gets in at a nice weight and is thriving. There was a lot of speed in the race at Awapuni which allowed him to finish well but there is no real natural front-runner in here so we may need to make sure he is put into the race. I am expecting another top run from him."
Race 9: Platinum Road
"It's a special condition maiden but there are only three winners in it so it's more like a maiden for him. He ran a top race at Awapuni last time and will be better for that experience over 1600 metres. He has drawn well in barrier three and should again be able to get a lovely run just in behind the speed. He keeps improving and I expect him to hit the line really well again on this big, roomy track. Leith Innes will ride."
Sunday at Waipukurau
Race 1: Ajay Lincoln
"He was beaten by the muddling pace and on-speed bias at New Plymouth last time. Robbie (Hannam) has always been adamant he will get up over ground and he gets his chance here. We will be positive from the gates and get him into the race to give him every chance to step up and show something."
Race 2: Benny Lincoln
"Finally he's got a nice draw. He has kept improving with the good tracks and, while this may be a touch short of his best distance, as long as he is finding the line I will be happy. He has a great attitude - he wants to be a racehorse - but he has just taken a while to mature."
Race 4: Lincoln Hanover
"From a great one draw he should be able to get a lovely run in behind the speed. Robbie thinks he will get up over more ground but I have chosen to give him one more start over 1200 metres first. He is certainly capable of taking out this race."
Race 5: Lincoln's Gal
"She has a nice draw (four) to use and hopefully Robbie can end up in the one-one on her. She will strip far fitter on Sunday. I toyed with stepping her up over more ground but, given she blew out fresh-up, I felt another 1200 metre race was better for her. She placed in her only previous run at Waipukurau and I am expecting a far better effort this time."