Obliging little On The Razz could be on the slow boat to Malaysia if he doesn't improve
Trainer Stephen Gray is not expecting much when he takes On The Razz to the races for the first time at Kranji on Friday night.
The three-year-old hasn't raced for five months, during which time he switched to Gray's Copper Belt stables from Bruce Marsh.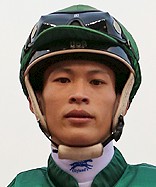 Apprentice David Kok … claims 3kg off On The Razz.In three starts On The Razz has twice run last and then beat four home on December 2 so from gate 14 of 14 on Friday he will have few admirers.
On The Razz trialled twice for Gray in April, finishing sixth and eighth, but rider Daniel Moor didn't write him off in his last appearance on April 18 when he sat midfield on the rails.
"He has a great little attitude," Moor said. "He's fantastic to do anything with and is very obliging.
"He wants to try and his fitness is getting there. He felt OK today and did enough through the trial to suggest he can be competitive in something."
Gray admits he has little idea how the horse will fare for apprentice Simon Kok in Friday night's opening race at 10.20pm NZ time.
"If he doesn't show anything in two or three starts, he'll be off down the road."