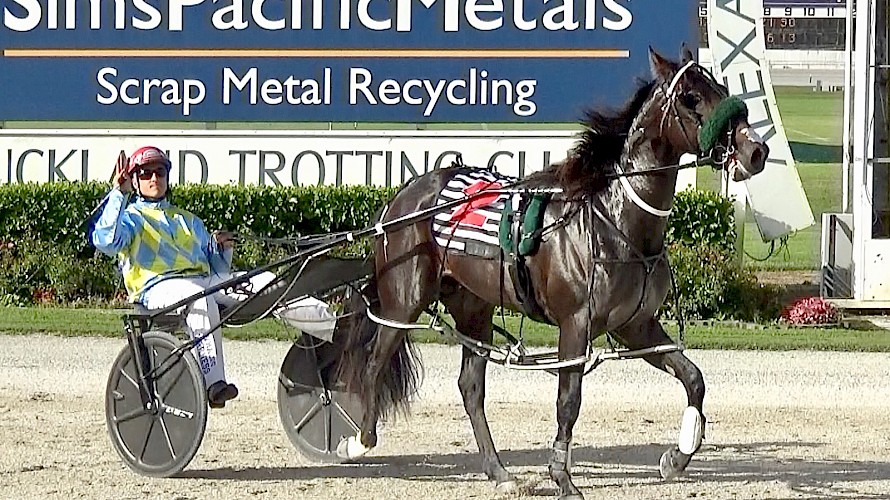 OK, Zachary didn't get it Perfect last time but just watch the two-year-old Stride this time
Classy pacer Perfect Stride looks well placed to erase some bad memories for trainer Ray Green when he lines up at Auckland on Friday night.
And with seven horses running at the meeting, and four genuine winning chances, it promises to be a night when Lincoln Farms' good recent roll continues.
Perfect Stride was a certainty beaten when resuming at Cambridge last week in a race where Green predicted only a bad drive would get him beaten.
"It's one of those races you don't like to remember," says Green who watched driver Zachary Butcher gun the horse out of the gate from six to lead, only to hand up to Kiwi Bloke on the first turn then end up three deep when Mister Harris took over.
Being stuck three back on the markers is no place for a $1.25 favourite so it wasn't surprising when, seeing the three wide train forming, Butcher hooked out with 1400 metres to run and made a lightning strike for the top.
But Scott Phelan saw him coming and though Butcher really asked the two-year-old to run, so much so he nearly tripped when going at full speed round the turn, Phelan refused to hand up.
Though Butcher was able to ease in to the trail, it became a death sentence for Perfect Stride when the leader started to feel his exertions turning for home, holding up the favourite, who lost his momentum just when Vanhalem and Anam Nunu got the weigh on out wide.
It was enough to see Perfect Stride beaten even though he really stretched out when the passing lane arrived, closing to half a length of Anam Nunu.
"Zac was adamant it was his bad drive that got the horse beaten but he made up a tremendous amount of ground.''
Green knows the talented Butcher, fresh from an inch perfect display that got Belle Of Montana home at the Harness Jewels, will be keen to put the record straight on Friday night and he can't see gate seven stopping him.
"He's had a run under his belt now and we know he'll handle the Auckland speed. He's a classy horse and there aren't any stars against him.''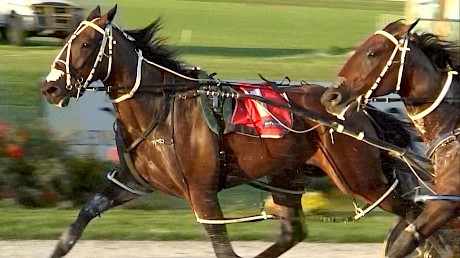 Just Wing It … continues to perform well despite hanging.Stablemate Just Wing It falls into that boat but he continues to surprise Green with his game attempts.
The four-year-old turned in probably his best run yet for Green last week when fourth, less than a length behind Gambit, Ferritt's Sister and Mach Little Soaky, clocking a slick 2:41.9.
Just Wing It paced the fastest last 800 metres in the race, 55.5, and did it three wide as he made a fast solo run from the 600.
And Butcher nearly got the horse into the money as he cleverly cut back to the inner, losing third only in the last few strides.
Just Wing It ran his last mile in 1:58.8, only Gambit going faster at 1:58.3.
"If he didn't hang and hit his knees he'd be a useful horse,'' says Green, who points out Just Wing It has failed only once since coming north, when he galloped in a junior drivers' race.
"I couldn't label him a winner but he's certainly capable of picking up a good cheque.''
Too green on debut
So too is Lindi Lincoln in the second race, and the cheque might just be the winner's one - a reward she threw away on debut at Cambridge when running greenly down the home stretch.
The momentum Lindi Lincoln lost when veering in looked to cost her the win as, once straightened, she closed very fast late to get within 2.1 lengths of winner Au Revoir.
"It was a very good effort for her first time,'' says Green.
"She'd only trialled three times in her life, it was her first time under lights and first time away from Pukekohe.''
Green isn't worried about Lindi Lincoln having trouble right-handed.
"Nothing worries her. She's a very clean pacer and doesn't even wear boots or an overcheck.
"She'll be very competitive in that field.''
The Empress only has to make natural improvement from her first outing to take the major prize in the fourth race - Butcher just has to weave a little magic from two the second row.
The highly touted filly turned in an excellent debut second at the Park last week beaten just a head by stablemate Tommy Lincoln after being headed halfway down the stretch and fighting back bravely.
Lightly tried in the south, where she won the first of six starts, The Empress showed some of her early speed last week, Butcher launching down the back straight to lead.
"She's at the mercy of the ones in front of her this time but I expect a little improvement from her and she'll go well.''
Winning chance at good odds
Fourth of the winning chances, and the one likely to be at the best odds, is the improving Man Of Action, who lines up in the last race, along with Billy Lincoln.
He was first-up for nearly five months at Cambridge last week when fifth behind stablemate Sir Tiger.
But the fifth placing hides a tough performance as the younger half brother to Make Way did plenty of work rolling round the field to sit parked for the last lap.
His best part of the race was surprisingly his last as he sprinted fast to get within 2.2 lengths of Sir Tiger.
"Zac's jumped on him this time and on that last run he'll be hard to beat. He should be right in the finish.''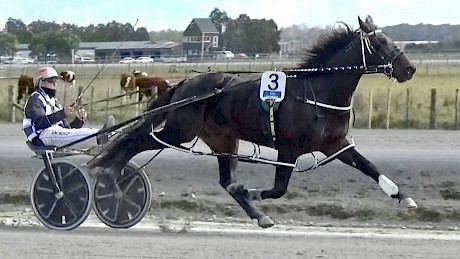 It's too soon to condemn Billy Lincoln, pictured here wearing Steve Telfer's colours at the workouts.Billy Lincoln's form line is a little deceiving.
"He's had bad draws and bad trips and hasn't had the chance to get into it yet,'' says Green.
"He ran on OK last start without threatening but you can't condemn him until he gets his chance.''
Green wants to see a lot more from Ace Commander in the sixth race, after he disappointed in his first run in the north last week.
"Matty (White) said he was flat the whole way, from start to finish, but it was a tough run for him. I didn't expect they'd go that quick.''
Winner Credit Master clocked a sizzling 3:29.2 for the 2700 metres, a test Ace Commander wasn't ready for after being a little short on race fitness.
"He tied up and missed a bit of work when he first arrived and that took a while to sort out.
"I'd expect improvement from him this time but whether it will be enough to get the job done is debatable. Our trotters might just be better up here.''
Our runners this week:
How our trainers rate them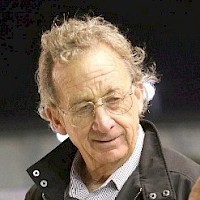 Ray's comments
Friday night at Auckland
Race 1: Tommy Lincoln
6.26pm
"They went fast last week and he was drilled down the back so he did well to hang on for second. He's drawn to lead and will go another good race."
Race 2: Apieceoflou
6.56pm
"If he gets a good trip, he's the one to beat. Being hung out last week didn't help but he still whacked away for second. He's not as strong as he will be but he's as honest as can be."
Race 2: Franco Nandor
6.56pm
"He raced up like he was going to beat them last week but you have to forgive him as he hadn't raced for a while."
Race 4: Revitalise
7.56pm
"He was in a bit of strife for a couple of weeks but we've done a fair bit with his foot, we've swum him for the last week, and he's training super. I'm very happy with him. He just needs some luck from the inside of the second row."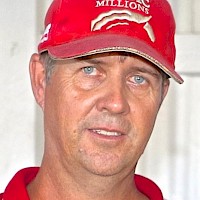 Al's comments
Saturday night at Albion Park
Race 7: Northview Hustler
11.47pm NZ time
"We haven't had him this sound for ages and he's been sharp in training this week. His last three races have been really good and he'll go forward and hopefully get the one-one behind Colt Thirty One. "They'll know he's alive if he's on their backs."