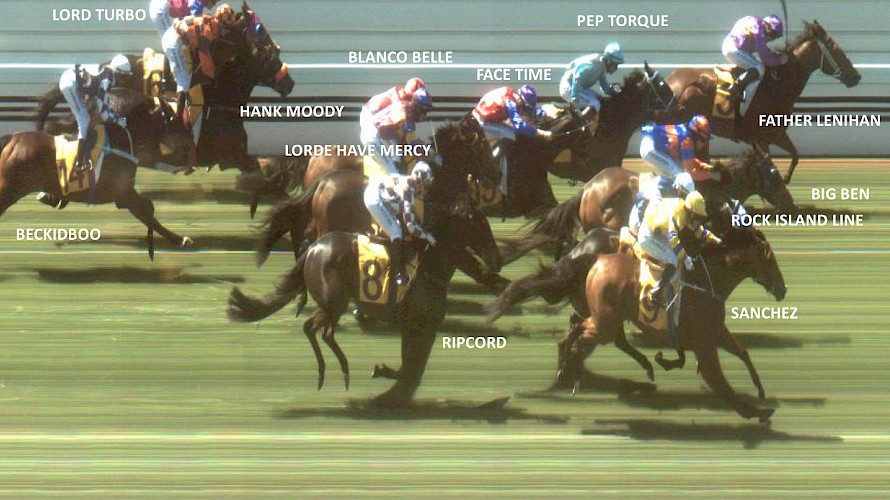 Olly, Olly, Olly, Oi, Oi, Oi! Brave Father Lenihan answers the Pope's prayers at Hawera
Robbie "The Pope" Hannam enjoys riding few horses more than his good mate Olly.
He can be a bit naughty and impatient but if you let him run along in front, and give him the jar out of the track, he'll fight like a tiger.
Olly, or Father Lenihan as racegoers know him, showed that in no uncertain terms at Hawera yesterday when he was clearly headed in the run home but bullocked his way back to score in a thrilling finish which saw only a neck, a nose, a half head and a long neck separate the first five home.
The win broke a frustrating run of six outs this campaign for trainer Lisa Latta and owners John and Lynne Street, his form now obviously blighted by heavy tracks.
"I've always rated the horse very highly," says Hannam. "I told Lisa last season I thought he could be a Winter Cup horse. The way he was bouncing off dead to slow tracks we presumed he'd like wetter ground but he obviously doesn't handle it heavy - it takes too much speed out of him."
Father Lenihan hinted at a return to form last start at Wanganui when, on dead 6 footing, he finished a terrific third to Cutting Up Rough and Happy Star.
And yesterday, on improving dead 5 ground, Hannam had no trouble sending him straight to the top from a wide draw.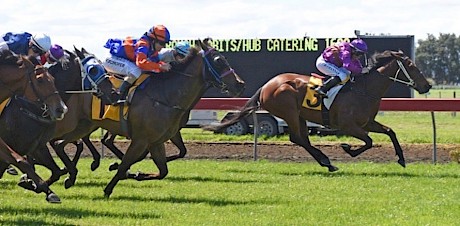 Faher Lenihan keeps responding for Robbie Hannam at Hawera on Saturday. PHOTO: Peter Rubery.And, even when joined in the lead as far as 500 metres out by Not Santa and Big Ben, Hannam was still travelling, running at the speed he knew could take the sting out of his rivals.
"It's all about tempo with him," says Hannam. "If you can make the pace fast enough so they can't sprint past you quickly in the run home, he's very hard to get past.
"So long as he has the chance of having his head in front he'll keep kicking. He just loves a fight - I'd put him in the category of Authentic Paddy on that score."
Father Lenihan may never be as good as Latta's old prize fighter Paddy, recently retired with 11 wins and $780,000 in earnings, but Hannam says "he's a dream of a horse."
"I really enjoy riding him, everyone does. I ride a lot of trackwork on him and he has few quirks, like rearing up or whipping around.
"And in the gates I always get a man up with him to jiggle the bit in his mouth because he gets impatient.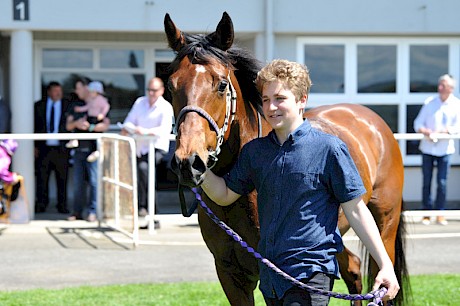 Josh Herd leads Father Lenihan after his brave win. PHOTO: Peter Rubery/Race Images."In the running he has to be in front and on the fence. In behind he relaxes too much and won't get going and that's why I lead on him."
Hannam can see Father Lenihan progressing even further up the grades this season - yesterday was his fourth win from only 19 starts.
"I don't think the tracks will be drying out too quickly and all he needs is the jar out, a dead 4 or dead 5 track is ideal for him.
"He only ran 1:38.94 yesterday but has run 1:36 for a mile before."
That win, when he actually clocked 1:32.25 for 1550 metres at Awapuni, was on a good 3 track last January.
Yesterday's win was the third time Hannam has saluted on Father Lenihan, a five-year-old O'Reilly gelding out of Platinum Princess who won eight races and $370,000 for the Streets, including the Group II Rich Hill Mile and Group II Couplands Mile.