On The Razz no star but top apprentice will help him get close at Kranji on Friday
With the best three kilo claimer in Singapore on board, On The Razz can run in the money at Kranji on Friday, says trainer Stephen Gray.
On The Razz will carry just 54.5kg in the second race (5.40pm NZ time) courtesy of apprentice Simon Kok who rides every bit as well as the senior jockeys, according to Gray.
And in a field mostly devoid of form, Gray believes the sway backed four-year-old will run well despite his wide draw of 12.
"It won't matter to him as he likes to get back anyway.
"He's dropping to an easier grade, he's got ground - 1600 metres - and he's done a treat since his last run."
On The Razz showed the first glimpse of his ability on July 21, making ground powerfully wide out on the track for second over 1400 metres.
"He'd really appreciate a bit of rain but while we normally get some at this time of year it's very dry at the moment.
"But he looks fantastic and, while he's no champion, he does try and I think he'll start paying his way now."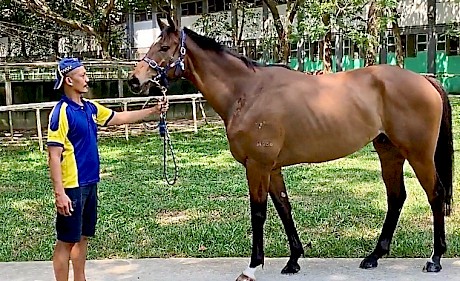 Rock Me Easy … looks a different horse now, says trainer Stephen Gray.Gray is hoping the same can be said of Rock Me Easy who lines up over 1400 metres on Sunday in the fifth race (7.10pm NZ time).
"I wanted to run him in the mile but he was going to be balloted out so I moved him to the 1400. He might as well go round for money as run in a trial and, who knows, he might get some of it." (Rock Me Easy will earn $1350 in appearance money if he can finish between second and fifth last).
"He needs to be ridden quietly over a mile really but we won't rush him early and Vlad (Duric) will let him get to the line.
"Vlad likes him and 1400 metres in a smaller field won't hurt him.
"He's looked a different horse since I got back from England. He used to be very sweaty and nervous but now he's much more relaxed and is all dappled up and shiny.
"Ready To Rocks all take time and it's a mental thing with this horse. His last run was good and I think he'll run well again but he needs to start putting his hand up now that he's five."