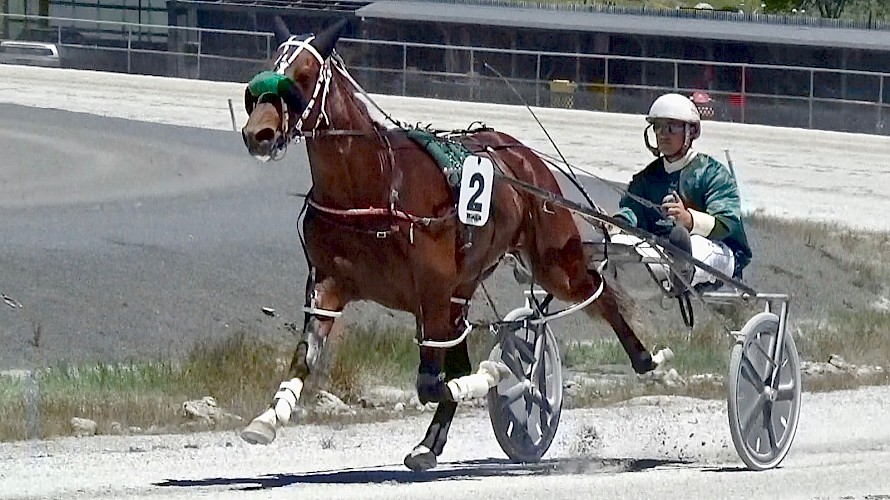 Once Copy That gets his head around it all, he'll be a Gun all right
Copy That is still a work in progress but he showed he had the speed to be a New Year reinforcement for Lincoln Farms' Young Guns with a slick trial win at Pukekohe today.
On a day when Lincoln Farms' trainer Ray Green lined up seven two-year-olds, it was the American Ideal colt Copy That who took the honours.
Taken straight to the front by Zachary Butcher, the strong youngster rolled along and never looked like being caught, clearing out by five and a half lengths from Hilary Barry, with Super Easy three and a half lengths further back in third.
Copy That clocked a speedy 2:02.7 for the mobile mile, the fastest run by a two-year-old at Pukekohe this season, eclipsing the 2:03.2 top dog Perfect Stride clocked on December 1.
His closing sectionals of 58.9 and 28.2 were not as fast as Lincoln Farms' top echelon of babies but it was more than three seconds faster than he has gone and, 3.7 seconds under qualifying time, showed he was improving rapidly.
Green, whose wife Debbie owns the colt, was pretty happy with the display - "he showed today he can make me some money!
"He hasn't got his head round it yet but you saw today the raw ability is there.
"And once the driver is able to ask him to run, he'll be pretty good.
"Zac just let him glide along today, mindful of what he can do - like jump things on the track - and didn't really ask him to run. The horse did it all by himself.''
Hilary Barry trailed throughout for Andrew Drake in a mistake-free trial but Super Easy, a brother to 34-race winner Alleluia, had two short gallops on successive laps at virtually the same point on the far bend.
Well bred Line Up looking the part
The well bred Line Up did best of Lincoln Farms' trio in the learners' two-year-old heat, Butcher crossing easily from the outside of the five horse field to lead.
While challenged late by the trailing Hampton Banner, Line Up was strong at the line to score by three-quarters of a length in a more sedate 2:08.
By Bettor's Delight from Beach Parade, Line Up is a brother to former exceptional youngster Partyon, the winner of 17 races.
Line Up cost Lincoln Farms' John Street $130,000 at Karaka earlier this year - but he was cheaper than the $187,500 Emilio Rosati paid for his brother the previous year.
Trainer Ray Green says he won't be surprised if Line Up turns into a racehorse pretty quickly.
"He's clean gaited, with a nice way of going and Zac says he gives him a good feel.''
Hampton Banner, a brother to Scarlett Banner who is making his name this season as trotter, came nicely late up the markers for Andre Poutama, with Tommy Lincoln (Andrew Drake), a half brother to Lincoln Road, fourth, holding his position in the run to the post.
Line Up was clocked over his last 800 metres in a pedestrian 63.3 and 400 metres in 29.5.
Blinkz on target
Beaudiene Blinkz showed she was on target for a crack at the first Young Guns race for fillies on January 18 when she had her heat won until one stride from the post.
Butcher gave her a cushy trip in the trail until the home turn then took over, seemingly in for an easy win.
But she was grabbed right on the post by the Bunty and Gareth Hughes-trained Giddy Heights, a Somebeachsomewhere filly out of Affairs Of State, making her a half sister to Lincoln Farms' former crack youngster Chachingchaching.
The pair clocked a very fast 2:02.7, home in 59.7 and 28.6.
Washington VC three-year-old Phil Bromac was a bit cantankerous before the start of his two-horse 2050 metre heat but after trailing Here's Shifty to the home turn, he ran on best to score by three-quarters of a length.
Phil Bromac clocked 2:45.6, a mile rate of 2:09.9, home in 59 and 27.2.
Our runners this week:
How our trainer rates them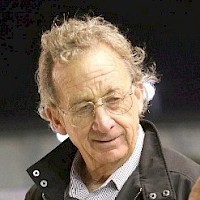 Ray's comments
Wednesday night at Auckland
Race 1: Apieceoflou
6.11pm
"He's really only in the field to get experience. He's not up to the other two at this stage. He's a big, slow maturing horse. He keeps improving without being spectacular but he's a real trier."
Race 1: Captain Nemo
6.11pm
"He's been going well at the workouts without winning. He and Franco Nandor are both nice colts and I expect them to develop into tidy three-year-olds."
Race 1: Franco Nandor
6.11pm
"He's won his last two workouts but has a tricky draw and there are a couple of others in the race who go well. He'll definitely improve with the outing."
Race 4: American Dealer
7.36pm
"I like him as a horse and he's likely to take the most improvement out of his latest trial because of his temperament. He's a laid back individual and looks the best of our lot."
Race 4: Larry Lincoln
7.36pm
"Larry's very fast and he's as forward as the other fella but I don't know how tough he is yet. The draw's a bit tricky."
Race 4: Man Of Action
7.36pm
"He trialled super last Friday and never goes a bad race. We chucked him in the deep end with the bear cats in his last few runs and I think he'll go well in this field. He's on the up and is a much stronger horse now."
Race 7: Copy That
8.56pm
"He's the class horse of the field but he won't be on top of his game yet. I'll be instructing Maurice not to send him on a mission, especially as it's over 2700 metres. He'll still go well but I'm not expecting him to just line up and win. I couldn't label him first-up."