One 2000th of a second in it at the line - the cruel photo finish that went against Invador
Here it is. The official photo finish that saw the judge rule against Lincoln Farms' runner Platinum Invador by the narrowest of margins possible in today's $200,000 City Of Auckland Cup at Ellerslie.
One pixel, or one 2000th of a second, separated Platinum Invador, below, and Savy Yong Blonk at the finish of the 2400 metres.
With Platinum Invador's rider Ryan Elliot crouched low and Danielle Johnson throwing everything at Savy Yong Blonk, the pair went over the line locked together, everyone left in suspense until the judge's call eventually came through.
In the grandstand Platinum Invador's owners were at odds on the result - John Street believed the horse's momentum had got him home while Neville McAlister thought the horse was beaten.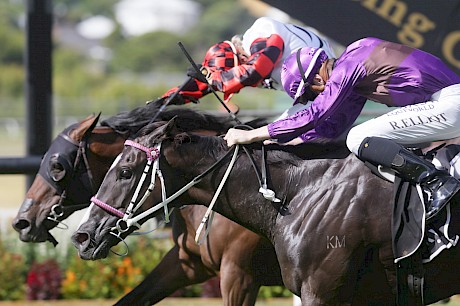 Platinum Invador's blistering late charge left him a miniscule margin behind Savy Yong Blonk. PHOTO: Trish Dunell."It was heads up, heads down," McAlister said. "We had the momentum up but the post came at the wrong time - he was in front one stride before the post and in front again one stride after it."
McAlister said Elliot was gutted when the photo went against him, believing he had won.
While disappointed at the result, McAlister was very proud of Platinum Invador's effort.
"I've been beaten a nose before but not that close.
"But you learn to be bullet proof in this game. You have your turn. When your luck's in, it's in. And Te Akau's is in at the moment."
Incredibly the finish nearly repeated the result of the last City Of Auckland Cup, when Platinum Invador beat home Jamie Richards' Savy Yong Blonk.
The difference this time was while Savy Yong Blonk was blessed being able to sit midfield, Platinum Invador was right out the back.
Elliot followed instructions and didn't start his run until 650 metres from home, McAlister pointing out Platinum Invador couldn't be ridden more aggressively because he got on the bridle too much.
"We just need a better draw. Then we can be midfield and get into it easier. He won't have to do so much work to chase them down."
McAlister said Platinum Invador lost a little ground when following Yatima who didn't make the home bend too well.
"Being unbalanced there cost him a little bit and he took time to wind up. But he was flying over the last 150 metres - it was an awesome run. He really put in."
McAlister said he would leave it up to trainer Lisa Latta to work out the horse's programme leading in to the Auckland Cup, but he was likely to have one more run before the Avondale Cup on February 20, a race he was also nosed out of last year.
"The $500,000 Auckland Cup on March 13 is the only one that really matters."
* Auckland Tote Photo finish operator Murray White said the margin of one pixel or one 2000th of a second was the smallest declared here.
"Pixels can represent bigger or smaller time gaps depending on the size of lens, the distance of the camera position from the track, etc.
"The maximum for our equipment is one 3000th of a second but one 2000th is probably the closest we get on our tracks. Any closer today and we would have had a dead-heat."
Our runners this week:
How our trainer rates them
Saturday at Trentham
Race 2: Lincoln Hills
12.45pm
"He has freshened up really nicely and hopefully we get the fire out of the ground which he really likes. His work has been really good and, while there are a few nice horses against him, we know he performs fresh-up. Sam O'Malley will claim 3kg down to 58kg."
Race 6: Father Lenihan
3.05pm
"This is a big drop back in class for him and Temyia Taiaroa's 3kg claim will bring him down to 58.5kg which I think will be a competitive weight for him. The key to him is having a nice draw and being able to sit just in behind the speed. His work has been very good and hopefully with rain about, the track comes up dead."
Race 7: Platinum Spirit
3.40pm
"Ryan (Elliot) didn't have any luck on him at all last week - he elected to go in and the gaps all closed up. He's thrived since and all the rain has really sparked him up. He looks fantastic and I couldn't be happier with him. Jonathan Riddell will ride and on his run last week you would expect him to be very hard to beat."